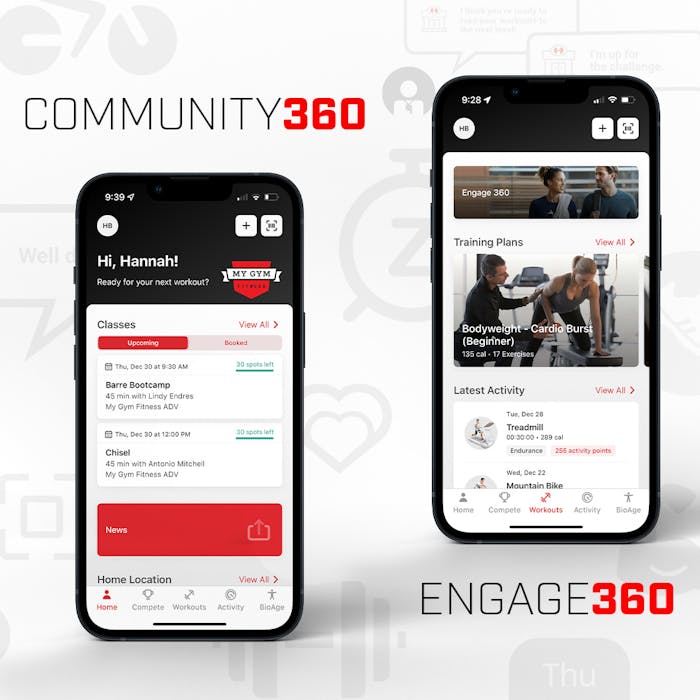 COTTAGE GROVE, WI (March 7, 2022) – Matrix Fitness, the world's fastest-growing commercial fitness brand, reintroduced today two member engagement products in their Connected Solutions portfolio.
Formerly known as Workout Tracking Network, Community 360 has hit the marketplace with three-tiered options, two that reflect the original offering and a new tier with additional features. Formerly known as Personal Trainer Portal, Engage 360 is available at two tiers, both built to help facilities reach their entire member base.
The mobile app, now referred to as Community 360, helps facility owners build, strengthen and grow their communities by allowing them to create a virtual fitness community that connects to members wherever they exercise.
"As we continued to develop and advance Workout Tracking Network and the industry continued to evolve, it became clear that the name didn't convey all that the product had to offer. Its broad array of functionality goes well beyond tracking workouts, and the name Community 360 highlights one of the main goals of the product – engaging with and fostering your fitness community virtually as effectively as you do in person," said Matt McConley, Digital Product Manager of Community 360 at Matrix Fitness.
Using Community 360, facilities can share fresh daily workouts, community challenges, motivating push notifications, community activity feeds, class schedules, facility calendars, reward programs, referral incentives and more – all using their unique branding.
The member engagement platform that is now referred to as Engage 360 allows facilities to create a fully integrated technology experience for their members, enabling access to general or personalized workouts no matter where they exercise.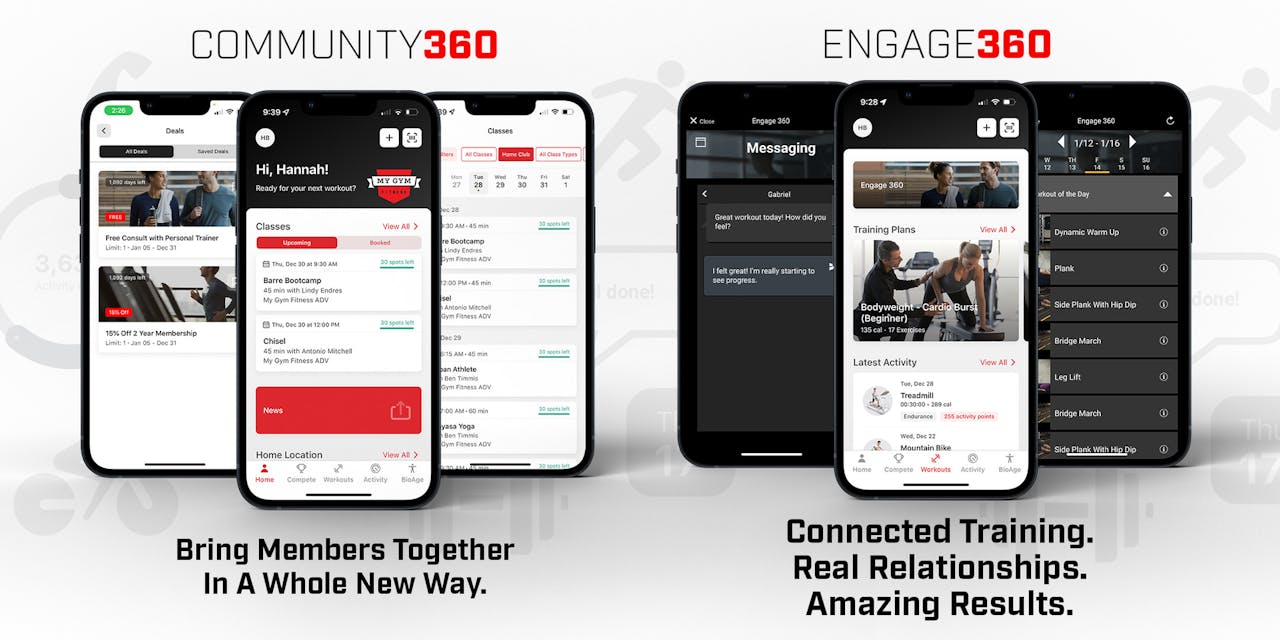 Using Engage 360, facility staff can send daily workouts to their entire membership, develop specialized training programs for individuals or certain groups of members and monitor member engagement to make sure they keep coming back for more.
"Engage 360 is now more flexible than ever, allowing facilities of all sizes the ability to provide ongoing training support. While one-to-one prescriptive training was a critical driver of Personal Trainer Portal implementation, that feature is only one of the valuable elements within the platform. Engage 360 is a far more fitting name to encompass the various capabilities available," said Andy Pirlot, Software Implementation Manager and Product Manager of Engage 360 at Matrix Fitness.
Existing Workout Tracking Network and Personal Trainer Portal customers have been automatically transitioned to the equivalent tier and will experience minimal changes.
Community 360 is now available at the Basic, Advanced and Pro levels of functionality. The new Pro tier allows facilities to prompt member feedback, establish loyalty programs, increase acquisition efforts and ultimately offer a more connected experience. In addition to Community 360, facilities can also purchase Engage 360 feature sets classified at Advanced and Pro tiers.
About Matrix Fitness 
Matrix Fitness is the fastest-growing commercial brand in the world and is the commercial brand of Johnson Health Tech. Matrix offers a complete portfolio of cardiovascular, group training and strength training equipment for health clubs and other fitness facilities.
About Johnson Health Tech
Johnson Health Tech Inc. (JHT), Taiwan, is among the world's largest and fastest-growing fitness equipment manufacturers and is home to some of the most respected brands in the fitness industry, including Matrix, Vision and Horizon. The company manufactures a wide assortment of fitness equipment for both commercial and residential use, including treadmills, elliptical trainers, exercise bikes and strength training equipment. JHT's global management headquarters is based in Taichung, Taiwan, with global product development, marketing and engineering based in Cottage Grove, Wis.