Cutting edge mobile platform builds connected communities of current and former athletes
DENVER – The life of a student-athlete often revolves around their sport. In college, while other students are taking on a summer internship or attending a networking event, student-athletes are busily preparing for competition. For the athletes who don't go into professional sports after college – which means the vast, vast majority – life abruptly changes the moment that core element of their identity is suddenly gone. 

Enter NextPlay… a Denver-based startup whose cutting edge mobile platform is delivering comprehensive career success support that equips all athletes with the knowledge, skills, confidence, and network to build a fulfilling life after sports.
"I'm a firm believer in the power of sports. Athletes go to schools they might not otherwise be able to attend, and they gain countless transferrable skills through their sport. But we believe college sports as an institution can do a lot more for student-athletes," said NextPlay founder and CEO Kyle Mumma. "Our platform is a hub for former players to stay engaged with their team, for current players to learn from those who came before them, and for programs to build a legacy that lasts beyond the game into the rest of their lives."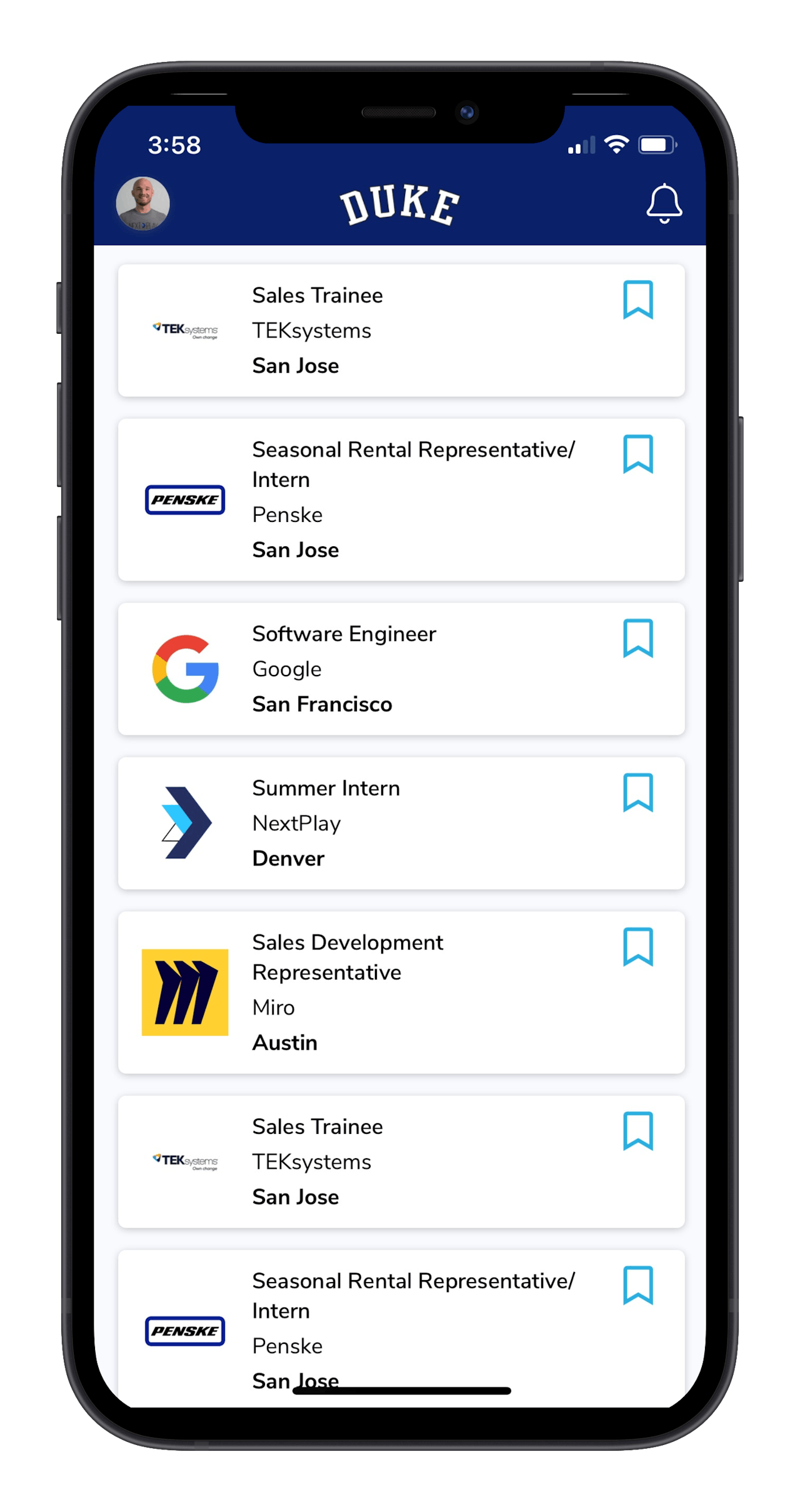 Mumma recognized the need for such a platform firsthand as an undergraduate in college, working as a manager for Duke Men's Basketball. He remained on staff with the team after graduation and then worked for the football team as well, staying involved in Duke Athletics through graduate school at Duke's Fuqua School of Business. It was through these experiences that he gained an appreciation for the many challenges collegiate athletes face when it's time to leave their sport behind.
After graduating from Fuqua in the spring of 2018, Mumma had a full-time job offer from Deloitte in the firm's consulting practice. Then August came and Mumma made a sharp turn. Instead of taking the job, he decided to start NextPlay in an effort to make a bigger impact on the world.
Together with Kevin Lehman, then the Executive Director of Football Administration and Football Chief of Staff at Duke, Mumma brainstormed a career development program called the Duke Football Future Initiative to help student-athletes to transition more effectively when their playing days ended. Initially, it was a three-day conference featuring sessions with professors from Duke's business school, a panel discussion with former Duke Football players, and a networking dinner.
The student-athletes who participated called it the most impactful experience of their college career, and the former players in attendance felt a renewed sense of connection to their alma mater. Seeing the interest in that program, Mumma said, is when "the lightbulb went off that there might be a business here." A few months later, he hired a few staff members, secured some initial funding, and officially founded NextPlay.
NextPlay has evolved since those initial workshops into a software company that provides custom branded mobile platforms for teams and departments. In some ways, the NextPlay platform resembles LinkedIn: it is a medium to share content and build professional connections. The primary difference is in the exclusivity of each community – a private affinity network for a particular team or program where networking and engagement are driven in part by shared experience as athletes.
Current student-athletes can explore a variety of career development content, explore potential job opportunities through the employer marketplace, and match with a mentor for support in their development. Former athletes can build a more authentic relationship with their alma mater by engaging with the next generation of athletes, reconnecting with their old teammates in private groups, or registering for events and game tickets through the app. Coaches and administrators can host live broadcasts to answer alumni questions, share a quick video from the locker room after a big win, and ultimately deliver on their recruiting promises of "family for life."
"As we did more work in the athlete development space, we realized that alumni connectivity is one of the most important factors for all parties involved," Mumma said. "Young athletes have more successful transitions when they can engage with someone they trust and who has been in their shoes. Former athletes form a more genuine relationship with their alma mater, which eventually translates into additional fundraising revenue for the programs we work with. Everyone wins."
The University of Iowa Football program launched its customized NextPlay mobile app, Hawkeye Legacy, in October 2020. According to the team's Assistant Director of Football Operations Ben Hansen, "Our desire is to foster an environment where our student-athletes have a great football experience, but we also want them to earn their degree and grow into their professional life. The Hawkeye Legacy app provides an exceptional platform for networking and mentorship."
Aside from Iowa, NextPlay has helped to connect athlete communities all over the country ranging from Power Five schools like Stanford and Kansas State to smaller schools like San Jose State, St. John's, and St. Clair College in Canada.
NextPlay is currently courting investors and raising its second seed round, hoping to reach $1.2M between the two rounds. So far, the company has raised more than half of their goal ($625K). They're targeting primarily individual and angel investors. The funding is intended to help NextPlay enter the next stage of growth by hiring more employees, enhancing product development, and increasing speed to market.
"Athlete transitions. Alumni engagement. Delivering on the promise of college athletics. These problems exist all over the country, and our goal is to build a scalable solution that helps every team to maximize the value of the athlete experience," Mumma concluded. 
About NextPlay
Founded in 2018 and based in Denver, Colorado, NextPlay is a cutting edge mobile platform that builds connected communities of current and former athletes. The platform is a hub for former players to stay engaged with their teams, for current players to learn from those who came before them, and for programs to build a legacy that lasts. NextPlay currently has 11 partners, seven (7) of which have been onboarded in the past two years alone. For more information, visit www.nextplay.me or contact info@nextplay.me.