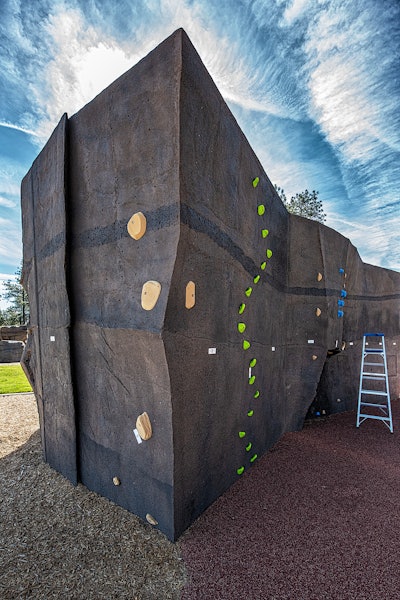 In partnership with the Bend Park and Recreation District, EP Climbing manufactured a state-of-the-art, outdoor bouldering area for the Alpenglow Community Park in Bend, Oregon.
Surrounded by the high desert landscape and a stunning view of the Cascade Mountain range, EP USA installed, both pre-casted and custom-built, boulders that include natural routes and set routes with hand-holds. Routes vary in difficulty to open up opportunities for people of all ages and ability. EP integrated accessible routes with rope assist climbing hardware for adaptive climbers and climbers with disabilities, expanding this recreational opportunity to all in this rapidly growing sport.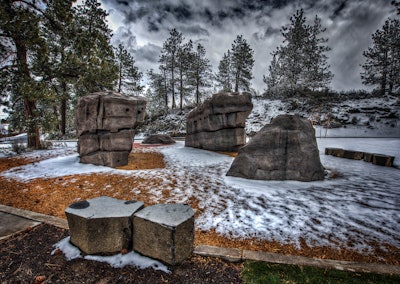 Bend Park and Recreation District continually strives to set a nationwide standard for exceptional and sustainable park and recreation services. Alpenglow Community Park is the first park in Bend to include a bouldering area, bringing world class climbing into the parks system.
"Alpenglow is a community park that has something for everyone, regardless of age or ability, and it is already serving as the community hub of connection that we had hoped it would be," said Ian Isaacson, BPRD landscape architect and project manager. I collaborated with an incredible team to see Alpenglow go from the drawing board to reality, especially the design and construction of the bouldering area. Having a partner like EP climbing on the team enabled us to create a wonderful amenity that will be enjoyed by generations of Central Oregonians."
About EP 
EP Climbing has built over 7,200 climbing walls and boulders worldwide, using state-of-the-art technology and design. Working with EP means working with the most reliable partner in the industry. You know you will be working hand-in-hand with an expert team consisting of consultants, designers, engineers & project managers, who provide tailor-made products and high quality service. EP brings climbing to everyone and pushes the sport of climbing forward with innovative and industry-leading products.