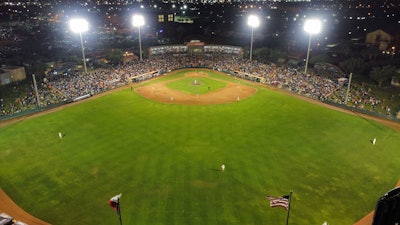 Goutrgv.com
RIO GRANDE VALLEY – The University of Texas Rio Grande Valley (UTRGV) Department of Intercollegiate Athletics announced on Aug. 31 a multi-year agreement with AT&T to launch AT&T Business Wi-Fi in UTRGV's athletic facilities to enhance the fan experience by connecting guests and employees through a single, highly reliable, highly secure solution.
"This historic collaboration is a great example of how athletics can work with the university to benefit the community at large," UTRGV Vice President and Director of Athletics Chasse Conque said. "Through our collaboration, AT&T is already making a significant impact on our campus community. We're proud to be associated with such a strong brand and pleased to be able to serve our students, faculty, and staff in such a meaningful way." As part of this collaboration, AT&T has also upgraded the Wi-Fi on campus in buildings, dorms, and most open green spaces, that benefit the student body as well as the entire university.
"The upgraded Wi-Fi on campus represents a major upgrade for the entire UTRGV community," UTRGV Chief Information Officer Jeff Graham said. "As more and more of our interactions and work take place online, it is critical to have secure and wide-reaching infrastructure in place to facilitate learning and work. We're excited to have this partnership in place with AT&T." AT&T will be present at home UTRGV athletic events, giving fans the opportunity to interact with and learn more about AT&T's services. AT&T is also coming to the Brownsville and Edinburg campuses once per semester to hold activation days to help students get connected with AT&T services and has a corporate retail store at 1334 W. University Dr., across the street from the Edinburg campus, a move that was made to better serve the UTRGV community.
"This is a wonderful collaboration in the way it improves our campus life," UTRGV Associate Vice President for Campus Auxiliary Services Letty Benavides said. "Now our students, faculty, and staff can more easily upgrade their phones with AT&T service at a significant discount without even leaving campus. We're proud to be able to offer this service to students, faculty, and staff."
Current UTRGV students, faculty and staff can receive significant discounts off their wireless plans by presenting their UTRGV IDs.
"We are pleased to work with UTRGV to provide them with reliable connectivity throughout their campus and athletic facilities, just in time for the new school year," George Spencer, AT&T AVP State, Local, Education and Healthcare Texas said. "Our teams are committed to working closely with our customers to provide them with the technology they need and look forward to continuing to work with UTRGV to provide students with AT&T resources to succeed." AT&T has 21 stores across the Rio Grande Valley, including one in Alamo, three in Brownsville, one in Donna, two in Edinburg, two in Harlingen, one in San Juan, four in McAllen, one in Mission, one in Palmhurst, one in Pharr, one in Port Isabel, one in Rio Grande City, one in San Benito, and one in Weslaco.
To keep up with the latest at UTRGV Athletics, visit GoUTRGV.com.