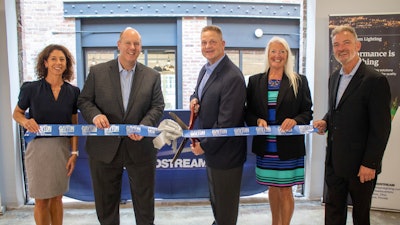 DAYTON, Ohio – Midstream Lighting, Inc., a global sports lighting company with a presence in sixty countries recently celebrated its new U.S. Headquarters with a ribbon cutting ceremony in downtown Dayton, Ohio.
Midstream Lighting designs and delivers highly advanced and efficient LED lighting to meet the needs of aviation, sports, maritime, and horticultural industries around the world. The company, first founded in 2009 in London, has received many awards including multiple prestigious Queen's Awards for innovation and technology. Midstream continues sales and manufacturing expansion with two manufacturing facilities in Europe and four global headquarters, including the US Headquarters in Dayton, Ohio. Midstream Lighting is a pioneer in the LED space and has built a suite of products suited to a full range of sectors and performance needs.
Midstream Lighting chose Dayton because of the business-friendly culture, access to 64% of the US over the road in one day, opportunities for growth, highly skilled workforce, airport access, and compelling opportunities in education, sports and culture. Midstream will provide world class LED lighting for sports venues of all sizes and levels of play throughout the US.
"Midstream Lighting, a global leader in LED Sports lighting solutions, just launched its U.S. operation in Dayton, Ohio. With lighting projects in over 60 countries, from professional stadiums to recreation ballfields, Midstream Lighting delivers the right light where it is needed. Our award-winning LED lighting system and superior lighting design ensures the total satisfaction of players, fans, and neighbors without compromise. Midstream's new Symmetry series luminaire and wireless control system provide the right balance for any sports lighting application.
We are delighted to be the Keynote Sponsor for the 2022 Athletic Business Conference, where we are pleased to introduce Midstream to the U.S. market, in addition to introducing the indomitable Jesse Cole of the Savannah Bananas to the conference. Jesse and the Bananas show that competitive athletics and entertainment can go hand in hand to create something unique. Jesse's passion is contagious, and we can't wait to be part of it!" ~ James McCarty, President, Midstream Lighting Inc.
About Midstream Lighting
Midstream Lighting, a world leader in aviation, maritime, horticulture and sports LED lighting technology, employs proprietary cutting-edge LED technology and award-winning designs which allow its global customer base to reduce their power consumption by an average of 50%. With the company's list of clients including numerous international airports, major maritime facilities, and large sporting venues, the company is playing an active role in helping some of the world's most energy-intensive facilities tackle their carbon reduction commitments head on. Midstream Lighting US is proud to be named the "Official Lighting Provider of the National Association of Intercollegiate Athletics" (NAIA), "Official Lighting Partner of the Ohio Athletic Conference"(OAC), and The "Official Lighting Partner of the North Coast Athletic Conference (NCAC). Additionally, Midstream Lighting is a Certified Lighting Provider to hockey clubs and venues under the FIH (International Field Hockey Federation) Quality Program – becoming the first manufacturer to achieve this prestigious status. With their unique design capabilities and advanced procurement options, Midstream has developed the better way to do lighting.
Visit www.midstreamlighting.com for more information.