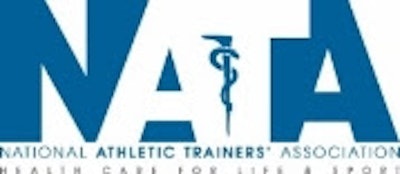 DALLAS, Texas — A new consensus statement, "Sports Nutrition Models for the Provision of Nutrition Services from Registered Dietitian Nutritionists in Collegiate Athletics" was published this week online and in the current issue of the Journal of Athletic Training, the National Athletic Trainers' Association scientific journal.
"We recognize the vital need for a collaborative approach when it comes to addressing the nutritional needs of collegiate athletes today. Utilizing the strengths and skill sets of an integrated health care team including athletic trainers, sports registered dietitian nutritionists (RDNs), sports medicine physicians and collegiate strength and conditioning coaches is at the heart of athlete-centered care. We hope this statement serves as a roadmap in offering gold standard protocols and nutrition models," says president of the National Athletic Trainers' Association Kathy Dieringer, EdD, LAT, ATC.
"This statement, the first of its kind in sports dietetics, establishes a clear framework for collegiate administrators, athletic medicine departments, strength and conditioning departments and registered dietitian nutritionists alike for how to scale and develop a sports nutrition program in ways that best meet the needs of student athletes no matter the size of the institution," says lead author of the writing group, Victoria Lambert, MS, RDN, LD.
Background
Collegiate athletic programs are increasingly adding nutrition services to their athletic medicine and sports performance departments in response to scientific evidence highlighting nutrition's integral role in supporting athletic performance and overall health.
This consensus statement is designed to introduce sports nutrition models along with core responsibilities of the sports RDN as part of an integrated healthcare team, to help guide collegiate athletic departments in developing and maintaining their individual nutrition programs.
Key Points:
To provide sports nutrition models for a variety of departmental needs and settings, including the scope of available services and appropriate staffing.
To highlight minimum standards for the level of integration regarding services within primary areas of care for student athletes in the collegiate setting: clinical sports nutrition, nutrition education, foodservice management and performance nutrition.
To recommend organizational structures along with suggested qualifications and titles for collegiate sports RDNs that best support the outlined nutrition models.
"This statement provides an opportunity for current programs and individual clinicians to assess and adjust the scope of their nutrition services and to educate those less familiar with sports registered dietitian nutritionists so there is a clear understanding of our roles and responsibilities within the interdisciplinary team," adds Dana White, MS, RDN, ATC, associate clinical professor, Quinnipiac University and writing team member.
Within each of the four models addressed in the statement, clinical sports nutrition care is prioritized and indicates that as staffing is expanded, services can expand. Those areas encompass nutrition education, high-performance nutrition, culinary nutrition and food service. The services offered should be matched with the service model that best supports the goals of each collegiate setting.
The statement also offers recommendations for pathways of development by defining the requirements for a variety of positions and best matching those to corresponding titles and years of experience, similar to language used by athletic trainers and strength and conditioning coaches in college athletics.
Growth of the Sports RDN specialty: According to the NCAA, there are currently 350 DI schools, 310 DII schools, and 438 DIII schools. In 1994, one DI University employed one full-time sports dietitian. In 2005, there were eight. Now, 105 DI schools (30%) have at least one full-time sports RDN.
Where access to services is limited, the authors hope this statement will help in crafting justifications for new positions across institutions.
In addition to the National Athletic Trainers' Association, the statement organizational review panel is comprised of the Academy of Nutrition and Dietetics, Sports and Human Performance Nutrition Practice GroupAmerican Medical Society for Sports MedicineCollegiate and Professional Sports Dietitians AssociationCollegiate Strength and Conditioning Coaches Association
About National Athletic Trainers' Association
Athletic trainers are health care professionals who specialize in the prevention, diagnosis, treatment and rehabilitation of injuries and sport-related illnesses. They prevent and treat chronic musculoskeletal injuries from sports, physical and occupational activity, and provide immediate care for acute injuries. Athletic trainers offer a continuum of care that is unparalleled in health care. The National Athletic Trainers' Association represents and supports 40,000 members of the athletic training profession. Visit nata.org for more information.