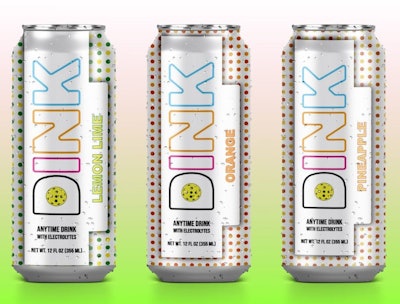 The First Ready-to-Drink Pickleball Recovery Beverage Named Exclusive Isotonic Beverage Of USA Pickleball, Will Be Featured at Upcoming Inaugural 2023 Pickleball Slam Featuring Tennis Legends
JERSEY SHORE, Pa. — March 29, 2023 — DINK, the first-of-its-kind pickleball recovery drink, today announced its official release in three refreshing flavors – lemon lime, orange and pineapple.
Made with all natural ingredients, DINK marries lighthearted hydration with minerals and electrolytes to replenish and recharge pickleball players, while also supplying pickleball lifestyle apparel and gear featuring the brand's mascot, the Volley Llama. The spirited and playful spokesllama is featured on vibrant apparel, including limited edition tees, jackets, performance gear, equipment and more.
Players and fans will also be able to find DINK at courts across the country, as DINK and USA Pickleball entered into a multi-year agreement, announced today. The three-year partnership, with DINK serving as the Official Isotonic Beverage of USA Pickleball, will begin this spring. As part of the sponsorship, DINK will be featured at all national and regional tournaments, both for professional and amateur players, as well as on marketing promotions and other key moments.
"DINK, from the premium beverages to our lifestyle line, is formulated specifically for pickleballers," said Joe Feerrar, Co-Founder, DINK. "As avid pickleball players and fans, it was important for Abby and me to create a product that celebrates the camaraderie and upbeat energy of the game, while providing delicious beverages that meet the needs of this growing sport. We are thrilled to partner with USA Pickleball and the Inaugural Pickleball Slam to introduce DINK to the pickleball community."
Available for purchase through its website: www.dinkthedrink.com, you can also find DINK and the Volley Llama at marquee events, including:
The inaugural 2023 Pickleball Slam is a first-of-its-kind event, featuring American tennis icons –John McEnroe, Andre Agassi, Andy Roddick, and Michael Chang – competing live on ESPN for a $1M purse, Sunday, April 2 at 12:00 PM ET at Hard Rock Live at Seminole Hard Rock Hotel & Casino in Hollywood, Fla. The weekend also includes the Slam Amateur Challenge on March 31 and April 1, featuring 96 doubles teams vying for a chance to win a $10,000 team prize and the opportunity to play against the tennis Hall of Famers. For more information, tickets to the Pickleball Slam and to register for the Slam Amateur Challenge, visit www.thepickleballslam.com.
Marquee USA Pickleball tournaments, including the USA Pickleball National Championships and lead up events, USA Pickleball National Indoor Championships, USA Pickleball Diamond Amateur Championships and select USA Pickleball Regional Championships. For more information, visit: www.usapickleball.org.
For more information and where to buy DINK and the Volley Llama merchandise, please visit www.dinkthedrink.com or join the conversation on Instagram @dinkthedrink.
ABOUT DINK: 
DINK is "The Official Drink of Pickleballers." The first-of -its-kind pickleball recovery drink, DINK is packed with replenishing minerals and electrolytes to recharge pickleball players on and off the court. DINK is available in three delicious all natural flavors – lemon lime, orange and pineapple. DINK also boasts a pickleball lifestyle line featuring its spokesllama, the Volley Llama. For more information, visit www.dinkthedrink.com or join the conversation on Instagram @dinkthedrink.