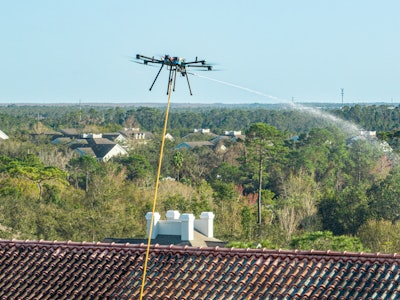 Charlotte, N.C. — Lucid Drone Technologies, a leader in the drone technology industry, is proud to announce the launch of its latest product, the Sherpa Spraying Drone. This advanced drone is designed to assist in exterior cleaning, providing up to 80% cost savings compared to traditional methods while increasing ROI up to 400%.
The Sherpa Spraying Drone is a cutting-edge solution that features various advanced features and design improvements, including better batteries, waterproof construction, an improved pilot experience, and more. These features make the Sherpa Spraying Drone a reliable and durable workhorse for all your exterior cleaning needs. 
"We're thrilled to introduce the Sherpa Spraying Drone to the market," said Andrew Ashur, CEO of Lucid Drone Technologies. "This product is a game-changer for building service contractors and anyone in need of exterior cleaning. With its advanced features and design, the Sherpa Spraying Drone can tackle a wide variety of jobs, and we're confident that it will provide significant cost savings and increased ROI for our customers while improving safety."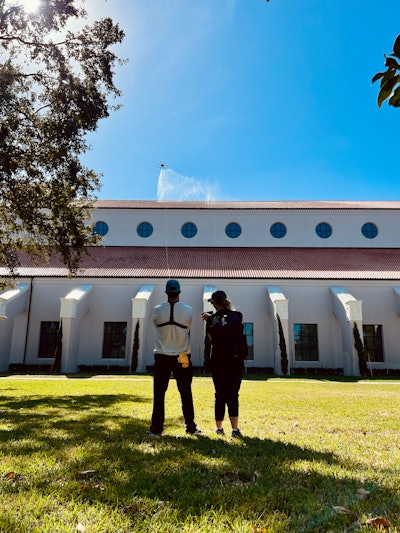 The Sherpa Spraying Drone is designed to handle various cleaning tasks, including windows and exterior power washing. Its advanced features, including its waterproof construction, make it ideal for use in various weather conditions. The Sherpa Spraying Drone's improved pilot experience makes it easy to use and operate, even for those without extensive drone experience.
Ashur continues by saying, "For decades, the exterior cleaning industry has relied on lifts, ladders, and scaffolds. The Sherpa Spraying Drone will transform this industry by allowing companies to complete more jobs in less time and with less liability. 
The Sherpa Spraying Drone is now available for purchase on Lucid Drone Technologies' website. For more information about the Sherpa Spraying Drone or to place an order, visit luciddronetech.com.
About Lucid Drone Technologies
Lucid Drone Technologies is the leading provider of drone technology solutions for exterior cleaning and spraying. The company is committed to developing advanced, cutting-edge drone solutions that make work safer, faster, and smarter. For more information about Lucid Drone Technologies, visit luciddronetech.com.