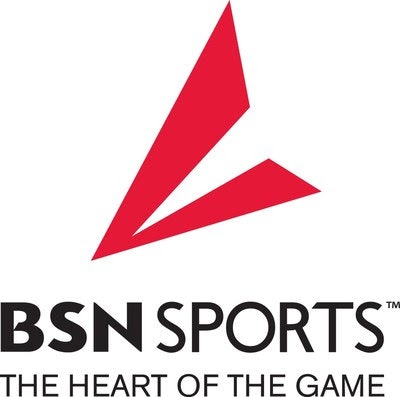 FARMERS BRANCH, Texas, May 24, 2023 /PRNewswire/ -- BSN SPORTS, a direct marketer and distributor of sporting goods to the school and league markets and a division of Varsity Brands, today named Algonquin Regional High School as the recipient of its Ultimate Victory Uniform Makeover.
As the selected winner, Algonquin's athletic program will be awarded free, custom uniforms through BSN SPORTS' proprietary Victory Line for the school's J.V. and Varsity teams to begin wearing in the 2023-24 season, with a product value of up to $50,000. Algonquin will additionally receive a uniform reveal package to amplify excitement around their new gear with students, staff and the community.
From Feb. 1 through March 10, over 4,800 coaches from high schools across the country entered to win the sweepstakes and shared why their school deserved a Victory Uniform Makeover. Algonquin shared within their entry that the community is in its first year of changing the school's mascot from the Tomahawks to the Titans. A significant aspect of completing the mascot change is the additional cost of replacing the school's athletic uniforms with the updated Titans branding and logo. Given the budget needs, the full Algonquin mascot transition could have taken anywhere from five to seven years based on the program's planned funding. However, through the Ultimate Victory Uniform Makeover, nearly all Algonquin teams will have a unified athletic brand in less than a year.
"Getting to participate in high school athletics is a special opportunity for our youth, and we want to help elevate the student-athlete experience as best we can," said Terry Babilla, President of BSN SPORTS. "New uniforms are integral to the mascot transition process. They unify athletic programs by helping get student-athletes excited about their new mascot and build pride in representing their school community. We look forward to supporting Algonquin's student-athletes by providing them with fully customized, cohesive, high-quality uniforms so they can officially compete as the Titans for the first time."
The dedicated local BSN SPORTS sales team will work with Algonquin to custom design new uniforms within the approved Boy's and Girl's J.V. and Varsity sports to support the program's rebranding.
"Receiving new uniforms is a major step for our school in completing the rebrand process," said Mike Mocerino, Algonquin Regional High School Athletic Director. "BSN SPORTS is helping us accelerate the overall transition to the Titans and reduce added costs along the way. This unique opportunity will unite our student athletes and boost their confidence, along with our school's reputation. We can't wait for our teams to represent Algonquin in their one-of-a-kind BSN SPORTS Victory Line Uniforms this fall and spring." 
As part of BSN SPORTS' extensive selection of private label goods – which includes performance apparel, travel gear and spirit wear, and team accessories and hardgoods –Victory Line Uniforms launched in 2018. The line now features 18 sports and brings expertly crafted uniforms comprised of performance-driven materials to market at competitive team pricing. More importantly, Victory Line custom uniforms are shipped quickly and reliably – on average cutting industry shipping times in half. The BSN SPORTS Victory Line will provide Algonquin with thousands of NFHS-approved designs featuring team colors, branding, mascots and number functionality for a standout look.
About BSN SPORTS
Dallas-based BSN SPORTS is a leading marketer, manufacturer and distributor of sporting goods apparel and equipment. A division of Varsity Brands, BSN SPORTS markets and distributes its products to over 150,000 institutional and team sports customers in colleges and universities, middle and high schools, and recreational programs throughout the United States via catalog, e-commerce, and direct sales. Focused on providing game changing solutions through local partnerships, multi-brand selection and one-stop shopping for equipment and uniforms, BSN SPORTS' more than 3,000 employees have been helping elevate participation in team sports since 1972. For more information about BSN SPORTS please visit www.BSNSPORTS.com.
About Varsity Brands
With a mission to inspire achievement and create memorable experiences for young people, Varsity Brands elevates the student experience, promotes participation and celebrates achievement through three unique but interrelated businesses: BSN SPORTS, a Varsity Sport Brand; Varsity Spirit; and Herff Jones, A Varsity Achievement Brand. Together, these entities promote personal, school and community pride through their customizable products and programs to elementary and middle schools, high schools, and colleges and universities, as well as church organizations, professional and collegiate sports teams and corporations. Through its dedicated employees and independent representatives, Varsity Brands reaches its individual and institutional customers each year through competitions, camps and sales.