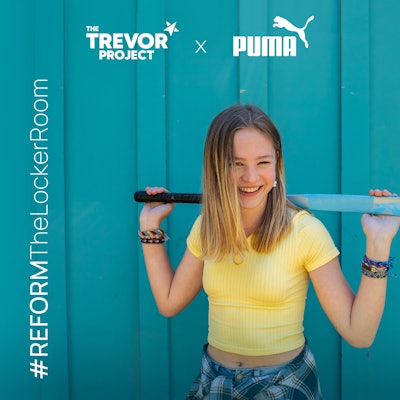 New York, N.Y. — May 30, 2023 — The Trevor Project, the leading suicide prevention organization for LGBTQ young people, in partnership with global sports brand PUMA, announced today the official launch of its free digital education program, #REFORMTheLockerRoom. Researched, tested, and developed over the course of three years, #REFORMTheLockerRoom offers a specialized online training course for coaches, athletic directors, and other youth-facing sports leaders on best practices to cultivate safe, inclusive, and welcoming sports environments for LGBTQ young people both on and off the field. The Trevor Project and PUMA initially announced plans to create this training in 2021.
#REFORMTheLockerRoom was created during The Trevor Project and PUMA's multi-year strategic partnership, focused on supporting the mental health of young LGBTQ athletes in sports environments via education, visibility, and awareness. The curriculum was informed by extensive research and community involvement via roundtable seminars with public educators, sports leaders, and LGBTQ peer organizations with the goal of creating a tangible, actionable program to provide youth-serving adults with LGBTQ cultural competency training. Individuals will have access to key resources and gain crucial skills and knowledge around topics including how to use respectful language, promote gender-inclusive spaces, and support equitable policies within the sports community. The free online training is available on an ongoing basis and is self-paced, so users can move through the program at their own speed.
"Peer communities can be a lifeline for LGBTQ young people, and historically, sports have not been a welcoming or accepting space for LGBTQ young people to participate openly as their authentic selves," said Nova Bright (she/her), Head of Internal Training at The Trevor Project. "While the sports community is making strides in the right direction and influential athletes are opening up about their LGBTQ identities, there is still more work to be done to ensure that LGBTQ young people can feel safe to participate in sports without fear of bullying or discrimination. Thanks to PUMA's partnership, we're hopeful that this training will reach coaches and athletic directors across the country and equip them with the tools necessary to foster greater understanding and acceptance."
"As a leading sports brand, we strive to create and promote a more inclusive environment for the LGBTQ youth that want to play sports," said Michelle Marshall (she/her), Director of Diversity, Equity & Inclusion at PUMA. "We are excited to launch the training course, in partnership with The Trevor Project, that will become a fundamental educational tool for all youth-facing adults in sports." 
The launch of #REFORMTheLockerRoom is more timely than ever, with more than 600 anti-LGBTQ bills introduced this year alone – many of which seek to ban transgender and nonbinary young people from participating in school sports. LGBTQ young people are listening as their rights are being used as political wedge issues, and the vitriolic public rhetoric is negatively impacting their mental health. According to The Trevor Project's polling, 86% of transgender and nonbinary youth say recent debates about state laws restricting the rights of transgender people have negatively impacted their mental health. 
Research has also found that transgender and nonbinary young people who were more "out" about their gender identity were less involved in sports than those who were not "out." Further, transgender and nonbinary young people reported significantly lower rates of sports participation than their cisgender LGBQ peers. Young people who identified as transgender (17%) were nearly half as likely to report sports participation compared to cisgender LGBQ (27%) young people. A 2021 research brief on LGBTQ Youth Sports Participation found that 68% of LGBTQ young people reported that they had never participated in sports, with many citing concerns of discrimination and harassment from peers and coaches, fears of how others would react to their LGBTQ identity, and policies preventing them from playing on the team that matches their gender identity. However, The Trevor Project's 2023 U.S. National Survey on the Mental Health of LGBTQ Young People shows that LGBTQ young people who had access to affirming homes and schools reported lower rates of attempting suicide in the past year, emphasizing the role that all adults can play in creating safe spaces for LGBTQ young people.
#REFORMTheLockerRoom aims to reach leaders and educators on a national level to recognize the life-saving impact that positive community environments can have on LGBTQ young people. If you are a school administrator, coach, or similar youth-facing sports leader and want to learn more about #REFORMTheLockerRoom, visit: reformthelockerroom.thetrevorproject.org.
If you or someone you know needs help or support, The Trevor Project's trained crisis counselors are available 24/7 at 1-866-488-7386, via chat at TheTrevorProject.org/Get-Help, or by texting START to 678678. 
About the Trevor Project
The Trevor Project is the leading organization working to end LGBTQ youth suicide in the U.S. and beyond. The nonprofit operates several programs to help prevent and respond to the public health crisis of LGBTQ youth suicide, including 24/7 free crisis services, research, advocacy, education, and peer support.
About PUMA
PUMA is one of the world's leading sports brands, designing, developing, selling and marketing footwear, apparel and accessories. For 75 years, PUMA has relentlessly pushed sport and culture forward by creating fast products for the world's fastest athletes. PUMA offers performance and sport-inspired lifestyle products in categories such as Football, Running and Training, Basketball, Golf and Motorsports. It collaborates with renowned designers and brands to bring sport influences into street culture and fashion. The PUMA Group owns the brands PUMA, Cobra Golf and stichd. The company distributes its products in more than 120 countries, employs about 20,000 people worldwide and is headquartered in Herzogenaurach/Germany.