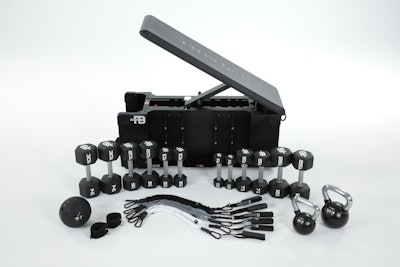 IXONIA, Wisc. – Aug. 2, 2023 – FITBENCH has released its highly anticipated Next Generation FITBENCH ONE, a versatile fitness bench for health clubs, boutique studios, and vertical market facilities that sets new standards in innovation and design. Incorporating valuable customer feedback, this re-engineered and re-designed bench boasts improved features along with the brand's commitment to exceptional quality and performance.
Even more, the Next Generation FITBENCH ONE is manufactured entirely in the United States at the company's headquarters in Ixonia, Wisconsin, demonstrating a remarkable achievement for the FITBENCH team. "Our relentless pursuit of excellence and dedication to our customers have driven us to make this groundbreaking transition from manufacturing in Asia to producing our products in the United States," says Tyler Danen, the founder and CEO of FITBENCH. "I am incredibly proud to introduce the Next Generation FITBENCH ONE, which represents our greatest innovation since the company began in 2016." 
Key Features
A result of the company's tireless efforts to deliver an unparalleled experience to exercisers, the Next Generation FITBENCH ONE retains all the features of its predecessors while integrating new innovations that set it apart from anything on the market, including:
Softer and more durable contoured top
All-new mobility mechanism with a patent-pending visibility safety window so users can see if the bench is safe to use and in the locked position
Customizable, with three toned options for paint to highlight the facility's brand as the focal point of the space
New outdoor-rated powder coating increases suitability and durability to use and store outdoors
Improved strength and quality with 1000-pound user weight capacity
30 percent lighter frame facilitates easier movement on turf
New urethane dumbbells with vibrant white markings displaying pounds and kilograms
100 percent handcrafted in the United States 
The Next Generation FITBENCH ONE is equipped with six sets of commercial-grade, custom-designed FITBENCH hexagon dumbbells (5, 10, 15, 20, 15, and 30 pounds/2.5, 5, 7, 9, 12, and 14 kg); two commercial kettlebells (18 and 30 pounds/8 and 14 kg); 3 FITBANDS with nylon covers (light, medium, and heavy); and one commercial slam ball (15 pounds/7 kg). All the accessories are conveniently stored in the compact bench, which measures 16" wide by 20" high by 46.5" long. 
Proudly Made in the USA
With an unwavering commitment to American craftsmanship, FITBENCH's decision to manufacture the Next Generation FITBENCH ONE in the U.S. reinforces its dedication to supporting local communities, growing the domestic manufacturing industry, and ensuring the highest quality standards. Available direct and from authorized FITBENCH dealers, the Next Generation FITBENCH ONE is sold fully loaded for $2999 and empty for $2099. It is backed by a 10-year warranty on the frame and one-year on the top, moving parts, weights, and accessories. Learn more about FITBENCH and its latest innovation at www.fitbench.com.  
About FITBENCH
FITBENCH is a leading fitness equipment manufacturer committed to revolutionizing the way people train. Since its founding in 2016, FITBENCH has been dedicated to producing high-quality, versatile, and space-saving fitness benches that cater to the diverse needs of fitness enthusiasts, personal trainers, and gym owners. With a passion for innovation and customer-driven design, FITBENCH continues to be at the forefront of the fitness equipment industry. # # # For more information, contact the company at 800-294-0536; info@fitbench.com.