BROOKINGS, S.D. — Nov. 7, 2023 — Daktronics has scheduled the next Women In Sports Online Event for Dec. 5 at 2:30 p.m. CST with Alicia Longworth, executive associate athletics director of external operation for the University of Tennessee.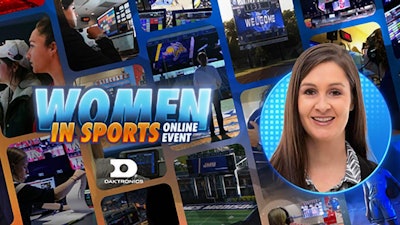 Longworth will be sharing her experiences of working in the Southeastern Conference with a focus on keeping fans coming back for more.
Longworth, a proven leader in athletics marketing and fan engagement, has worked on many high-profile projects including the University of Florida's "Jumpman" promotion with Nike as well as managing sponsor relationships for the university. She will share her perspective on fan engagement, how to keep them immersed in the action and her unique views as a woman in this industry.
"Alicia's passion for creating a unique fan experience is apparent and I'm excited to hear how she uses her creativity and talents to bring her visions to life as well as her perspective on being a leader in the sports industry," said Val Ellens, services marketing for Daktronics.
To register for this event and hear Longworth's insights, click here.
About Daktronics
Daktronics helps its customers to impact their audiences throughout the world with large-format LED video displays, message displays, scoreboards, digital billboards, audio systems and control systems in sport, business and transportation applications. Founded in 1968 as a USA-based manufacturing company, Daktronics has grown into the world leader in audiovisual systems and implementation with offices around the globe.