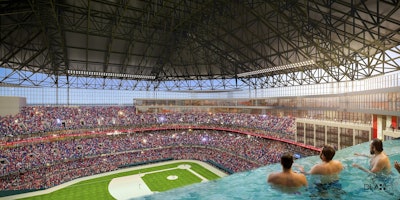 PITTSBURGH, Nov. 14, 2023 /PRNewswire-PRWeb/ -- Pittsburgh-based DLA+ Architecture and Interior Design (DLA+) has been selected by South Korean retail giant Shinsegae Group (SSG) as the Design Architect for the Cheongna SSG Baseball Stadium, a new home for the SSG Landers in the Korea Baseball Organization (KBO). The project is expected to be complete for the 2028 season.
Located just west of Seoul in Incheon, South Korea, Cheongna SSG Baseball Stadium and Commercial Complex will be the world's first baseball stadium with an integrated shopping mall. It is also the first privately funded professional sporting venue in South Korea.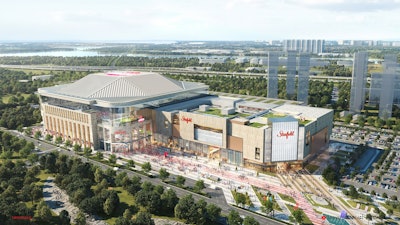 About the stadium
The covered/dome Stadium will seat 21,000 guests and connect to the Starfield shopping mall, a national retail brand recognized for its outstanding guest experiences. Operating year-round as a multi-purpose sports and entertainment venue, it will host various activities, including sports, concerts, and community and private events.
"We envision that Cheongna SSG Baseball Stadium will create a new paradigm for Korean sports and entertainment venues," said Sunghoon Jung, LEED AP BD+C, Vice President, Sports Practice Leader, and Principal at DLA+.
"Historically, South Korean sporting venues have been government-owned and not profitable. As the first privately funded sports project in South Korea, this baseball stadium is being built from the ground up with fan experience and revenue generation in mind. We believe that its success will have a positive impact on the future of the Korean sports and entertainment industry."
The DLA+ stadium design extends SSG Group's focus on creating memorable interactions at its properties. The DLA+ team's deep insights into fan expectations have inspired each detail of the journey to satisfy their diverse reasons for attending. Engagement starts on arrival and continues while watching the game and enjoying food and beverages. Guests experience an immersive and dynamic environment in a venue that feels personal and intimate despite its size. The result is an authentic and unique experience for Cheongna SSG Baseball Stadium guests.
The Stadium also creates an unparalleled experience for players. Drawing from its sports practice expertise, DLA+ has designed the home team facilities to maximize players' physical and mental performance. Its clubhouse encompasses a locker room, player's lounge, training room, and weight and conditioning room within a very comfortable yet highly functional and efficient space.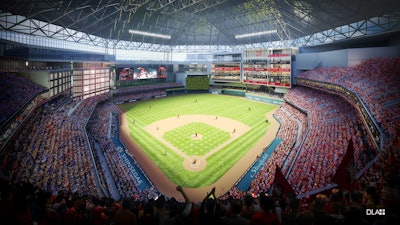 Selection of DLA+ as design architect
Before being awarded the design of the project, DLA+ assisted SSG with its Strategic Vision Planning and provided support throughout the project-enabling process. The Owner initially engaged DLA+ due to the firm's sports and entertainment facility design expertise – and DLA+'s philosophy that every stadium design should create a positive personal experience that reflects the authenticity of the local market.
"By closely developing the vision with the Owner from its inception, we have transformed SSG's goals into a design informed by a deep understanding of the local sports and entertainment market, and local fans and culture. Using our Strategic Architecture (SM) process, we gained insights through intensive research about the local context, economy, sociology, and fan psychology. The design was inspired by local fans' genuine stories and expectations and the Owner's business strategies for delivering memorable consumer engagement at its properties," said Jung.
Jung has been building on the firm's regional leadership and national recognition in the design of sports and entertainment facilities. He is an internationally renowned architect specializing in sports and entertainment venues. He is also a lecturer, author, and thought leader in design and planning for the sports and esports industry.
DLA+'s Sports Practice team has been involved in sports projects over the past 30 years. CEO Dennis Astorino and President and COO Christopher Haupt, who have planned and designed sports facilities since 1992, continue to stay involved in the sports practice. They work with Jung and sports project teams to guide the firm's vision and deliver Strategic Architecture (SM) solutions for clients.
Cheongna SSG Baseball Stadium design team:
Stadium Design Architect: DLA+ Architecture & Interior Design
Stadium Structural Engineer: Thornton Tomasetti
Stadium M/E/P Engineer: ME Engineers
Shopping Mall Design Architect: CRTKL
Local Architect: Haeahn Architecture
About DLA+ Architecture and Interior Design
About DLA+ Architecture and Interior Design 

Headquartered in Pittsburgh, Penn., DLA+ is a full-service architecture and interior design firm dedicated to providing Strategic Architecture (SM) solutions through a collaborative and integrated approach to delivering projects for clients. Its team of talented professionals has broad and deep experience in all aspects of the Architecture and Interior design disciplines, significant LEED and design/build background, and extensive construction contract administration experience. Visit www.DLAplus.com for more information.