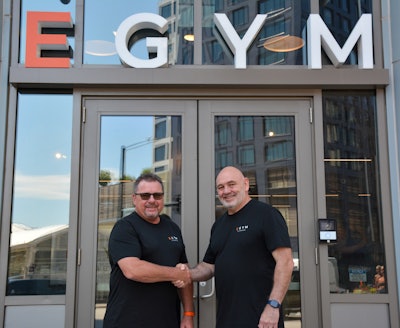 EGYM, a leading global fitness technology company, continues to expand rapidly in the North American market and are projecting to double their footprint in 2023. Expansion of their Enterprise customer base has played an important role in EGYM N.A's impressive growth the past year, including.  Additionally, EGYM N.A. has seen significant interest in bringing the EGYM Ecosystem to larger groups in both the Commercial and Boutique segments.
As a result of this growth, EGYM N.A. is excited to announce that they are expanding their team once again with the addition of Guy Williams as their Senior Director of N.A. Enterprise Accounts. Guy, with over 30 years of experience in the fitness industry, will be responsible for growing and managing EGYM N.A.'s new and existing enterprise clients.
Dana Milike, EGYM NA General Manager, says "Guy's experience and reputation speak for themselves. His understanding and passion for Connected Fitness is the perfect fit for EGYM. As the global leader in bringing 'Smart' technology solutions to health and fitness club operators, we look forward to his contributions and leadership."
Currently, 15,000 studios worldwide use EGYM products and services. This year, EGYM also received $225 million in growth capital from its new investor Affinity Partners. The investment focuses on further developing innovative digital solutions for health-focused workouts and an ambitious expansion of the EGYM Wellpass corporate health network. EGYM is growing globally 70 percent year-over-year and expects to close the 2023 fiscal year profitable.
Guy Williams, Sr. Director of Enterprise Accounts stated: "I have had the pleasure to partner with the EGYM N.A. Team for the last several years as Precor and EGYM Solutions were combined at numerous mutual customer sites. During that time, I have learned what a great system EGYM offers fitness operators to successfully serve their members in their fitness journey and in turn help create a more successful business. I have also seen a great team of people doing what they do best at EGYM. I'm excited to be joining such a talented group of people. I look forward to learning from and contributing to the success of the EGYM team as we grow the business together."
About Guy WIlliams
Sr. Director of Enterprise Accounts  - North America | EGYM
(720) 900-2526, ext. 2
Guy Williams is a fitness industry veteran with over 30 years leading teams selling hardware and connected fitness. He has spent the last 12+ years as Precor's Global Director of Networked Fitness Sales. His depth of sales and leadership experience, understanding of EGYM's Ecosystem approach, and his extensive industry network make him a perfect fit to lead EGYM's Enterprise growth in North America. 
About EGYM
EGYM is a global fitness technology leader that provides fitness and health facilities with intelligent workout solutions built on connected gym equipment and software. EGYM empowers gym operators to deliver a comprehensive experience through its smart gym equipment and digital solutions to support their members' fitness journey and provide data-based guidance to help them stay motivated and achieve their goal of a healthier life with improved physical and mental wellness. EGYM's global headquarters are in Munich, Germany, with North American offices in Denver, Colorado.