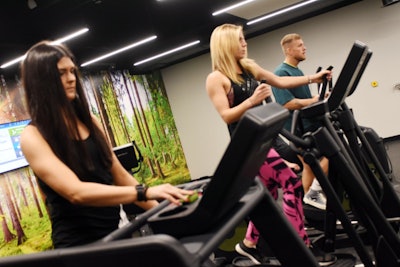 Seattle, WA- September 14, 2023 -  SportsArt, the leader in sustainable fitness and green solutions for over 40 years, is featured in Monkton Stadium as its green gym equipment supplier in support of the region's pledge to become carbon neutral by 2030. Monkton Stadium is the first venue in the region to use SportsArt's innovative, energy-generating ECO-POWR™ line of cardio equipment. 
SportsArt's selection as Monkton Stadium's new green gym equipment provider was prompted by South Tyneside Council's move to cleaner, greener renewable sources of energy to enhance its natural environment. This commitment to sustainability made SportArt the ideal choice for the major athletic venue. Located in Jarrow, England, Monkton Stadium hosts regional and national events and is home to various sports clubs including Jarrow and Hebburn Athletics Club. 
Monkton Stadium's green gym installation includes a variety of premium ECO-POWR™ equipment including the G660 Treadmill, G260 Rower, G874 Elliptical, G574U Upright Cycle, G574R Recumbent Cycle and the G516 Indoor Cycle. Along with proprietary technology that converts human energy into usable electricity, ECO-POWR™ equipment is thoughtfully designed to deliver the exceptional, effective and intuitive workouts that users demand. Combined with the SA Well+ system, gym goers can easily see how much energy is being generated—and how their healthy workout is having a positive impact. 
The addition of sustainable equipment has been met with positive feedback. The G260 ECO-POWR™ Rower, the first ever energy-generating rower, has been a standout. Not only does the electromagnetic braking system produce energy as exercisers move, it mimics the real-world feeling of rowing on the water. A bright LED display shows the amount of watts being generated in real-time, giving users a bold and tangible reminder that they're giving energy back to the grid with every workout. "The rower is a fantastic piece of equipment and something that we are proud to offer at Monkton Stadium," said Gary Hoggeth, leisure facilities manager at South Tyneside Council for Monkton Stadium. 
Another impressive green player on the Monkton Stadium gym equipment roster is the SportsArt G660 Treadmill. It is the first treadmill to have its carbon footprint independently certified. And, based on the expected use in a commercial facility, the G660 has the potential to be carbon-negative within its expected life cycle. That means it will produce enough clean energy to offset more carbon than its certified footprint, for an overall positive impact on the environment. Aligning with the region's carbon neutral pledge, the G660 Treadmill further advances Monkton Stadium towards its sustainability goal.
"For us at SportsArt and for Monkton Stadium, sustainability is more than a core value on paper, it's something we live through our actions," said Ruben Mejia, executive vice president, SportsArt Americas. "The ECO-POWR™ line featured in the fitness center at Monkton Stadium converts up to 74% of human energy into usable electricity that is returned to the grid without the need for any special wiring. It just plugs into a standard outlet and gym goers generate electricity during every movement, making workouts more meaningful than ever before."  
Since the mid-June SportsArt installation, Monkton Stadium has received a positive response from the community and has seen an increase in membership interest and sales.  
"We were excited about the Monkton Stadium project and providing our local community with the opportunity to exercise and generate usable electricity using the SportsArt ECO-POWR™ equipment," said Hoggeth. "The SA WELL+™ system is displayed on a TV screen which allows our members to understand just how their workout is returning energy to the grid and how their increased efforts can be converted into something impactful as well as helping us to reduce overall energy consumption from the building, which supports our council pledge to become carbon neutral by 2030."
The renovations at Monkton Stadium also include a mezzanine floor, sauna and new changing and showering facilities. Additionally, the fitness center has new offerings such as group workout classes and smart tech equipment to round out and elevate the workout experience. 
# # # 
About SportsArt 
With more than 40 years of innovative design and manufacturing excellence, SportsArt continues to lead the fitness industry through revolutionary sustainable solutions. Along with the world's only line of energy-generating cardio equipment, ECO-POWR™, SportsArt also offers a full range of high-quality cardio, strength and rehabilitation equipment for the fitness, medical and residential markets. Known for its dedication to service, durability and cutting-edge technologies, SportsArt is one of the largest single brand manufacturers in the world with over 500,000 square feet of state-of-the-art space. The company designs, manufactures and tests all equipment in-house before it is sold in over 70 countries worldwide. For more information visit gosportsart.com. 
About Monkton Stadium 
Monkton Stadium is a major athletics venue that serves as a host for both regional and national events. The center offers a fitness suite, fitness classes, track and field events and coaching in many sports, as well as being the home of Jarrow and Hebburn Athletics Club. For more information visit https://www.southtyneside.gov.uk.
Media Contact  
Involve for SportsArt: Samantha Peters, 440.225.0769, speters@getinvolve.com