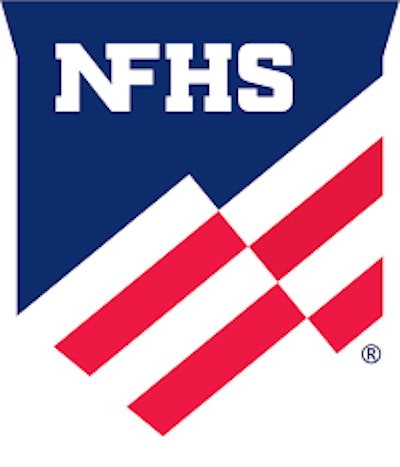 INDIANAPOLIS, IN (October 31, 2023) — The National Federation of State High School Associations (NFHS) has announced a three-year corporate partnership with SportsCom, a leader in wearable sport technology and coach-to-player, real-time communication.
As part of the partnership, SportsCom is the Official and Exclusive Baseball Coach to Catcher Electronic Communication Device of the NFHS. Earlier this year, the NFHS Baseball Rules Committee approved a rule change to allow use of a one-way communication device between a coach in the dugout and a team's catcher for the purposes of calling pitches. The new rule will be effective with the 2024 baseball season.
"As the landscape of wearable technology advances and evolves, the NFHS is proud to partner with SportsCom to help schools navigate that world and provide access to more coaches and student-athletes," said NFHS CEO Dr. Karissa Niehoff.
"Coaches expect a seamless, real-time communication tool that doesn't get in the way of game strategy and the SportsCom approach aligns perfectly with that vision," said SportsCom President Daryl Ludvik.  "We're incredibly excited to partner with the NFHS in the initiative of bringing technology to the sport of baseball and being a small part of our athletes' success stories."
SportsCom is dedicated to youth sports and is creating a fund supporting local communities across the United States to provide monetary support for the maintenance of sports facilities through the SportsCom Cares program. SportsCom's goal is to provide funding for all types of field and court maintenance as well as new equipment as a way to keep sports accessible to all future generations.
In addition, NFHS state association member schools can receive a discount on SportsCom products as a part of the partnership. SportsCom is offering two sample watches and temporary access to the subscription for the first 200 schools that contact SportsCom via email ([email protected]) to set up a demo or request sample watches and information.               
###
About the National Federation of State High School Associations (NFHS)
The NFHS, based in Indianapolis, Indiana, is the national leadership organization for high school sports and performing arts activities. Since 1920, the NFHS has led the development of education-based interscholastic sports and performing arts activities that help students succeed in their lives. The NFHS sets direction for the future by building awareness and support, improving the participation experience, establishing consistent standards and rules for competition, and helping those who oversee high school sports and activities. The NFHS writes playing rules for 17 sports for boys and girls at the high school level. Through its 50 member state associations and the District of Columbia, the NFHS reaches more than 19,500 high schools and 12 million participants in high school activity programs, including more than 7.8 million in high school sports. As the recognized national authority on interscholastic activity programs, the NFHS conducts national meetings; sanctions interstate events; offers online publications and services for high school coaches and officials; sponsors professional organizations for high school coaches, officials, speech and debate coaches, and music adjudicators; offers online education courses for coaches, administrators, students, officials, performing arts educators, parents and others; and serves as a national information resource of interscholastic athletics and activities. For more information, visit the NFHS website at www.nfhs.org.
About SportsCom
SportsCom is a product of Concept Coding LLC based out of New Lenox, Illinois.  Concept Coding is a leader in sport wearable technology and coach to player real-time communication.  Company operations include research and development, software engineering, sales, and customer service.  SportsCom creates innovative products that inspire youth athletes and create a safe delivery of game strategy.  Visit https://sportscomapp.com/about-us for more information.
MEDIA CONTACTS: Bruce Howard, 317-972-6900
 Director of Publications and Communications
 National Federation of State High School Associations
 Chris Boone, 317-972-6900
 Assistant Director of Publications and Communications
 National Federation of State High School Associations
 Nate Perry, 317-972-6900
 Manager of Media Relations
 National Federation of State High School Associations