Steinbach Wins National Business Journalism Award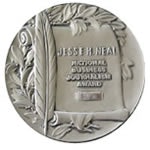 New York, March 23, 2006 - Paul Steinbach, an associate editor at Athletic Business since November 1999 and the author of the magazine's monthly column on college sports, has won a 2006 Jesse H. Neal National Business Journalism Award.
The award, in the "Best Department" category, Classification B (magazines in competition were divided based on advertising revenues), was presented by American Business Media to Editor Andrew Cohen at a luncheon celebrating the 52nd annual Neal Awards at New York's Waldorf-Astoria Hotel.
Judges praised Steinbach's selected columns from 2005 for their "excellent craftsmanship" and "impressive reporting on both controversial and non-contemporary issues in college athletics." As presenter Aric Press, financial investigative reporter for The New York Times, said in announcing Steinbach's win, "According to the judges, this work offered 'very valuable lessons for readers,' and that is exactly what we are all about."
Read the award-winning articles: