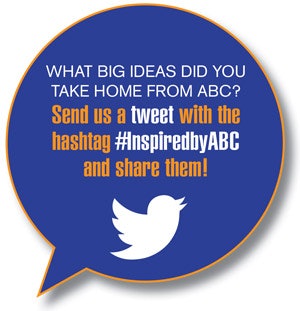 The Athletic Business Conference & Expo celebrated its 32nd year by welcoming sports, fitness and recreation professionals from around the world to San Diego last November for educational seminars, golf, facility tours, product demonstrations, parties, Zumba and some Magic, as in Johnson — one of two marquee keynote speakers at ABC 2013. Co-location partners included the International Council on Active Aging, the Medical Fitness Association, the National Alliance for Youth Sports, as well as the iClubs Conference, the independent club owners and executives conference.
Both veteran and rookie attendees alike raved about the show's perfect blend of education and entertainment. "ABC is consistently very educational and fun. I enjoyed the seminars, networking and the trade show," says eight-time attendee Keith Bulicz, recreation supervisor and athletic director for the Aspen (Colo.) Parks & Recreation Department. "The trade show, specifically, allows me to keep up with cutting-edge products in the sports, fitness and wellness industry."
Bulicz praised the keynotes this year, along with a surprising seminar. "Jenise Jensen had a great seminar on iPhone apps in which the group was divided up into four teams, and played a Jeopardy-style game with possible uses for different apps," he says. "She turned a potentially boring seminar into an interactive, fun learning process."
First-time attendee Michele Silver, superintendent of recreation with the Wood Dale (Ill.) Park District, went to ABC looking for ways to improve her management and leadership style, along with ways she could increase participation in programs and events through new ideas she received at ABC. "I was pleasantly surprised with the speakers and information that was presented. I have gone to many other conferences and was not as happy with the experience," she says. "I found the information was well thought out, professional, organized and catered to my goals of what I wanted to accomplish at the conference. ABC was more than I had hoped it would be."
Another first-time attendee, Glenwood Springs (Colo.) Parks and Recreation Athletics and Fitness Coordinator James Main, attended the NAYS Certified Youth Sports Administrator Academy, along with a variety of seminars, but specifically found great value on the trade show floor. "I demoed several pieces of equipment that would complement my facility, and also got some new ideas for modifying areas that have been underutilized," Main says.
Exhibitors were pleased with the uptick in traffic to their booths. "The traffic was good and the attendees are always high quality," says John Ficks, national sales manager with longtime ABC exhibitor Robbins Sports Surfaces.
Tina Nibbe, marketing manager with Octane Fitness, echoed Ficks, emphasizing the importance of getting out in front of prospective buyers at ABC. "With our equipment, it is essential to get on it and try it to truly understand the feel and features, so live trials are so valuable at the show," she says. Octane Fitness, an exhibitor for seven years, has already made plans to return to ABC for this year's show in Orlando. "We had a great show. Traffic was great, and we met a lot of new customers."
Inspiration and ideas were not only generated in the educational seminars and on the trade show floor, but also in the master ballroom — site of Age Wave president Ken Dychtwald's informative keynote address on global longevity, its impact on society and how fitness professionals can keep pace, as well as Magic Johnson's inspirational and entertaining presentation on positive attitude and how failure can be turned into success. "Magic Johnson was awesome," says Silver. "He communicated that you can be and do whatever you set your mind to. If you are motivated and excited to go to work, people will see that and gravitate toward you and start having the same mentality and enthusiasm and be more productive."
---
TOUR SHOWCASES: Two Distinct Rec Center Designs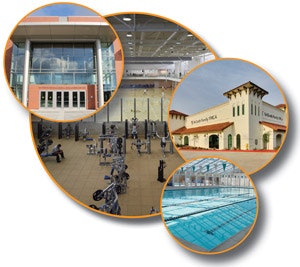 Before a tour of Long Beach State's three-year-old recreation center even began, associate director of recreation Sean Del Rossi alerted some 70 Athletic Business Conference & Expo attendees that they would later step into a "bizarro world" once the tour took them to the University of California-Irvine's counterpart facility. In terms of programming layout, left would be right and vice versa.
But so much more differentiates the two facilities featured on the Nov. 20 bus tour north from the Athletic Business Conference & Expo in San Diego. Long Beach's center is almost clinical in appearance, with white walls accented with stark, larger-than-life graphics (a woman in a yoga position, a basketball in the hands of a shooter) and abundant use of glass. A glass half-wall (resembling a hockey dasher treatment) separates the ground-floor fitness area from the multicourt gym space; a glass railing travels the circumference of the second-level jogging track; and heavy glass is found along the "most traveled hallway on campus" separating the gym from racquet courts and leading to a climbing wall toward the back of the building. There's an unmistakable openness and energy about the building.
The feeling is quite different in Irvine, but no less welcoming. Earth tones dominate the entrance to UC-Irvine's rec center, as does a lobby climbing wall (contrasting from the location of this amenity in Long Beach). Beige and burnished block walls and exposed hunter-green iron beams give the sensation of being in a modern ballpark concourse. An enormous outdoor pool deck featuring a barbeque and surrounded by lush foliage gives the impression of being at a high-end resort. A multi-activity court features the kind of soaring A-frame ceiling that one would expect to find in a retro basketball field house design. Jill Schindele, a 32-year veteran of the UC-Irvine rec department, introduced herself during lunch served in an expansive teaching kitchen, reflecting the university's emphasis on wellness.
In the end, ABC tourists got a taste of two distinct approaches to rec center design. Neither bizarro, necessarily. Just different. And both impressive in their own way.
---
Social at the Show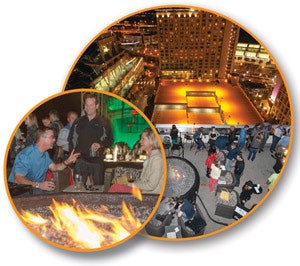 The Athletic Business Conference & Expo provides a great opportunity for like-minded thinkers from all over the country to socialize and interact — both literally and virtually. On the virtual side, we were pleased to see our hashtag catch on, as hundreds of attendees and exhibitors shared their experiences at #ABCSanDiego on Twitter. This provided those in attendance with an opportunity to see what was happening from different perspectives all around the event. Plus, we awarded several prizes to people just for tweeting.
Also aiding the virtual show experience was the new ABC mobile app. More than 500 people downloaded the app and took advantage of the schedules, speaker bios, trade show and San Diego city maps, and social media options available through the app.
For those who managed to keep their phones in their pockets for a few minutes, there were plenty of in-person social opportunities, as well, including the annual ABC Golf Classic on Coronado Island and an iClubs reception at a trendy rooftop bar. But perhaps the most noteworthy social event came Thursday night at Stingaree nightclub in downtown San Diego. With complimentary food and drinks, a large dance floor and a rooftop terrace, attendees and exhibitors alike cut loose. Not even the rain could keep people away. It was an ideal event to celebrate another year of learning, networking and fun at ABC.
---
Sensational Seminars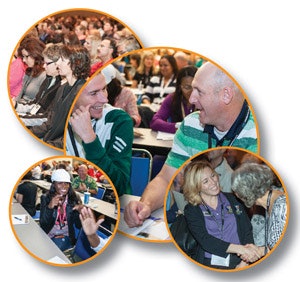 Amid the sights and sounds of San Diego, the after-hours networking events and all of the new equipment on the trade show floor, it would be all too easy to forget the myriad seminar tracks at the heart of ABC. But those industrious individuals who arrived bright-eyed and ready to learn were not disappointed, heading home from ABC armed with big ideas and the know-how to execute them.
While tried-and-true favorites like AB's Rob and Barry continued to draw sizeable crowds — who hasn't been drawn in by Greg Catalano, the Physician of Phun? — new courses, indeed, an entire new track, emphasized the increasing role of technology in facility and programming success. A session led by Hughes Group architects Amado Fernandez and Gavin Myers, "How Technology Is Influencing Recreation Facilities," offered this telling statistic: Radio took 38 years to reach 50 million users; the Angry Birds Space app took 35 days. Sessions across the board provided guidance for today's recreation, fitness and athletic professionals to better incorporate technology and social media into their facilities, as well as their programming, marketing, and personal and professional lives.
A marked sense of optimism permeated this year's crowd of session attendees. An improving economic outlook signaled the green light for many long-delayed construction projects, and sessions related to facility renovation and construction were well attended by those itching to get started. For those still working on a shoestring budget, seminars like "Running Your Sports Facility: Management, Operations and Optimization," led by The Sports Facilities Advisory, were packed with attendees looking to get the most out of their resources. Whether building or budgeting, the future is looking bright for sports and recreation facilities.
Perhaps less exciting but essential to future success, sustainability was the focus of campus recreation directors Maureen McGonagle and Robyn Deterding in their session, "Positioning Yourself and Your Organization for Long-Term Success." At a time when everyone is thinking green, facility operators shouldn't let economic and social sustainability fall from their radar — making sure programming is financially viable and open to as many potential participants as possible. A sustainable program is one that leverages the synergies found in overlaps — programs with options and different price points allow students to participate without breaking either their budgets or the facility's. The session was capped off, as all the best ABC sessions are, with a roundtable sharing of ideas, from simply replacing student flyer boards with digital options in a paper-saving effort to partnering and sharing resources with other campus organizations and programs.
---
This article originally appeared in the January 2014 issue of Athletic Business under the headline, "Pure Magic."