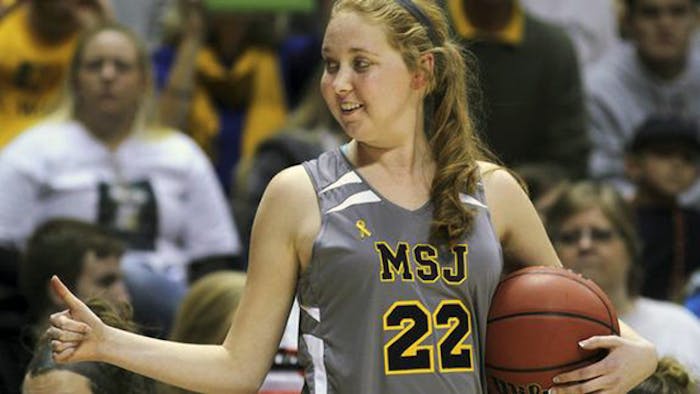 Lauren Hill, the cancer fighting, layup making college basketball player who captured the hearts of our nation, has died.
The 19-year-old freshman basketball player at Division III Mount St. Joseph University died at a hospital Friday morning, the Associated Press reports.

"She's made an impact on the world, more so than me — more than I ever will do," her coach Dan Benjamin said. "I've gotten so many emails and phone calls from all over the world. People are contacting me because they want to share her story."

Her story gained national attention in Nov. 2014.

Before she began college at Mount St. Joseph, located in suburban Cincinnati, Hill was diagnosed with an inoperable brain tumor and told she had less than two years to live. But Hill refused to give up.

She spent more time with her family, helped raise money for cancer research and continued playing basketball, setting a goal of scoring a basket in a game.

Her condition deteriorated as the basketball season approached and the NCAA agreed to let Mount St. Joseph move up its opening game against Hiram college by two weeks. With her story gaining attention, Xavier University offered its 10,000-seat arena so more people could attend the game. Tickets sold out in less than an hour.
Thank you Lauren Hill for your bravery, your strength, your fight and your legacy. #RIPLaurenHill

— dawnstaley (@dawnstaley) April 10, 2015
Thank you Lauren Hill for inspiring us all. Your strength and tenacity will always be remembered. You live on in our hearts forever.

— WNBA (@WNBA) April 10, 2015

On Nov. 2, Hill achieved her goal. With Tennessee women's coach Pat Summitt and several WNBA players among the crowd in the packed arena, Hill made a left-handed layup just 17 seconds into the game. She was forced to use her non-dominant hand due to the effects the tumor was having on her body.

The gym erupted and Hill became a sensation. She went on to make the last basket of the game, returning for a right-handed layup this time.

"It's a dream come true," she said. "To play on a college court, to put my foot down on the floor and hear the roar of the crowd — I just love it so much. I love basketball.

"Everything that happened today was amazing. I'm truly happy, it's a really good day."

NCAA president Mark Emmert was among those touched by Hill's courage.

"Lauren Hill's bravery, enthusiasm and strength were an inspiration not only to those who knew her best but also to the millions of people she touched around the world by sharing her story," Emmert said.

In addition to her inspiration, Hill's nonprofit foundation helped raise more than $1.5 million for cancer research.

"Life is precious," she told WKRC-TV. "Every moment you get with someone is a moment that's blessed, really blessed."

[h/t Associated Press]