This article appeared in the July/August issue of Athletic Business. Athletic Business is a free magazine for professionals in the athletic, fitness and recreation industry. Click here to subscribe.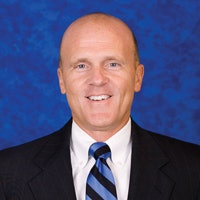 During my 20 years as the athletic director at Grand Valley State University, I witnessed many great accomplishments by our athletic teams. I have had the privilege of working at a great university with very talented and hard-working people who care about our student-athletes. I am proud to have played a key role in our athletic program's success, which took the form of GVSU taking 13 of the past 14 first-place finishes in the NACDA Directors' Cup for Division II.
Successful leaders come in all shapes and sizes. I was raised on the maxims of my dad as he taught and coached, and have followed them ever since, subscribing in particular to the KISS method of teaching: Keep It Simple, Stupid!
Accordingly, here are my four fundamentals for the foundation of successful leadership.
1. BE COMMITTED
Athletics directors put in a lot of hours. Our schools play athletics contests mostly at night and on the weekends. There is no "normal" week. Therefore, you have to make the commitment that you will "be there." No, you can't make it to every contest, but those contests are fundamental to what we do. As a leader, I believe you must make the commitment to be there if you want those following you to know you care.
Through 28 years (total) of administration and 28 years of exit interviews, we asked our student-athletes numerous questions about their experiences. One question was, "Do you feel you had administrative support for your sport?" Ninety-nine times out of 100, the answer would be something like, "Oh sure, we always saw
Mr. Selgo or one of the associate athletics directors at our events, and one of them always traveled with us to championships." That is their definition of support. Rarely did they say anything about how much money was spent on their sport or what their facilities were like. Their concept of support was that people cared enough to be there.
Beyond showing support for the athletes you serve, attending contests is your chance to evaluate your programs and coaches. You can't tell how well a coach is performing by showing up one or two times during a season. When teams are going through a tough stretch, it doesn't always mean the coach isn't doing a good job. Conversely, winning can cover up a lot of evils, so even during good times you have to keep your eyes and ears open.
Remember, the scoreboard usually doesn't lie, but it can trick you sometimes. The only way for you as the leader to know about a program for certain is to make the commitment to be there and pay close attention as often as humanly possible. It can take up a lot of time in addition to the normal 8-to-5 workday, but making that commitment is fundamental to being the best leader you can be.

2. BE POSITIVE
The primary reasons that administrators exist are to solve problems and make decisions. If there were never any problems, we wouldn't be needed. Accept that fact and don't be afraid of problems or of making the decisions needed to solve those problems. Avoiding conflict is the certain path to poor leadership. Problems and conflicts can be stressful, but it is the culture you create that can make the difference, and you have to decide if you are going to look at the glass as half full or half empty.
Successful leadership requires always looking at the glass as half-full — be positive. Always look for the solution to make something better. That's also competitiveness — great competitors face adversity all the time, but they remain positive and try to find solutions.
This isn't to say that a good leader is never allowed to feel defeated. Sometimes you might have to vent in private, but maintaining an outwardly positive appearance is what's important, and tough times are when your leadership is most important. Your coaches and other staff members don't need you nearly as much when things are going great. Everybody tells them how good they are in those times — sometimes it's up to you to bring them back down to earth.
There is far too little of that in athletics today. It takes time to build successful programs, and in college athletics, that means years. You must be positive and live through some tough times in order to get to the good times. As I would often tell our staff (and fans on occasion), this isn't fantasy sports. You can't point and click your way to success. Your staff needs you to step up in the tough times, be positive and keep working. Just remember the old saying: "This too shall pass."

3. BE UNSELFISH
Another of my favorite old adages: "Surround yourself with successful people and you will find success." I have found that to be 100 percent true. Help others to be successful and you will find success. It starts with hiring the most-talented people you can find — I have always tried to hire people I thought were better than me. Your best staff members, coaches and others will constantly challenge you to be at your best.
Once you hire good people, work hard to make them successful. Find ways to help them improve in their jobs. Go out of your way to learn more about them. Care about their lives beyond athletics. Your people must genuinely know you care about their success ahead of your own. That's leadership.

4. HAVE BALANCE IN YOUR LIFE
This is hard to achieve in the world of athletics administration, especially when my first fundamental for leadership is to make the commitment necessary for success. The key is to understand your priorities and make wise use of your free time.
When I started coaching in college athletics 35 years ago, I made the commitment that I was going to put a priority on my faith, my family and my profession. Any personal life was going to be put on hold until the kids were grown up. Now that we are empty-nesters, my wife and I have more time for ourselves. But until the kids went to college, I had to put personal things last on my list of priorities.
Athletics is like farming. It's not a job; it's a way of life. I love to read, so I would get up at 5:30a.m. to read, because I knew there was no other time to do so during the typical day. I also made time to go for jogs and walks, because I valued the balance they brought to my days. Life is never in perfect balance, but you should work on trying to find it in your life, no matter how busy you are.
These four fundamentals underscore the most important thing to finding success in college athletics: people. We don't make widgets. No matter what the issue is — and there will always be another issue — college athletics is about leading people, and these four fundamentals will help you find success.
---
This article originally appeared in the July/August 2016 issue of Athletic Business with the title "Four fundamentals for successful leadership"