From the very beginning, Athletic Business has been a family affair. The original publication combined founder Fenton Kelsey Jr.'s passion for ice hockey with a family tradition of publishing. Current CEO Gretchen Kelsey Brown played an integral part in the magazine's early production, and since her father's retirement in the mid-'80s has been at the helm of a publication credited with guiding the athletics, fitness and recreation industry through major changes and challenges. Account executive Michael Gaio recently sat down with Brown to discuss the evolving industry.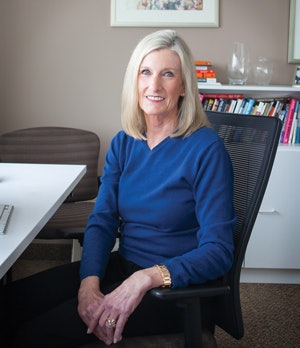 How did Athletic Business get started?
Our family has been in the publishing business for generations. My grandfather started in Chicago, and my father did restaurant magazines, but his passion was always hockey. When he moved to Madison, Wis., he continued his passion even though there wasn't a lot of hockey going on here at the time. He built the first artificial ice arena in Madison.
In 1976, he brought back his idea of a business magazine for the sports world. Initially it was called Athletic Purchasing and Facilities. The first issue was a buyers guide, and frankly that was something he knew was really needed because of his experience building the ice arena and looking for resources and information. Most of the people who were involved in athletic administration at the time were ex-coaches. It wasn't business-oriented at all.
When did you realize you were on to something?
The concept of a trade magazine is to connect the advertisers with the audience. My dad really nurtured this along, and there were a number of companies that he educated on how to sell. When we really figured out that this was a big deal was when some of these companies started coming back and saying, "We can't believe it. You have really changed our businesses for us. You are connecting us with the audience, and we know how to follow up and nurture these relationships now."
Is there any editorial coverage that you're particularly proud of?
One of the most exciting things we got involved with was the advent of Title IX, trying to straighten out women's athletics and what kind of role women would play in the college athletic world. There were two separate groups, the NCAA and the Association for Intercollegiate Athletics for Women. AIAW was conducting women's championships and the NCAA wanted to get involved. They came to us and kind of used us as a platform to communicate with their audiences. The AIAW put out their statement of what they wanted, and the next month the NCAA would come back and respond. We really were a center of that communication.
What was the inspiration for the first AB Show?
We started with a show called FACILEX. There was a show promoter and baseball coach at Stanford who came to us with this idea for a show. We were with them for about two years and realized that it wasn't a good match. We went on to start our own show in the early '80s. It was in Chicago, and the exhibit hall was just tabletops. We didn't have a lot of expertise in putting together a professional education program. We didn't know how to coach our speakers — some of them didn't even show up. It was really kind of a casual thing. We had a lot of support, though. We had people who were really anxious for us to succeed.
About this time, I met my future husband. Peter happened to be the national sales manager for Lifecycle, which has now become Life Fitness. He came to one of our conferences and he asked me how in the world I expected him to sell a Lifecycle on a tabletop. He made the big commitment to leave Lifecycle and come join our company. That was a big turning point for us.
What is the role of a print publication in today's digital world?
One thing about the internet is that it's no longer a one-to-all communication. It's one to one. You need to engage in a different way. You need to connect and get feedback. You used to be able to sit on high and tell it like it is. That's not the way it is anymore. I think there's a lot of synergy once you start learning how to use the content in different ways and build on content and connect in different ways.
Athletic and rec facilities in general have evolved so much over the past 40 years. Is that something you anticipated?
Definitely not. Take college recreation, for example. We were there at the very beginning. NIRSA used to be an intramurals association. The facilities were always shared with athletics, and intramurals were always kind of the stepchild. Once colleges realized that this was a wonderful recruiting tool for students, and once the whole world changed and people became more active, the arms race started with college rec, and it just blows your mind the kind of facilities that are being built now compared to what was the standard back then.
What excites you about the future?
It's just amazing walking through the tradeshow and looking at some of the offerings that are out there now. Just the developments and advancements — all the technology, the Fitbit kind of world. People now are expecting this to be a part of their lives in a way that just a few decades ago didn't exist. I think the demand is just going to keep serving us very well. We're going to keep innovating and improving and having fun with what's happening in our world. The future looks very bright.
---
This article originally appeared in the April 2017 issue of Athletic Business with the title "One family's industry influence." Athletic Business is a free magazine for professionals in the athletic, fitness and recreation industry. Click here to subscribe.