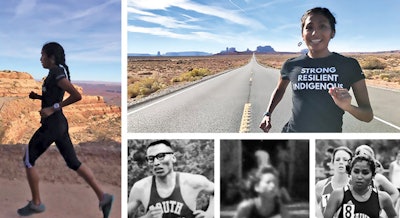 My name is Jordan Marie Brings Three White Horses Daniel. I am Kul Wicasa Lakota and a citizen of Kul Wicasa Oyate/Lower Brule Reservation in South Dakota. I am also Diné (Navajo). I am passionate about many things. However, I want to connect two of those passions that really make life worthwhile: running and activism.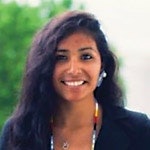 I was born to run, but I rejected it for quite some time. My Lala (grandfather) Nyal Brings was a long-distance runner for the University of South Dakota and was inducted into the USD Hall of Fame for his running accomplishments. Friendly rivals, Lala Billy Mills and Lala Nyal competed in the mile a few times, with Lala Nyal taking a victory over Billy. In the 1964 Tokyo Olympics, Lala Billy would go on to win a gold medal in the 10K. My Lala Nyal took me on my first run and it ended with a half-mile uphill that ultimately led me to not like running. I didn't find it fun at all. My Ina (mother) was a sprinter and my Lala was her coach, with a sure plan to get her to the 1988 Olympic Trials. However, her path led her to become an incredible pediatric, dialysis and oncology nurse. My Até (dad) really helped me develop a mental toughness for running — something I'll never forget.

Inspiration in many forms
I grew from tolerating running to really falling in love with the sport. I started with the 5K and 10K my freshman and sophomore years of college, then moved down to shorter distances. However, after college, I moved back to longer distances, then half marathons and eventually marathons. After college, Lala Billy's organization, Running Strong for American Indian Youth, had asked me to join their team for the 2016 Boston Marathon. At the time, I was working with tribes to implement programs, some specifically for Native youth in Washington D.C., and I was glad to help Running Strong raise funds. I suffered an injury while preparing for that marathon but somehow got myself to the starting line in Hopkinton, Mass.
My coach got me into the first wave and corral, so to experience that while fan-girling over my idols gave me the adrenaline to run through the pain. When the gun went off, all I could think about was my Lala Nyal, my Ina, Lala Billy and my entire tiospaye (extended family) back in Lower Brule and Indian Country. I was running Boston, something I never would've dreamed possible. Alongside me, others were running to get a best time or running for a cause, all while running with other Indigenous relatives. I had a lot to reflect on. I got to the finish, feeling happy and emotional. I was in pain, but the joy I felt upon completing that race wasn't for me, it was for Indian Country. The possibilities for Indigenous Peoples are endless and to share that with everyone was beautiful.
That experience led me to use running as a way to change the narrative around how people see or think about Indigenous Peoples. The protests in Standing Rock over the Dakota Access Pipeline really inspired me. While I was working full-time and training, I was also organizing events, rallies and marches to raise awareness about environmental, social and economic issues where running could serve as another platform. The Standing Rock youth who ran 2,200 miles from North Dakota to D.C. to hand deliver a petition opposing the Dakota Access Pipeline to protect water — our first medicine (mni wiconi translates to water is life) — was a great motivator for me, and an example of how I thought I could connect running with activism.


New perspectives
My whole perspective on running and my place in the world has changed. I no longer care as much about wearing only my sponsor's brand on race day or a normal run day. Now, I want to wear gear that highlights some of the fights and accomplishments going on in Indian Country. From wearing and racing in the "Free Leonard Peltier" singlet that Olympian Billy Nelson handed down to me to promoting gear from Native-owned running and outdoor companies, I want to speak for the causes that I hold dear.
With the help of my coach, I eventually created a "Team 1ndigenous" racing kit to help promote health and wellness for other Indigenous runners, as well as sending the message that we are one — we are all related and connected. Now, whenever possible, I change my bib number to reflect the #MMIW (Missing and Murdered Indigenous Women) epidemic in Indian Country instead of my name or number at races. Most recently, I was able to do this at the San Diego Half Marathon, where it sparked conversations with spectators about what #MMIW means after I crossed the finish line.
Running also allows me to connect to the very lands that I advocate for and want to protect and preserve, such as Bears Ears National Monument in Utah, which I visited during the #Truthsgiving weekend. These are sacred lands that Indigenous Peoples have been using since time immemorial. Their protected status is in danger, as more than 83 percent of Bears Ears has been opened to public development, including possible fossil-fuel and energy-extraction projects.
Running is life. It connects me to Unci Maka (Grandmother Earth). It humbles me. It challenges me mentally and physically. I plan to keep running and competing for as long as my body will allow. I've recently started trail running and ran my first 7.5-mile trail race in November. I won for women and set the course record, but it taught me a different kind of running style. Trail running brings me closer to nature, which I respect and value.
Running connects me with my Lala Nyal, who made his journey back in August 2016. I feel him and remember him with every stride. It connects me with my Ina. Every stride forward, I carry Indian Country with me. Running is a not just a community of athletes, it's a family community. It has opened dialogues and cemented long-term friendships. It has been a stress reliever, a healer and has evolved for me as a platform to raise awareness of the very things in life that I care about most.
Continue running if you're able to. Run for fun. Run for meaning. Run for you. Most importantly, get outside and enjoy your surroundings. Appreciate and give thanks. I wish you good health in your running and adventures. Mitakuye oyasin (we are all related)
---
This article originally appeared in the January | February 2019 issue of Athletic Business with the title "Lakota runner connects activity with activism." Athletic Business is a free magazine for professionals in the athletic, fitness and recreation industry. Click here to subscribe.