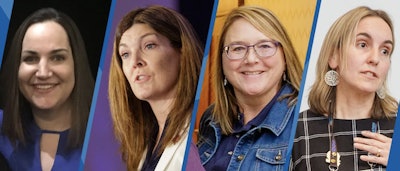 On February 22, 1950, Dr. William Wasson gathered 20 intramural directors from 11 Historically Black Colleges and Universities together for what ended up being the inaugural meeting of the National Intramural Association (NIA). The NIA eventually evolved into the association you know today as NIRSA: Leaders in Collegiate Recreation. Among those twenty directors were three women: Annette H. Akins of Dillard University, Dimples Lee of Texas State University, and Jaunita G. Pierce of Texas State University (Texas State University is now Texas Southern University). Female leaders have been a part of NIRSA from its very beginning, even if the Association did bar women from membership from 1959 through 1971.
In 1987, Mary Daniels of The Ohio State University was elected as the first female president of the Association and, in 1998, Juliette Moore of the University of Arizona was elected as the first female African American to serve as NIRSA President. Since Mary Daniels there have been twelve more female NIRSA Presidents including 2019–2020 NIRSA President Leah Hall Dorothy, Executive Director of Recreational Sports at Oregon State University. The 2019–2020 leadership year marks the first time in the Association's history that NIRSA, the NIRSA Foundation, and the NIRSA Services Corporation all boast female leaders in the role of president. Janice DeMonsi, Director of Recreation at Santa Clara University, is the NIRSA Foundation President while Stephanie McAlpine, Associate Director of Marketing and Communications at the University of Texas at Arlington, serves as the NIRSA Services Corporation President. Additionally, Pam Watts remains NIRSA's Executive Director, a position she has held since 2012.
So what does female leadership look like? As Pam says, "Women didn't work in traditional professional roles for decades, even centuries, but oh my God they were working. They were running the world through nonprofits and unpaid positions and the PTA." The idea of female leadership might seem novel in a still male-dominated society, so how do these female NIRSA leaders view leadership? Do they think there's a difference in the way that men and women lead? Do they have advice for aspiring young leaders? Keep reading for answers to these questions and more.
None of these NIRSA leaders would be where they are today without the support of individuals who believed in them. Stephanie says, "It's mentors that kind of encourage you along the way to take an outside role." Pam adds, "I think every kind of major career jump I've made, I've had people around me say 'You know, you could do that.'" Strong mentors give us permission to dream big and to take chances.
Juliette Moore is one mentor who inspired Janice to dream big. Juliette was the director of the campus recreation department at University of Arizona while Janice was a grad student there. She was also NIRSA President at the time. "Juliette Moore was the director and that was inspiring because she was African American, she was female, and she was NIRSA President," says Janice. Juliette modeled leadership; if she could accomplish so much in her career, there was no reason Janice couldn't do the same. Working under Juliette and attending her first Annual Conference in 2000 with Juliette opened Janice up to the possibility of one day serving in a NIRSA leadership position herself. Other individuals Janice identifies as mentors include Mirum Washington-White, Kim Clark, Mary O'Mahoney, Martin Tuck, and Richard Romero.
"I was brought under the wings of Tom Dison and John Meyer," says Stephanie when asked about the mentors in her life. "I think they understood the value of the diversity at the table." This need for diversity is what prompted Stephanie's continued involved with the Championship Series. When the guiding principles for the NIRSA Championship Series—the National Campus Championship Series or NCCS as it was known then—were formed at a meeting at NIRSA Headquarters in Corvallis, Oregon in 2006, Stephanie was one of the NIRSA members present at the historic occasion. She remembers clearly that she was the youngest person at that meeting. "I think they were looking for more women because the role of competitive sports is still to this day more dominated by men," explains Stephanie, who has a background in intramurals and sport clubs. Leaders of the time saw value in what Stephanie had to say and so encouraged her to get involved. Fast forward 14 years and Stephanie has served as chair of the Championship Series, attended over 35 national championships and is now just the second female President of the NIRSA Services Corporation Board of Directors, following in the footsteps of 2009 NIRSA Honor Award recipient Sue Boling, who served as NSC Board President from 2000-2002. Stephanie also counts Darci Doll, Kristy Caldwell, Randall Ford, and Chris Morris among her mentors.
Leah can name a number of individuals who have been important to her growth as a young professional in the field. Vicki Highstreet, Judy Yeast, and John Colgate have all helped guide Leah's career. Vicki was the voice Leah sometimes needed to hear as a young rec professional. "She'd be one to say, 'Hey, do you want to just muck around here, or do you want to like actually go somewhere with this?'" recalls Leah. In an unusual turn of events, over the course of a number of years at the University of Nebraska, Vicki —who is counted among the 13 women who have served as President of NIRSA herself and is also a recipient of NIRSA's highest accolade, the NIRSA Honor Award—actually went from supervising Leah to reporting to her. Vicki now "tells this story about how the mentee became her boss," says Leah.
Leah met Judy Yeast as a graduate assistant and says Judy has "been this constant supporter. She's always believed in me in a quiet way—not in a very public way—but she's always been a huge huge supporter of my work." And John Colgate, a NIRSA Legacy Contributor, was one of the people who encouraged Leah to pursue her PhD. "He said you need to go get your PhD and you need to take that and you need to start using that to move this profession forward," says Leah. Her mentors have influenced her career in many ways. ''
"I didn't have an experience that was similar to what a lot of campus rec professionals have," says Pam when asked about mentorship in her life. The value collegiate recreation professionals—and particularly NIRSA members—place on mentorship is not so common in other fields, and Pam worked at a CPA firm before she came to work for NIRSA. Pam does credit her mom with being a "huge influence" on her life though. "She just really instilled in my sister and me, 'You can do anything, the sky's the limit.'"
In just the last ten years, women's place in leadership has shifted significantly. There are more women "at the table" today than ever before. Discussing a recent call with NIRSA Foundation Board members, Janice says, "I was counting the faces on the screen and I think we had—I think there were five women—and sadly we were all white, but we were women. And then we had three white men, one African American male, and I was like, 'This is pretty good. We've got more women here.'" She adds, "I think it's impressive when you have women leaders. I think it inspires people."
"I think we need to be women who support other women," says Leah. "There's this statement about straightening another's woman's crown when it's crooked. Don't tell everybody, just straighten it for her. We need to be there and actually help each other develop and understand that our paths are unique but at the same time there are these commonalities."
Speaking along those lines, Stephanie says, "Women tend to help other women. Sometimes we had a mean girl phase too that happened to many young women, but overall women connect with each other." She sees this happening with most minority groups—members of those groups support one another and help one another. Stephanie adds, "Campus rec is that minority on a campus. Nobody understands really what we do, and they all believe it's easier than it is. And that happens with women. They feel like there's not that many of us, so let's bond together and help each other. Campus rec has evolved in the same way." From this perspective, campus recreation is a very fitting place for women to excel in leadership.
Diversity isn't as simple as just bringing women or other minority members to the table though. "I think there's just a huge difference between being at the table and truly being included in the conversation," says Pam. The goal is to avoid assimilation and instead develop a culture of belonging. "Belonging is when a group of people come together and form the culture, form the norms," says Pam. "You get to actually establish the norms and the culture that's going on. It's not 'We're including you, but you have to assimilate to our culture, our norms.'" The more diversity at the table, the more likely it is that a culture of belonging will develop.
So how do women differ in their leadership roles from men? What makes a female leader different than a male leader? "When you read the articles and they talk about the signs, the biology, they've proven women are more likely to have those kind of caring, nurturing, inclusive aspects and men are more likely to be more decisive," says Pam. "And I do think that that's true because I've watched that play out, but what I wonder is how much of that is actually DNA or how much of that is socialization."
Stephanie echoes Pam, saying "If you're generalizing, more women lead with compassion and have a more relational leadership style." She knows that some men do lead this way as well but thinks as a rule of thumb it's more typical of women leaders. NIRSA Championship Series events like the national soccer tournament are steeped in a sense of familial inclusion, and Stephanie believes this might have to do with the large number of women involved in planning those events.
Stephanie also credits Pam and Valerie McCutchan, NIRSA Director of National Sport Programs, with setting a good example as female leaders in the Association. "What they've done has allowed the members to flourish, right? To know that it is about the people, it is about making the connections. You know, because as a professional development association that's so much of what we do—cultivate the leaders for the next generation." Developing leadership is key to the Association's continued success. "Succession is so much a part of what we do in NIRSA and we need to be okay with that," explains Leah. "Move it on."
"Some of the styles of men in previous leadership roles wouldn't necessarily be as effective today," says Leah. "Leading across genders and identities, I think men sometimes overlook that relationship part and then sometimes that's what helps kind of pull your team together or pull a work group together." It takes skill to bring different perspectives together to work toward one common goal. "You know, I love those moments when you're in a conversation with someone or with their group and they're having those light bulb moments. They're connecting those dots, or the new and different thing gets figured out—that's a good day," says Pam. Janice adds, "I know our Foundation Board is very diverse and I think we try to make sure that it is. In gender, age, regions, and ethnicity. It is important because different backgrounds bring different perspectives."
Leah says, "I think when it comes to a woman leading within campus recreation, there's that sense of cultivating caring—that you coach, you coach, and you want to see the people develop and it's not so much about just driving to the result." Being able to assess the strengths of an individual, which then allows you to assign them work they'll excel in, is a skill every leader needs. "You want to make sure that the person you know can get the work done is put in the right position to do so," says Leah.
Leah strives to be approachable as a leader. "I'm not necessarily your friend," she says, "but I want to be the person you can approach. I want you to be able to ask me any question and I need to answer." She also believes names are important, and that women are generally better at remembering names than men. "Some people are talking to you like they've talked to you for the first time and you've met them three times. And I tend to find that women are going to remember that they met you and that it was a connection or a feeling." Along these lines, Pam doesn't believe ego has any part in leadership. "I think confidence does, but I don't think ego does," says Pam. "Ego may get you some short terms wins, but it will not make you a good leader in the long term."
Leah is a perfect example of a leader who does not let ego stand in her way. "I don't think about being NIRSA President," says Leah. "I think about how is this work going to help a member of our organization be better at the work they're doing in their office today on their campus so they don't feel alone, so they know they have a resource, so they know they can move something forward. So although I'm kind of like, 'Wow, I'm NIRSA President, I'm also like, 'What's the work?' And the work is helping our profession be better."
Janice doesn't say as decisively what separates female leadership from male leadership, but she suspects that one of the differences is the connection a leader feels to the work they're doing. "I think it's okay to take your job seriously, and I approach both my volunteer work as well as my job very seriously. I am passionate and I care about it. And I think that maybe is the difference between a female and a male leader—the connection to the work."
Leah, Stephanie, Janice, and Pam are all fantastic NIRSA leaders. They're also all moms. "it's hard as a mother," says Janice. "I think you are looked at like, 'Are you pulling as much weight as other people?'" The idea that a woman can be committed to both their job and their family is still—even after all these years of women being a part of the American workforce—relatively novel. "It shouldn't be like that," says Janice. "I mean, it really should be like, 'Yes, I am a mom. I have mom duties. There are doctor appointments, there are sick days, there's soccer practice, but I'm still me. I still work as hard and get my job done.'" Pam adds, "There's times in your life when you're going to go all-in in your career and you're going to pick those moments of life deliberately. Then there are other times in life where you may still work and you may still work that 40-50 hours a week executive job, and you're going to hold back a little because you're putting more energy into other parts of your life. And that is more than okay."
As moms, all four of these women understand the importance of balance between career and family. Since 2007, Pam has worked full-time while her husband is a full-time stay-at-home dad. "That was part of the deal with me going back to work," explains Pam. "What's been interesting to observe is these characteristics or experiences or feelings that were always prescribed to women because women were the stay-at-home parent." Now Pam understands more fully which characteristics are just part of the stay-at-home parent experience as opposed to truly being related to gender.
For Janice, balance comes in part from her husband's role as an active parent—when it comes to parenting, they split responsibilities evenly. "There are days when I have to do pick-up and drop-off because my husband's schedule doesn't work, and there's days that he also has to do drop-off and pick-up," explains Janice. The bottom line for her is making sure she fulfills all her responsibilities. "You just need to get your job done," she says. "I think technology has helped us in that respect. Mobile hotspots are amazing. To stay on top of your work and still be at your kid's soccer practice, that has been really helpful. But I do think that's probably the most challenging part—I think a lot of the mom duties tend to fall to the mom. And sometimes it's just because the spouse's job isn't flexible and then other times it's just how some relationships are."
"I'm very thankful that I have a husband who's always joked, 'Well, you have the degrees and you have the mobility, I'm going to follow you around,'" says Leah when asked about balancing work and family. Leah credits her ability to progress in the campus recreation field to her husband's willingness to move with her to new positions. "I think to progress in this field is harder. I think higher education is harder than a corporate type sector because you can't move up without moving out. I think that actually limits women in the progression in this field—if your spouse is in a company or a role that neither of you can actually make a move together."
Leah fully supports the idea of a healthy work/life balance, and she tries to promote that balance. "Now in an age of digital access, I'm really cautious if I send something. 'This doesn't need to be dealt with until Monday.' Yes, I'm working Sunday night to get through my email, but I don't expect you to. I actually have a line that goes in there that says, 'If I see you respond to this, I'm going to be mad.'" Leah came to this philosophy around work/life balance after a few experiences in her early career when it was clear that family was meant to take a backseat to the urgency of work. "I don't feel like the balance was a hard decision for me, but it was hard to have my supervisor understand my vision," she says. She thinks we can be present at work and present in our personal lives without one being sacrificed for the other.
When discussing leadership roles and being a mom, Stephanie says, "NIRSA made it easy for me." Stephanie was able to serve in a leadership role while on maternity leave with two young children because of support she found in the Association. "I almost passed up the Championship Series chair role because I had a small child and about to have another child," explains Stephanie. "I was on maternity leave, but I was still active as a NIRSA volunteer," she says when discussing her maternity leave at the time. This surprised many of her friends who don't work in the campus rec field, but she thinks it's par for the course when it comes to NIRSA. Stephanie feels that the Association is all about "doing what's best for the individual when we're working on a committee or are doing whatever we're doing to serve the Association."
Never was this more evident to Stephanie than at a NIRSA Championship Series event one year. "I was nursing, and I needed to go find a space. It was like, 'Where is there going to be space at the field? Am I going to go to a porta potty?'" Stephanie recalls Valerie McCutchan telling her, "It's fine. If you want to come, we'll make it happen." And she did.
Seizing opportunity has been key to the success of all four of these female leaders. From volunteering for committee work to standing for office to accepting new positions, Pam, Leah, Janice, and Stephanie have all taken advantage of opportunities that have come their way. "Take every opportunity that's presented to you," advises Stephanie. "You never know where it's going to go." "Janice adds, "If you have a goal—or you want to do something—just try and do it. It might work out."
Stephanie credits her success both professionally and as a NIRSA leader to being open to opportunities. She chose to volunteer at NIRSA Championship Series events, to serve on committees and work teams—she chose professional development in whatever form it was offered to her. Opportunities to grow are out there, you just have to find them and take advantage of them. Leadership is "about opportunities and not passing them by when they come," says Stephanie. She adds, "I don't think I'd be where I am if it wasn't for NIRSA giving me other opportunities."
"Keeping connections is so important," says Stephanie. "People think it's so much easier now because we have this digital world of connecting and social media. But just because you post a lot on social media doesn't mean you're staying connected." She tells aspiring leaders to follow up with individuals they meet at conferences, to not be shy about reaching out. "We have the benefit of a great association and people are so helpful, like family," she says.
Pam learned to leave room for possibility early in her career. "There came a point in my early to mid-thirties that I realized things were happening in my career that I didn't plan for," she says. This led her to recognize that her job wasn't to have the next ten years planned out, but to "be open to the things that were being put in my path." She encourages young leaders to keep an eye out for growth opportunities whether it's at work or with an association like NIRSA. "I think volunteer opportunities are a great place for skill development," she says.
Leah says, "My first piece of advice is never to define yourself by a job description." She feels very strongly about this. "You are more than a job description and you need to help build yourself, you need to develop yourself to be more than that." No one is "just" a coordinator to Leah. She wants young professionals to reframe their thinking. They are "out there to engage students, educate, engage, educate, equip, inspire them you know to be active for life," she says.
Leah also wants to remind young leaders that they are building their legacy every single day. "You're choosing an action or a behavior," she says. "You're choosing what you're doing—that's becoming a part of who you are and what you want to be." She adds, "Mistakes are okay as long as you learn from them. People want to be so perfect and they just wind themselves up. They're just trying to be perfect in their job—but we can't be."
"You can have your job, you can volunteer, and you can give back as well," says Janice. This is a lesson she's learned over the course of many years serving in various NIRSA leadership positions while serving as Director of Recreation at Santa Clara University. For Janice, the "ability to give back and to serve" is what she enjoys most about her work with NIRSA. "I never knew that this would be what I was doing," says Janice. "Every day, I enjoy my job, I love the people I work with, but then what I love even more are the NIRSA people. I wouldn't be where I am today without the support of fellow NIRSA colleagues." She adds, "Serving on the Foundation Board really just helps to fill up a bucket of giving back to something that I never knew in 1997 would be my career."
Stephanie says that what she enjoys most about her volunteer work is collaborating with her fellow NIRSA colleagues. "It's because of the people, and it's not just about us volunteering, but about our peers seeing women leaders in these roles." she says. "Those that came before paved the way, and they wanted to help all members." Our Association is full of thoughtful, tenacious members who are committed to making sure the future of campus recreation stays bright.
For Leah, being NIRSA President is about doing what's best for the Association. "I don't have an agenda. That's not why I stood for office," she says. "I stood for office because I could see how I could help bring the vision forward." She really wants to hear the views and perspectives of other people at the table, and she enjoys facilitating conversations. "One of my strengths is includer," she says, "so I also want to make sure all the voices are heard when I run a meeting."
Servant leadership requires us to step back from our personal agendas so that we can build a better tomorrow for everyone. Stephanie sees many young people today embracing leadership positions "because they found a passion that was important to them."
Being a leader has little to do with your title nowadays and a lot more to do with who you are as a person. This is a definite shift from how leadership was viewed even just a few years ago. Leah, Stephanie, Janice, and Pam are not inspiring women leaders because they're presidents of NIRSA boards and NIRSA Executive Director. They're leaders because of how they choose to navigate the world and because they are passionate about working for the Association and the campus recreation profession.
---
This article was republished with permission from our partners at NIRSA — Leaders in Collegiate Recreation. Read the original here.