This is an unprecedented time for the athletics, fitness and recreation industries — and the world as a whole. With social distancing restrictions being put in place by local, state and federal governments, many facilities have had to temporarily close their doors, find a way to stay viable and engage their users in a virtual format. Some are offering online programming for the first time, while others are functioning with a smaller staff than usual. But one thing is for sure: we're all in this together to help ensure that communities around the world have an outlet in which to stay active and connect with others. As we navigate this shift to fully online programming together, AB spoke with Steven Trotter, associate director at East Carolina University and principal of Globetrotter Wellness Solutions. Trotter offered practical advice on how to get your digital operations up and running and set yourself up for success during this challenging time.
'Focus on what you can do'
First and foremost, Trotter suggests to "focus on what you can do." If you have existing digital content, that is a great place to start. This can include older videos that you can repurpose or prerecorded content for social media. Either way, take stock of the content you have and figure out how to use it to keep your users engaged and active. Another option Trotter suggests is to "touch base with your partners who are experts in online platforms" instead of trying to get a full video platform up and running by yourself. Looking to your partners for support will maximize your efficiency in getting virtual programming out to your users.

'Balance reality and perfection'
Trotter's second tip is to remember that "everyone is in the same boat and no one expects everything to be done on day one." Making content relatable is what's most important. We're seeing everything from trainers guiding living room workouts at their homes through Facebook Live to studios partnering with other organizations to share their virtual programming on their own pages. We're stronger together, and Trotter believes remembering to "balance reality and perfection" is the best way to connect with users right now.

'Find opportunity for the future'
The transition to virtual programming gives rise to the opportunity for permanent change in the industry. While this transition won't replace in-person contact, it will allow organizations to find opportunities for increased reach moving forward, as well as help leaders "figure out how to be effective, not just efficient," suggests Trotter. Developing operations and processes for delivering digital content can improve overall operations by creating additional value to users.

'Be kind to yourself and others'
As the saying goes, "Rome wasn't built in a day," and the same is true for your virtual programming operations. Make sure that you're doing what you need to do in order to take care of yourself and your teams during this time of transition and uncertainty. We are all learning how to manage people remotely, provide a new form of programming and adjust to social distancing. Your personal wellbeing and the wellbeing of your team remains of utmost importance, so Trotter urges everyone to "be kind to yourself and others." You may not get it right on the first try, but that's okay, no one expects perfection on the first try, and you shouldn't set that unrealistic expectation on yourself either.
If you're looking for further opportunities to learn from experts in the athletics, fitness and recreation industries, AB Show 2020 (Nov. 3-6 in Baltimore) gives you the opportunity to do just that. Registration for the event is open on abshow.com/mag. If you have to cancel, please be assured that AB Show will provide a full refund for everyone who intends to register or has already registered.

SPECIAL EVENT SPOTLIGHT: EARLY-MORNING WORKOUT
Jump-start your Thursday morning of the event by testing the latest fitness products and workouts before the crowd hits the floor. Attend a group exercise session or work out solo to see what our world-class exhibitors have to offer!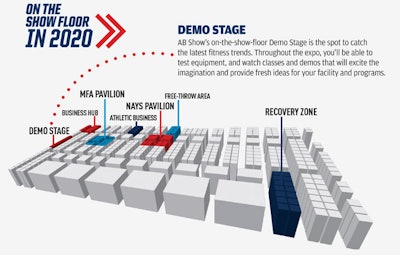 FAQ: HOW IS AB SHOW RESPONDING TO COVID-19?
AB Show is closely following developments concerning COVID-19. This is a difficult and unprecedented time for everyone in our industry. Our hearts are with everyone personally and professionally impacted; with every sports, recreation and fitness facility that has had to close; and with the conferences and trade shows in our industry that have had to cancel.
As AB Show won't be held until November, we are continuing to plan the show and will follow the guidance of the CDC and the state of Maryland (where the event is to be hosted) as we move forward. We will continue to monitor the situation and send out additional information as it becomes available.
You can learn more at abshow.com/about/faq.
---
This article originally appeared in the May 2020 issue of Athletic Business with the title "AB Show 2020: Transitioning to Adaptable Programming." Athletic Business is a free magazine for professionals in the athletic, fitness and recreation industry. Click here to subscribe.