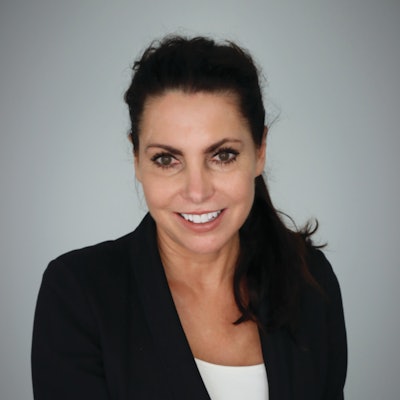 A lot has changed in collegiate athletics since the mid-1980s, when Stephanie Herbst-Lucke was a Big Ten Conference champion and All-American runner at the University of Wisconsin. The Big Ten subsequently expanded to 11 and then 14 teams, and the Southeastern Conference is currently poised to become the nation's first 16-team super league. Now a Georgia State University business faculty member, Herbst spent years studying the expectations and actual experiences of schools that change conference affiliation, successfully defending her doctoral dissertation on the topic in December. AB senior editor Paul Steinbach asked Herbst-Lucke to explain her findings, which indicate the grass is hardly ever greener.
What do you teach at Georgia State?
I teach marketing strategy and it's the capstone — the last class, basically, a student in marketing will take before they graduate, or at least within their last semester. I'm also the director of student success. Any student who's a marketing major, which is our largest major, I help them with all kinds of stuff. I help them with getting jobs. I help them with getting internships. I actually run an internship program through the school. And then on top of that, I set up my own clothing closet for them. I have two rooms dedicated to business suits and business attire. I help them with everything from their resume, LinkedIn, going through the process, because a lot of them are first-generation college students. They just don't have any of that experience. It's been wonderful. I love it.
Why did you choose this topic for your doctoral dissertation?
My neighbor here in Atlanta and a guy that I got to know very well — I actually worked in his organization and led his marketing team for a while — was Bertie Mullin. He was the CEO of the Hawks, Thrashers and Philips [now State Farm] Arena. I was talking to him and said, "Hey, I just don't know what I'm going to work on for my dissertation. And I'm trying to do something valuable." And he said, "You know, it's always bothered me as a marketer that these schools change conferences." He said it just didn't make sense. And he said, "I would look into that." That was four years ago.
How did you track how realignment affects not only the teams moving, but those remaining?
We first had to build the database. The database took me over two years to build, and I paid for all that work to be done myself. I had these guys that were actually building out the database and it was a lot of work. First of all, there's a lot of public data, but there's a lot of missing pieces to that public data. So, we had to start contacting universities and asking them for help. Then we had to have the database cleaned, to make sure that everything was right in it. We had to be positive these results are accurate, because people are going to contest this.
What was the biggest challenge in a study like this?
You can't just look at Rutgers moving into the Big Ten, because when Rutgers moves into the Big Ten, it affects everybody in the Big Ten, and it affects the conference itself, and it affects the departed conference and all of the members in the departed conference. There are all these causation factors that have to be accounted for. And because you can't account for all of those causation factors, there's a credibility and reliability issue with using that data. That's why it wasn't measured more quickly, because it's not an easy thing to do.
You used a method called synthetic control. How does that work?
With synthetic control, fortunately, you actually develop a model where you take every component in this database — we ended up getting 98.5 percent of the data for roughly 132 teams in total — and look at all the changes back and forth. We have 51 variables, but you can actually weight every one of those variables for how closely it is to another school. Let's say Rutgers is changing. You're saying Rutgers is very similar to — I don't know, pick another school, Maryland — on this component and this variable, this variable, this variable, and you start weighting each of those. The computer actually does it. And it weights all of those variables according to how close they are to all of these variables in these other universities. So, when there's change, it takes into effect the dynamic nature of the change. When you change one variable, everything in that model changes. Rutgers into the Big Ten affects everybody in the Big Ten and everybody that Rutgers left, and it affects both conferences overall. That's what we had to account for.
Was there a goal in all of this?
We were trying to disprove what was actually the widely held theory that conference change improves financials. And, in fact, it doesn't.
Were you sure?
We did it originally in 2014, because there were 19 changes, which is the most in any given year. We went back to be just absolutely positive. We did four pure regression studies. We did two synthetic controls. Then we did two synthetic controls to placebo Pew permutations, which looks at the range of change. Then we did two outliers studies, and then we did two qualitative studies — and all point to the same conclusions.
Did your findings surprise you?
We did not expect to see it. We thought when we went into it that we'd run the data and we'd find out immediately that conference change leads to revenue. We just assumed that, like everyone else. I think even Bertie thought they were making revenue. I think he was saying, "Why are they doing it? They're impacting their brand. They're destroying rivalries. They're creating a stability issue. That's going to be very hard to contend with." And that's also what we found. We then did the qualitative study, which was 82 interviews over nine months. It included 15 commissioner interviews, two deputy commissioner interviews, 46 athletic director interviews, one deputy athletic director interview, 12 senior associate athletic director interviews, and then six industry experts, who were CEOs or SVPs of media sponsorship, licensing and ticketing.
During this interview process, were you hearing any regret from these athletics officials?
Yeah, certainly regret. I mean, what we found is that it's just a bureaucratic, complex institution. It's completely dysfunctional. It's a very diffused decision-making process, and each of these guys has unique interests — different sizes, different budgets. Somebody has a $20 million budget, and they're sitting at a table with somebody who's got a $200 million budget. And the whole thing was being held together by relationships. Forty percent of the people we talked to told us that they believe this was held together by relationships.
Meaning, traditional conference structures?
Yeah. Existing conference structures had been basically glued together. And the only thing kind of keeping them stable and secure was relationships.
Was the unraveling inevitable?
I think it was. I think it started with a breakdown in relationships and obviously when, you know, Oklahoma and Georgia challenged [the NCAA's hold on TV revenue in 1984], I think that further broke down the structure, and they had the buffer of structure until that legislation changed. When that antitrust legislation changed, it basically said that there were no spending limits, and the NCAA could not handcuff their spending on coaches or infrastructure. You could quickly see at that point how spending started increasing and you kind of think of the comedy or the tragedy of the commons, where it's like just a rush to have more.
Is it sustainable?
What we found in this process is that these folks are in fact supporting the narrative that change increases revenue, but I don't think they believe it. In fact, some of the commenters came right out and said, "If we really looked at the financial backing on this, I don't think it holds." There's such a competitive push, and they feel there's such a lack of governance, a lack of leadership. Thirty-nine percent talked about just a complete lack of leadership.
At the NCAA level?
The NCAA is really a trade organization. It's actually built and powered by those that are in it, you know? In fact, there's another way to say it. It is built and powered by the most powerful that are in it. Because of that, these decision-makers lack agency. Sixty-one individuals talked about the fact that they felt a lack of agency, that there weren't these buffering structural elements like leadership or legislation that allowed them the capacity to look into the long-term interests of their system. Instead, they were forced into the short-term priorities. They made comments like, "They've tied our hands" — just talking about some of the pressure that they felt to have these short-term prioritizations, which really meant they had kind of lost the endurance toward brand-value mission and stability.
What were the short-term priorities?
The short-term priorities are for them to win. There's a lot of pressure on them to produce in the time that they're there.
That seems counterintuitive to a program such as Texas moving to the SEC, where its chance of success is probably going to decrease, right?
Right. Except if you read some of the quotes in the study, it's really interesting to see there's a caste system. The pressure that they're getting is from these aspirational stakeholders — anyone from legislators to fans to powerful contributors, boards of trustees — all kinds of folks are putting this pressure on them to act in a way that almost goes back to like a caste system. It's interesting that of the top 25 ranked U.S. News & World Report academic institutions, not one of them changed conference. But if you go back, you can almost take any one institution that I interviewed — and I talked to 42 of the 65 Power Five schools, and the ones that I'm missing are not the big ones — and I can tell you that the one consistent thing throughout these conversations was that these folks felt a lot of pressure, very short-term pressure to perform. There's a feeling that there's almost, like I said, a caste system of conferences, that there are certain conferences that have a little bit more prestige. And I would say that probably has a lot to do with Texas' move. I think they're going to make more revenue. I have no idea, but certainly our data would indicate probably not. But they must believe that there's something else in it, and their stakeholders must suggest that there is some value in them making that move.
What was your reaction when you heard of Texas and Oklahoma leaving the Big 12 for the SEC? Is there anything that surprises you anymore?Texas doing that surprised me a lot. All of that speculation and all of that discussion. I heard, you know, extensively through my research and from various members of the Big 12 in particular. There was lots of discussion about how Texas acted, how they were on their own TV contract — that was a pretty lucrative contract for them — and they had a lot of control in the Big 12. They had once before threatened to go to the SEC and they didn't do it. The feedback that we have in my dissertation is that they had a lot of pressure not to go. Their constituents did not want them in the SEC, and then in fact they did it.
Twenty-five years ago, we first started hearing about the inevitability of super conferences, and here we are, perhaps less than two years away from seeing the first 16-team league.
If you talk to the athletic directors, they'll tell you that they have pressure to perform and that they have pressure to get athletic revenue. And there is a belief that if you're in certain conferences, you have a greater ability to improve your conference distribution, which is true. The megaconference concept is based on the fact that if you get more teams in, then your media contract grows. The broader they can make their regional geographic space, not only do they access more populations for negotiating their media contract, but they are also viewed by more people, including recruits who may have an interest in their conference. By adding Rutgers, there was a belief that the Big Ten would gain the New York audience. But having worked with Ohio State — I did some research on the top 20 football and basketball schools for them and how they do their ticket pricing — and what I found in that process is the strength of the Ohio State brand. I mean, they have just a premier brand that goes all the way to New York. The same for Michigan and the University of Wisconsin. They have a lot of New York fans already.
Do you think the Big Ten is happy it tapped the New York market more directly by accepting Rutgers?
I don't. I wouldn't say my research would lean that way. You take a 122-year-old brand with 10 teams. You make it 14 teams, but you retain the name, you split the conference and do East and West divisions. You change the rivalries, and you don't think that's going to impact your brand? That's exactly what we found — brand depletion, mission depletion and instability of the system.
Have schools mulling a change contacted you, as a researcher, to help inform their decision?
I have been talking to several athletic directors, and I sent my dissertation out to everyone who was involved in it. And I sent it out to several other people. It's controversial, right? Some people want to change conferences, and they want that to be a good decision. I don't consider myself an expert. I consider myself a researcher that at this point in time can tell you what I found on a longitudinal study that started in 2009 and went through 2017 that looked at brand and mission and market success, and economic success, and we — with, I think, a pretty rigorous study — cannot find improvements.
Three teams just bailed on Conference USA. Can you predict an end to the conference realignment chaos?
I don't think I have enough experience or history to do that. At the end of my dissertation, I take the narratives and I kind of say, "Here's what they're saying are the next steps." But I think their voice basically says we must have the structural elements created. We need to have clear leadership. We need to have clear boundaries for spending. There needs to be some legislation that supports an amateur nonprofit organization. And if that doesn't happen, then they're going to continue to have to act like a pro sports team, which is the position they're in today — and it's winner take all.