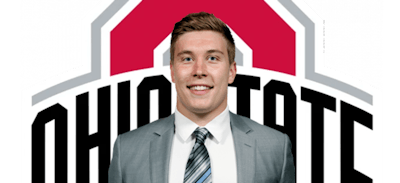 Like most boys growing up in Ohio, much less an hour from Columbus, Logan Hittle dreamed of playing football for the Ohio State Buckeyes. A self-described decent high school athlete with a great work ethic, Hittle made his way through the Horseshoe tunnel the hard way. While serving as a janitor in the Woody Hayes Athletic Complex, the sports industry major was given the chance to walk on with the football program, where he spent the 2018 and 2019 seasons as a linebacker. Internships within the Ohio State and University of Tennessee athletic departments led to his current position, as director of the Buckeyes' name, image and likeness efforts — among the most active in the nation with more than 1,000 deals worth nearly $4 million during the NIL era's inaugural year. AB senior editor Paul Steinbach asked Hittle to help us make sense of his job and the chaotic landscape that is college athletics in 2022.
Not having played football for two years, what prompted you to walk on at such a late stage of your college career?
Honestly, it was just one of those things where the recruiting coordinator talked to me a few times and kind of planted the seed. It never really crossed my mind, but when you're an athlete at one point in your life, you obviously miss the team, you miss being part of something bigger than yourself. And when I got the opportunity to try out, the worst that could happen was I didn't make it and they said no. To me, it was always bigger than playing. There were things that, to me, meant more than ever getting a snap on the field. I knew that if I was granted the opportunity to play at Ohio State, that was going to open doors for me forever — to have that on a resume and be able to tell that story. It was always a business decision for me, and it ended up working out in my favor.
Just being around that kind of organization was the main takeaway?
The takeaways are endless, really. I tell people all the time that it was just a transformational experience to learn who I was foundationally and to really learn how I could implement that into my everyday life and really be elite in all facets of my life. And then, how can I impact others doing that? How can I bring others along with me in that process? I think that the culture at Ohio State is unmatched, and everyone who touches the program and the university is forced to kind of elevate. You can't be complacent. You're always learning, you're always growing and you're always pushing those around you. I think that being in a program like that really transformed who I was and my thought process. I definitely wouldn't be the person that I am today without that experience and without those people who played a part in my journey.
Describe your internship at Ohio State.
I actually was a member of the internship program that I currently oversee. The Bucks Go Pro Internship program provides internal internship experience in various departments of athletics. I actually interned in sport operations with women's basketball, men's lacrosse and women's soccer while I was a student-athlete — so, learning the back-end process of being an ops person and what went into the experience behind the scenes to make everything kind of happen for the student-athletes, which I think was a really beneficial experience for me.
And then I also interned with the Eugene D. Smith Leadership Institute, which is what I am housed in full-time now. A lot of great experiences. Like I said, the opportunities that Ohio State presents and the resources that they provide to all 36 sports and over a thousand student-athletes is just incredible. To be able to have everything come full circle and be in this role to kind of give back is an incredible feeling.
At what point did you think that a permanent career position in sports, much less one with your alma mater's athletic department, was attainable?
I think I always knew that this is what I wanted to do. For me, it's my passion for sport, but really my passion for impact that I think really told me that this is where I belong. I think that there was a time not long after I joined the team at Ohio State that I realized that I was really empowered and inspired being in a locker room with so many phenomenal individuals and so many really good athletes. But at the end of the day, I really found that there was a lot of great human beings in the locker room, too. I think that at times the athlete identity can kind of take over and a lot of student-athletes don't realize that they have a skillset or a passion outside of that. Being a person who would survey the room, I really found a passion in wanting to be somebody that would help those student-athletes figure out what that other passion or skillset is and how they could utilize that. Not just identifying it, but really putting emotion into how they could really utilize that once their playing career was over. For me, the dream was always to be a director of player development for a football program, to be able to have that impact on a set roster to really develop those relationships, as I'm a relationship-driven person. That's kind of when I knew that that was my passion. Being in athletics, as I'm sure you know, there is no real direct path. You have to be willing to be flexible and kind of take some things that are open when they come. For me, that first opportunity was a graduate assistantship at the University of Tennessee, in football academics. The start of my career was in academics with football, and I built a great professional network and got some great experience in a Power Five conference. That jumpstarted my career, and here we are now.
How did Ohio State present this particular job title of NIL director to you?
I was the associate director of student-athlete development before this role, and I think I was just kind of a person that really wants to help and add value in any facet that I can. One of my life mottos is to just find a way to add value no matter what that is or what that looks like. Carey Hoyt, our associate AD who oversees the Leadership Institute, also was overseeing NIL. I was working closely with her in my old role and really just trying to help her however I could and take anything off her plate. So, I was exposed to NIL a lot, indirectly, and it was just helping her wherever I could, staying up with trends across the country. And then when it came time, really, to put somebody in a full-time role, I think that I'd just positioned myself and done a good job with what she had asked of me at that point, and really expressed that I was interested in applying and becoming a potential candidate. The pieces just fell into place.
What do you do on a daily basis?
There's a lot that goes into it and, obviously, it's an ever-changing space. My main priority is to make sure that I'm providing education and making sure that we have the best services and resources to really provide a great student-athlete experience in the NIL space for all 36 sports and nearly a thousand athletes. At the end of the day, that looks different for everyone. Everyone's in a different phase of their life and their athletic journey and their NIL endeavors. Just being a resource and providing that education and programming to make sure that they're aware of how to engage and what that looks like and the opportunities that may be here in our local community in Columbus. Connecting with the external companies to make sure that they are aware of how they can engage in this space compliantly with our student-athletes. A main point of my job is just the education internally and externally. And also meeting with vendors and platforms to figure out what services we should provide and can provide. It all comes back to the student-athlete experience — making sure that they have the best resources and services possible to take advantage of NIL and opportunities that are in this space.
As Ohio State's NIL director, what do you make of the year-one success?
I think that goes to show just the culture of this athletic department. I think that we need to give credit to our coaches and the type of student-athletes that we recruit — their character, who they are as human beings and just how marketable they are. At the end of the day, companies and organizations want to work with really foundationally solid young people. I think that's just a credit to so many different people and departments across this institution and the character of everyone involved. It really has allowed our student-athletes to benefit in our local and national markets.
You had already been in your new position for a few months by June 2, when coach Ryan Day drew national attention by stating to a crowd of a hundred members of the Columbus business community that Ohio State anticipates requiring $13 million in NIL agreements to maintain its current roster of athletes. What was your reaction to that statement at the time?
In my role and in our department, we just have to make sure that we're providing the best education to our student-athletes, and making sure that — if they are going to engage — that they have the right resources and the education to engage compliantly. We think that there's a great market in Columbus to be able to succeed in NIL. I think that comments can sometimes be taken out of context a little bit. But, like I said, we just want to make sure that we're servicing the student-athletes that are here at Ohio State to the best of our ability. With the student-athletes and the young people that we recruit and retain here at Ohio State on our rosters, their character is phenomenal. The human beings that we have here, their marketability is through the roof. Being able to utilize that in the NIL spaces is important.
On July 17, an OSU-record $550,000 deal was announced involving C.J. Stroud, Jaxon Smith-Njigba, TreVeyon Henderson and Denzel Burke and three companies — American Eagle, Designer Shoe Warehouse and Value City Furniture. Is it going to become common for multiple athletes and multiple businesses to be part of one NIL deal?
It's definitely an interesting concept. However our student-athletes are able to leverage their personal brands and do partnerships across the local and national communities, we're excited to support them in those endeavors. We're always excited to see our student-athletes rewarded for just being good people and providing services to these companies.
Two entities are involved in Ohio State NIL relationships — the NIL Edge Team and The Foundation. Can you explain the difference?
The Edge Team is kind of an internal advisory committee. It's a group made up of different people in different departments who we bring in to get different expertise and perspectives on topics as we need them. We have a great department of phenomenal people who are experts in their specific area. So, if there's a topic that comes up that needs someone's expertise, then we call them in to give us some guidance on that specific scenario. The Foundation is a third-party entity here in Columbus. They're an organization that has its own board and is run by members of the community, which is getting engagement from local businesses across the local community.
In 2011, Jim Tressel resigned as Ohio State's head football coach amid the memorabilia-for-tattoos scandal. You were still in grade school, but did you follow that at the time?
I think that was something that anyone who was a Buckeye fan was aware of.
Now that student-athletes can bank money on their status, there's no real reason to give away a championship ring for a tattoo. Is NIL a good thing in that sense?
I think regardless of what's happened in the past, NIL is a great opportunity for student-athletes to make supplemental income. Whether they're on a full or a partial scholarship, it gives them the opportunity to maybe mitigate student loan debt or invest money or really take a different business venture that maybe they wouldn't have the opportunity to do prior. And I think that that there are so many good things that do come out of it. They're learning so many business skills at such a younger age, and that's really what we focused on here at Ohio State — that education part, to make sure that everything is done above board and compliantly. Our focus is just making sure that all of our student-athletes have that awareness. This new space has allowed a lot of student-athletes to benefit, and I think that will continue as we continue to provide resources and education for our student-athletes here.
You hear a lot of people, and Ohio State AD Gene Smith is one of them, express that they feel more national regulation of NIL is necessary. Do you agree?
That's the cool thing about the university and my role here is that we have such a great leader in Gene. Obviously, he is so well-respected across the country and in collegiate athletics. Being able to consider him a mentor and a leader, and our department being able to kind of watch the way he navigates things, has been really phenomenal to me, and learning from him has been great. I trust his vision, and we as a department trust his vision. He's a leader in this space, so I would follow his footsteps.
Do you feel personally that dissension into a pay-for-play scenario is a real risk with where we stand right now?
Honestly, I'm not really sure. I don't know. One of my goals is to just be present and be as good as I can at what I'm doing right now. I try to focus on my current role and what that is, and that's educating and providing resources for our student-athletes to benefit them right now. I try not to look too far forward.
So, asking you to predict what you think we'll see in year two of the NIL era is not a great question.
I mean, I think that the space is going to continue to change. I think saying that everyone will have a process or a routine in place for everything in year two is a stretch. It continues to evolve. My focus, and our focus here at Ohio State, is just going to be the experience of Ohio State student-athletes and making sure that that is the best it can possibly be — not only in NIL, but every facet of their student-athlete experience. We take a lot of pride in that, and I think that that's why we've had success in so many different areas of our department.
Could you possibly have had any idea that the college athletics landscape could look so drastically different in the short time since you were on the field as an Ohio State player?
I think that that's kind of a cool thing. To answer your question, no. I don't think that anybody would've thought that it would change, but I guess that's just life as we know it, right? I'm sure the collegiate landscape will continue to change. I think that's evident. At the end of the day, you just have to trust those leaders who are in place that it will constantly change for the best for student-athletes and for universities. I look forward to what that may be and just doing what I can to be the best at my duties, day in and day out.
What do you think of the expanding Big Ten?
Obviously, it's interesting to bring two powerhouses in from the West Coast, and I think that that's exciting to a lot of our players from a competitive standpoint, and also I think it provides a lot of opportunities to a lot of different areas and different groups. So, I'm definitely excited about that. And I know our leadership was excited about it, as well.
Does it impact NIL in any way? Does it make deals that much more attractive for Ohio State student-athletes and the businesses involved now that the conference is 16 teams, and possibly more?
There's just so many student-athletes here at Ohio State who have such great marketability and such good character that really makes it attractive for these companies to want to engage. So, for us, I think the landscape is still Columbus and the student-athletes that we have. The student-athletes who we continue to recruit are still going to be of that caliber. I think the focus just remains on educating and providing those resources to make sure that the opportunities are always here in Columbus for the student-athletes that are here.