A nonprofit group in Indiana that cropped up last year is taking a different approach to the typical collegiate name, image and likeness partnership.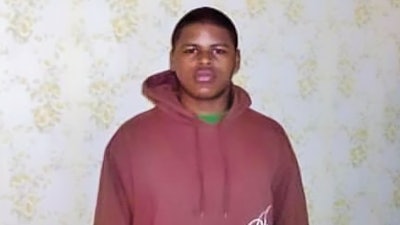 Hoosiers For Good partners athletes at Indiana University with charitable groups to benefit both: the collegiate student-athletes get financial rewards for using their NIL to boost awareness of charities, and the charities get their voices amplified by influential, positive figures in the athletics community without it costing them a penny. In its inaugural year, Hoosiers For Good raised nearly $3.9 million, which helped the organization pay its NIL athletes. In only nine months of operation, it had partnered with 14 charities, helped create dozens of related social media posts and had its affiliate athletes attend 21 charity events.
Stop the Violence Indianapolis, one of HFG's partner charities, aims to help spread awareness about preventing or reducing gun, gang and domestic violence within the city of Indianapolis.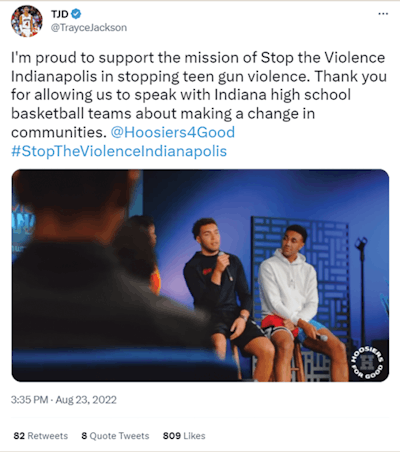 "There's a variety of factors why we chose Stop the Violence, the biggest one being just the crime rate, the homicide rate on the rise, particularly among the youth," explains HFG executive director Tyler Harris. "In part, gun violence is a lot of young people. The goal was using the athletes, the football players at IU and their platform, to reach these young people to talk about alternative methods to violence."
In 2022, more than 100 Indiana University football players partnered with Stop the Violence Indianapolis. One of those football players, running back Trenten Howland, of Joliet, Ill., has been personally affected by gun violence. His older brother Tevin was shot and killed on Dec. 29, 2008, when Trenton was about 5 years old, so long ago "it's like a blurred memory," he says.
"That's what made me want to get into it," Howland says. "In my community, the small town that I come from, there's a lot of that, that goes around. If there was anything that I can do to prevent it, or spread the awareness out here in a different community, that was big to me, and that's what I felt like I needed to do." For his part in the #teamupforpeace Stop the Violence Indianapolis partnership, Howland made a video and posted it on social media. The idea was to suggest how people can stay away from gun violence through daily activities and positive outlets for kids.
"The videos that I made, it was just spending time with my family and friends, and things that they tell me, and paths that they make for me to prevent gun violence and requesting that for other kids out there also," Howland says. Between his Twitter and Instagram profiles, Howland has nearly 1,000 followers, and he sometimes hears directly from kids looking to pursue athletics.
"It's big, to know that I have people who look up to me, and somewhat want to be like me or even better than me one day," Howland says. "It makes me want to do my job even more efficiently and effectively. If I can continue to do what I have to do, and perform on the field, and just be a role model for them. I mean, that's motivation in my eyes. And if they see the goals that I achieved, they can do it themselves also. I love when they reach out to me."
For their time and influence, the athletes get paid a small sum. Harris says he contractually can't reveal numbers, but AB research found that compensation varies based on an athlete's following online, but in general the program pays a few hundred dollars per post.
"I think the real value here is that you can sign into an NIL agreement, and then they can get compensation, but now they actually have to make a real commitment," Harris says. "That's been the great thing of seeing this commitment really come to fruition. A lot of these athletes have really come to learn that their voice can make a difference."