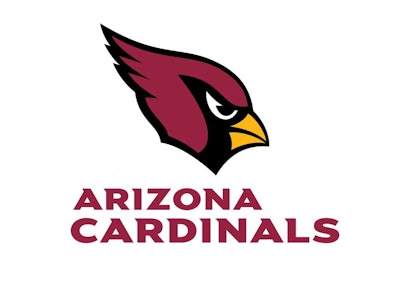 Former Arizona Cardinals executive Terry McDonough accused owner Michael Bidwill of gross misconduct, including cheating, discrimination and harassment, in an arbitration claim filed Tuesday with NFL commissioner Roger Goodell.
As reported by Adam Schefter of ESPN, McDonough states in the filing that he and former Cardinals head coach Steve Wilks "objected to and sought to avoid participation in a scheme hatched by Bidwill to utilize burner phones to communicate with general manager Steve Keim — in violation of the terms of Keim's suspension for extreme DUI — during a critical period of the Cardinals training camp in the summer of 2018.
Keim's suspension lasted five weeks. McDonough claims he still has the phone, which he says contains the evidence of the cheating scandal, as well as additional documentation.
In a detailed response sent to ESPN, the Cardinals strongly denied the allegations, calling them "outlandish," Schefter reported.
"We are reluctantly obliged to provide a public response along with broader context for some disappointing and irresponsible actions by Terry McDonough," external public relations adviser to the Cardinals Jim McCarthy said in a statement. "Claims he has made in an arbitration filing are wildly false, reckless, and an opportunistic ploy for financial gain.
"Our position was consistent with many efforts we've made to accommodate Terry during his time with the team, despite difficulties in his personal life and his often volatile demeanor toward colleagues," the statement from McCarthy said. "That's why we are saddened to see that Terry is now lashing out at our organization with disparagements and threats that are absurdly at odds with the facts. This unnecessary and vindictive action by Terry was intended to malign his co-workers, our owner Michael Bidwill, and our team with outlandish accusations."
"In response to McDonough's objection to the illicit burner phone scheme, Bidwill cursed at, berated, and formally reprimanded McDonough, and ultimately demoted him — irrevocably damaging the trajectory of McDonough's 34-year career in the National Football League," the filing states. "Bidwill also subjected McDonough to bullying, mocking, harassing and abusive behavior."
McDonough also accused Bidwill of sabotaging Wilks' first opportunity as an NFL head coach before he fired him at the end of his one season on the job. McDonough, who says he was called into Bidwell's office the day after objecting to the phone scheme and written up for insubordination, adds Bidwill has continued to "demote and harass" him since summer 2018.
The Cardinals told ESPN that another executive "had interfered with the protocol of that suspension" and that the team had taken "additional measures." It also said that Bidwill took "swift action" and directed that phones be retrieved and "communications stopped."
The team has 20 days to respond to McDonough's claims under the NFL's dispute resolution procedural guidelines. Then Goodell "shall determine whether the dispute is football-oriented ... or not football-oriented," and whether the dispute is subject to arbitration.