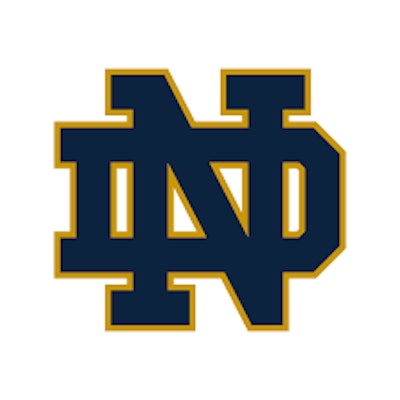 The University of Notre Dame announced Thursday that NBC Sports chairman Peter Bevacqua will succeed Jack Swarbrick as athletic director when Swarbrick steps down next year.
Bevacqua, a 1993 Notre Dame alum, will join the university on July 1 in the role of Special Assistant to the President for Athletics, "benefiting from the mentorship of Swarbrick before he assumes leadership of the athletics department sometime in the first quarter of 2024," according to the announcement on the Notre Dame website.
"It has been my privilege to work alongside Jack Swarbrick as he led Notre Dame to unprecedented success over the past 15 years while providing such an influential voice in college athletics, and I'm excited that we have such a talented and experienced leader in Pete Bevacqua to spend some time learning under Jack before assuming new leadership in one of America's most storied athletic programs," Notre Dame president Rev. John Jenkins said.
"Having come to know Pete over the years in his work at NBC Sports, I'm looking forward to welcoming him, his wife, Tiffany, and their children — Samantha, Arthur and Jake — to our campus community."
Swarbrick will continue to handle the duties of the director of athletics in the coming months while mentoring Bevacqua. The athletic department offers 26 varsity sports and serves 700 student-athletes who are supported by more 100 coaches and staff.
"It speaks volumes about Notre Dame and Father Jenkins' leadership that we can implement such a well-conceived succession plan and attract someone of Pete's talent and experience," Swarbrick said, according to the university release. "I have worked closely with Pete throughout his time at NBC and based on that experience, I believe he has the perfect skill set to help Notre Dame navigate the rapidly changing landscape that is college athletics today, and be an important national leader as we look to the future. I look forward to helping Notre Dame's student-athletes and coaches achieve their goals in the months ahead while also helping Pete prepare for his tenure as athletics director."
Notre Dame has had a long relationship with NBC, which has broadcast all Fighting Irish home football games since 1991. According to USA Today, the university currently receives $22 million per year from NBC. By comparison, the Big Ten's new media rights deal is expected to pay each member school around $90 million annually, regardless of on-field performance. "Reports indicate Notre Dame is seeking $75 million/year from NBC, which would place them at least 'in the ballpark' to the Power Five conference deals," wrote John Kennedy of USA Today last month.
"This is an unbelievable honor for me and a dream come true. With the exception of my family, nothing means more to me than the University of Notre Dame," Bevacqua said. "As a Notre Dame alum, I have a keen understanding and deep appreciation of the lifetime, transformational benefit our student-athletes receive in a Notre Dame education, one that is unique and unlike any other institution in the world. I am so grateful to Father Jenkins, the Board of Trustees and, of course, Jack Swarbrick. Jack has become a true friend over the course of the past several years and I am looking forward to working alongside him and learning as much as I can from the person I admire and respect the most in college athletics."