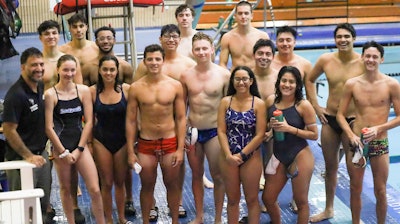 By Corbin McGuire
Jose Cruz, second-year head coach for the men's and women's swimming and diving teams at Saint Peter's, tries to celebrate his Hispanic heritage every day, especially when it comes to how he recruits and coaches at the university in Jersey City, New Jersey.
Cruz's cultural pride starts with his parents, who moved from Puerto Rico to the continental U.S. as teenagers. They raised Cruz in a Newark, New Jersey, area that boasts a diverse mixture of Hispanic cultures. This upbringing helped form Cruz's belief in the power of community and bringing diverse sets of people together toward a common goal. Decades later, he now coaches teams that feature student-athletes from Mexico, Venezuela, South Africa and various parts of New Jersey. He's one of only a handful of Hispanic swim coaches in the NCAA, with just 1.5% of men's and women's swimming head coaches identifying as Hispanic in 2022.
As a coach, Cruz focuses on providing opportunities to those seeking them, like other coaches — "mentors," he called them — did for him through the years as youth club coaches. These included the likes of Kit Ashenfelter, who's coached several NCAA All-Americans as young swimmers, and Al Rose, a legend in the Pittsburgh swimming community who notably coached Olympian Leah Smith.
As the NCAA and its members celebrate Hispanic Heritage Month from Sept. 15 to Oct. 15, Cruz spoke with us about the meaning of the month and how he tries to celebrate it. He also spoke about the opportunity to work for one of 125 Hispanic-serving institutions in the NCAA, 41 of which are Division I schools. (Hispanic-serving institutions are defined as schools with at least 25% Hispanic/Latinx enrollment.)
(Answers have been condensed for brevity.)
What does your Hispanic heritage mean to you?
It means pride, hard work, determination. Both my parents learned how to speak the language when they came stateside when they were 17 years old. So I grew up watching them work. That's all I knew. My dad had an eighth-grade education, and he worked construction. My mom actually ended up working for Essex County in New Jersey until she retired last year. They were able to work their way through their careers, and I think that's a testament to our culture, working hard and being proud of that work and having pride in not only where you're from but where you want to go, where your goals lead you.
How would you say that background has shaped you, especially the way you coach?
That background's definitely helped me have a framework of not taking anything for granted. If someone gives you an opportunity, you have to take it, you have to run with it, you have to put in that work because you may not see it again. Or if you do see it, it's going to be too late. That background has always kind of pushed me in the direction of, "You need to work hard and take advantage of this, otherwise you may miss it." When it comes to coaching, I just try to instill in the kids I coach, "You have your goals, and everything you do has to be in service of those goals." The idea of not working hard or not having pride in what you do, it's very foreign to me. I don't understand how people do something without those two things, and that's the stuff I feel like I grew up with. So I just try to kind of either instill it or reinforce it, depending on where the athletes are from and their backgrounds. But hard work, determination, really pushing through, it's something that I try to help reinforce day in and day out."
How do you celebrate Hispanic Heritage Month?
Go to Mom's house and get some home cooking (laughs). That's part of it. I think the other part, too, is I try to remember where I'm from. I grew up in in Newark, New Jersey, with a large Hispanic, Puerto Rican population, and I didn't understand what that meant until I started going back to Puerto Rico and just seeing the island itself. I've been back a handful of times and … it's something that for me, for a long time, it was so foreign. I felt disconnected at times. Even going back the last time has really helped me connect those dots. I told a buddy of mine that I felt like I fell in love again with my culture. My culture may not define me as a person, but I definitely take the beautiful parts of it and try to share that with whoever I interact with. So when I celebrate, I try to celebrate every day just by my actions, my passion, my love for the sport, the athletes, the community because that's who we are as a people.
How would you describe the Saint Peter's Hispanic community and what it means to work at a Hispanic-serving institution?
Saint Peter's as a Hispanic-serving institution, it's pretty diverse. We have athletes right now who are from Puerto Rico, Peru, Mexico, Spain, all over, and I think it's just giving that same respect that I would give anybody of where they're from and what they experience and take that to heart when it comes to interacting with them. For me, when I recruit somebody, I always try to recruit in pairs. I feel like there's something special about having a teammate that speaks the same language as you, eats the same food. They can relate somehow to where you're from. Luckily this year we were able to do that. We have a couple of kids from Mexico, a couple of kids from Puerto Rico, even from the Hispanic community in Jersey, and we just try to help stay together and build each other up, while feeling connected to home in some sense.
The idea of just serving a Hispanic community, though, I think it really limits that experience for everybody, even for Hispanics themselves. Swimming is one of those sports where you can be in the same lane with someone from Sweden and not be able to speak English fluently, both of you, but you speak the language of swimming. You understand the clock. You understand the workouts. I think that's a great thing. That's a great bond that's really hard to break over time. So when it comes to serving the Hispanic community, I want to give everybody a well-rounded cultural experience — Hispanics, Europeans, Australians, whoever comes in the door. It's all about creating a better sense of community. I really want to bring that to those kids that would normally not have that opportunity. I want to make sure that everyone gets that feel of, "Hey, this is my neighbor. This is my friend. This is my teammate. This is my brother. This is my sister. These are the kids that I wake up with and go to practice with and I'm in the van for three hours a day with." There's something to be said about that.
How can the athletics community continue to highlight, uplift and support Hispanic student-athletes? (Note: According to 2021-22 NCAA demographics data, there were more than 34,000 Hispanic student-athletes, representing 6.5% of the student-athlete population.)
I believe there has to be a balance between performance and service to your local community. Everybody wants to win. Everybody wants to compete. Everybody wants the fastest kids or the most talented kids and whatnot. I think we just have to really be mindful of not just serving this population of elite athletes, when we have a lot of really good athletes nearby. I think if we're more open to that … just trying to find those local kids that are diamonds in the rough, that may be a way of servicing that community. I also believe in giving a kid a shot. If someone wants to walk on deck and try out and just give it a real go, do it. I know people talk about funding, but if you've got the heart to walk on deck and ask to be on the team, give them a shot. If they quit, that's on them. But I would rather a kid quit than we tell them no. That's how I look at it. And I was able actually to get a couple of kids from the Hispanic community to come out (that way). Now they're swimming with me for their second year, and they're great teammates. They're productive. They're intelligent. They make the room better. And that's all you want. Yeah, you want a fast team. But you also want a good room.
What challenges or barriers have you faced as a coach, especially recruiting in a variety of Hispanic areas, or from different countries, and how have you overcome some of those challenges?
Some of the challenges I've had recruiting, especially like in the Hispanic community, age group development is part of it. Swim teams aren't big around here … in terms of like those local pool clubs and little rec leagues. You have the big aquatic clubs, and then you have lessons. There's nothing in between. If you go out to suburbs, you'll have lessons, and then you'll have the summer league team. And that summer league team feeds into the local club teams. They can kind of jump-start someone's career at the age of 8 and under. Some of these other kids don't start swimming until they get to high school, and not that it's a challenge per se, I think it just puts them behind the eight ball a little bit, so they have to catch up. I would like to see, especially where I'm at, some more summer rec league, pool league type of swimming to help get those kids involved. I also think that the price of the sport is going to price out people. I know USA Swimming does a great job with outreach and stuff like that. When I was at the St. Benedict's (Prep School), it was hard for me to justify having a parent spend $200 on a suit when they need it for groceries. I never pushed that, even though I'm trying to give them the best experience I possibly could. So I think there's a lot of like socioeconomic challenges, but I think over time it can really be addressed and worked on and cultivated. I think swimming can really be, especially around here, a thing that people do, especially in the Hispanic community.
Where I grew up, Roberto Clemente walked on water. There are schools named after him. I played little league on a field that was named after him. A great humanitarian, a great baseball player, I never saw him play, but I feel like I did through everyone's stories. So I try to take that Roberto Clemente philosophy of giving back. I think of the people that gave me a chance, and I'm so grateful. They really helped take a kid from New Jersey and helped me, molded me and guided me. They were very great mentors. I just try to give back in that way, too. I just want to make sure that everyone has an opportunity to have the same chance. And that's what being Hispanic is, being proud, having that sense of community, and giving someone a shot they may have never thought that they deserved.