Upholding the Validity of an Arena's Club-Seat License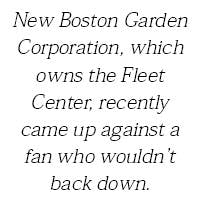 What does every stadium and arena built in the last 10 years have in common. Every one has some sort of premium or preferred seating. This type of seating (at least in new facilities) is usually in a prime location and offers amenities that holders of "regular seats" do not enjoy. Premium seats may be in a luxury box or suite, or they may be located in a section that entitles ticket holders to receive amenities such as waiter service, special parking privileges and access to special restaurants inside the facility. One other common theme of premium or preferred seats: They are usually significantly more expensive than regular seats.
Many facility owners and operators require premium seat ticket holders to agree to a multiyear contract, with agreements made in writing in the form of a lengthy contract or license agreement. However, a number of luxury box or suite holders have tried to wriggle out of their agreements using a variety of arguments, while facility owners and operators in these circumstances have held fast in defense of the validity of such contracts. Most of these cases have been handled outside the courts, and while some have been resolved by quiet compromise, others have seen facility owners take a hard stand. When they do, most suite holders throw in the towel, recognizing just how expensive it can be to fight a major corporation with deep pockets.
New Boston Garden Corporation (NBGC), which owns Boston's Fleet Center, recently came up against a fan who wouldn't back down. In what may be the first court ruling on premium-seat issues, two Massachusetts courts, in New Boston Garden Corporation v. Baker [1999 WL 98099 (Mass. Super. 1999)], upheld both the validity of the contract and NBGC's entire request for damages. Since premium seating is often the most critical revenue stream for constructing or operating a sports facility, both points are important for facility owners, operators and developers. If Gary K. Baker, the fan in question, had been successful in either of his arguments, there would have been the potential for diminishing this important income stream.
The Fleet Center, home of the NHL's Bruins and NBA's Celtics, opened in 1995 and has both luxury boxes and club seats. Club-seat holders are required to sign a "Club Seat License Agreement," an 18-page contract. Baker signed up for the required three-year package, agreeing to pay $18,000 per year, but stopped paying after the first year; he had marital problems, his son was diagnosed with cancer and the teams, especially the Celtics, were not championship contenders.
NBGC sued Baker for breach of contract. In filing a motion for summary judgment, NBGC essentially was requesting that the judge decide the case in favor of the corporation before a trial, since the evidence was so clearly in support of its position. Judge Fremont Smith agreed, and found that Baker had breached his contract with NBGC.
As oftentimes happens, a person who wants to get out of a contract will attack the validity of the contract. In this case, the court found that NBGC met all four requirements to establish a breach-of-contract claim: 1) an agreement was made between NBGC and the fan that was supported by valuable consideration (in other words, Baker received the seat license in exchange for money); 2) NBGC has been ready, willing and able to perform (NBGC lived up to its end of the contract); 3) The fan's breach prevented NBGC from performing (Baker didn't hold up his end), and; 4) NBGC was damaged as a result.
Judge Smith did not, however, grant the summaryjudgment motion on the issue of "mitigation of damages" - a legal term used in contract law that requires a party to make reasonable efforts to reduce its damages, even when the other party has breached the contract. This issue went to a trial before a jury, which found in favor of Baker. The jury determined that NBGC did not make reasonable efforts to mitigate its damages, and thus reduced damages from $33,726 (the amount requested by NBGC) to about $13,000.
The jury apparently was swayed by several of the arguments raised by Baker. Baker argued that he offered to buy fewer tickets, that he would have agreed to a shorter contract, that NBGC did not make reasonable efforts to advertise and sell its premium seating, and that NBGC refused to lower the price of club seats in an effort to sell them.
After the jury verdict, NBGC filed a motion requesting the court to overturn it. Judge Maria I. Lopez did so, finding that the jury's decision was not supported by the evidence. She ordered Baker to pay the full amount sought by NBGC. Baker has indicated that he will appeal, while NBGC has indicated that it will seek, in accordance with the terms of the contract, a recovery of 19 percent interest on the damages it has been granted, as well as its attorneys' fees.
This case is an important one for fans, as well as for facility owners, operators and developers. Fans who are sometimes caught up in their enthusiasm for a team must realize that they are entering into a hefty financial commitment, and a contract that courts may uphold. Fans should also realize that these contracts make no representations or warranties that the team (or teams) will be of championship quality, exciting or even fun to watch. The owners must realize that their contracts are likely to be challenged, and that the contracts must withstand any and all legal challenges. The fan in this case made many interesting and creative arguments challenging the validity of NBGC's contract, and one can expect a jury to be predisposed to give a fan (and not the corporation that drafts the contract) the benefit of the doubt in any matters of ambiguity.
Of course, there is a solution to all of this, and that is to have winning teams. The fact of the matter is that this type of issue does not arise when there is a successful team (or teams) and there is excess demand for tickets. It is easy for the facility owner or operator to mitigate damages in those situations; he or she merely calls the next person on the waiting list and writes a new contract - and does not lose any money. The problem arises in the NBGC situation, in which there is no waiting list, few sellouts, and usually more than 2,000 unsold seats per game.
Since leagues have not figured out how to make everyone a winner, it is important for facility owners and operators to write good contracts and make reasonable efforts to mitigate damages. Fortunately, owners and operators will not have to reduce ticket prices to do so.