Wisconsin Shoe Scandal Leads to Debate About Roster Management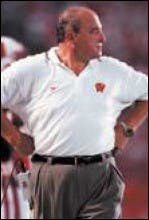 Barry Alvarez, the highly regarded coach of the University of Wisconsin football team, has some issues with the National Collegiate Athletic Association. His program already on probation for booster-club improprieties uncovered in 1998, Alvarez in mid-August aimed both barrels at roster management, the NCAA's cure for gender inequity that was shaving needed (he said) walk-ons from his two-time defending Rose Bowl champions. He hardly had time to reload when, just hours before the Aug. 31 start of the season, 26 UW football players were suspended by the NCAA for receiving improper (it said) benefits from a local discount shoe store.Which brings us back to the subject of roster management.
The debate that followed hit the usual sour notes - Were the NCAA's rules too strict. Were its punishments justified. - as Alvarez and Athletic Director Pat Richter expressed disappointment in the NCAA's decision and support for the players in question. ("I stand by my kids," Alvarez said. "I really didn't think our guys did anything wrong.") Lost in all this was any mention of the people who were primarily responsible - UW's compliance and coaching staffs, who either didn't know or ignored some fairly well spelled-out NCAA regulations.
Also virtually unnoticed in the scandal's aftermath was this salient fact - the Badgers' fortunes weren't significantly affected by the suspensions. Sure, what might have been double-digit margins of victory became nail-biters. But Wisconsin emerged from its non-conference schedule with a 3-0 record, while playing without about a dozen players each game, including half-a-dozen starters.
Which brings us back to the subject of roster management. Notwithstanding the October determination by the Office for Civil Rights that the university is still in violation Title IX, Wisconsin is among just a handful of institutions that have actively attempted to utilize roster management to reach substantial proportionality. Wisconsin this year limited its football team to 105 players until school started, after which time it could add up to 15 more walk-ons for a total of 120 players. (The 1999 Rose Bowl champions carried 116 players.) Alvarez, as you might expect, was vociferously opposed. "We keep taking away from football," he complained to reporters this summer. "We keep taking away opportunities for young men. Now we're talking about taking away opportunities for walk-ons, capping numbers. I don't know where it ends."
What, if anything, does UW's ability to remain competitive with a depleted roster say about roster management. A lot, if you believe Christine Grant, emeritus athletics director at the University of Iowa. "Watching Wisconsin go 3-0 is a clear indication that having more than 100 student-athletes on one team that fields 11 players is more than enough," Grant says. "Behind closed doors, many football coaches quietly admit that they could do just fine with far fewer scholarships and players."
There are others, though, who believe the two circumstances have nothing in common. Deborah Yow, AD at the University of Maryland (which unlike Wisconsin has reached substantial proportionality), says you have to go through roster management to see just how difficult it is for everyone involved.
"The devil's in the details," says Yow. "We're in roster management, and I've seen some situations recently from a depth-chart perspective where I couldn't deny the fact that the football team's depth isn't there at certain positions in certain circumstances."
Grant points out that participation opportunities for men have, in fact, increased over the past 20 years. "I cannot think in any way how football has been adversely affected over the years," she says. "Just look at the NCAA budget figures for the past 20 years, or look at the salaries, if you can bear to do so."
Yow, though, says she's seen enough men turned away from participating, and enough women who refuse all overtures to participate, to know that a serious problem exists."
"We've been trying to get the women to go up and the men to down and we're having trouble with both," she says. "At Maryland, we've gotten within 1.91 percentage points and it has only been with extraordinary stress that we've been able to do that. I can't honestly say that I'm sure that roster management hasn't damaged football. I know there have been times when Coach [Ron] Vanderlinden needed people and he just didn't have them."