New Jersey Raises the Bar for Teaching the Rites of Leadership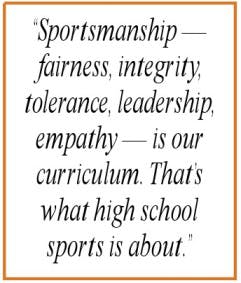 The scene at Southern Regional High School in Manahawkin, N.J., must look a bit surreal to outsiders: A group of student-athletes from the Shore Conference - New Jersey's largest - communicating with nonverbal signals in an attempt to line up on a log chronologically based on birth date. Competitors on the sports field, these 15 kids from various schools must figure out a way to work together in the wooded confines of the Southern Regional campus and correctly arrange themselves on the log within 10 minutes.
"There may be 15 different agendas for how to accomplish that," says Kim DeGraw-Cole, athletic director at Southern Regional and one of the driving forces behind "The Art of Leadership," a program now in its sixth year and held at the school each spring, summer, fall and winter for team captains and other aspiring student-athlete leaders from the conference's 44 schools. "It's just like when you're the captain of a team and you have to figure out how to solve a problem. Sportsmanship - fairness, integrity, tolerance, leadership, empathy - is our curriculum. That's what high school sports is about."
That sounds great. But exactly what does leadership mean - especially when it comes to athletics. Elliot Hopkins, director of educational services for the National Federation of State High School Associations, likes to use the example of a local team's star quarterback to help explain the concept of leadership. That quarterback, whether he likes it or not, is looked to as a role model by teammates, classmates, underclassmen, junior high kids and next-door neighbors. In essence, he's perceived by his actions. But if he doesn't know how to be a decent member of the community or a good teammate, he's not a leader, Hopkins says. "We loosely use the term 'leadership,' but you just can't give somebody a leadership badge, and suddenly he or she is deputized. It's a process."
That process gets a boost this summer, when the NFHS hosts its first "Leading Together" leadership conference. In the works for a few years, the conference (which costs $185 per student, plus transportation and lodging) will be held at a downtown Indianapolis hotel July 1315. Students from 11 Indiana colleges and universities will conduct a variety of citizenship, sportsmanship and healthy-lifestyle workshops. Hopkins hopes to draw at least 800 students - 16 from each state - who he says will go back to their schools and serve as "ambassadors" to both teammates and classmates. "Most kids will not play sports in college," Hopkins says. "So what do they do then? If we don't teach them basic citizenship and teamwork skills, healthy lifestyles and respect, we will get ourselves into a mess."
Southern Regional's crew of facilitators, meanwhile - specially trained teachers and coaches from the school - will host its next leadership conference in August. The two-day workshop will engage dozens of student-athletes in team-oriented, outdoor-adventure challenges. After each activity, small groups will gather to evaluate their performances and discuss which strategies worked and which ones didn't. Participants, who pay $50 for the privilege, then take the problem-solving skills they learn back to their respective schools to spread the gospel of cooperation.
Similar half-day sessions are held for free at Southern Regional prior to the start of the fall, winter and spring sports seasons, and the school requires all of its freshmen to take a physical education course in which the core elements of character building and leadership are taught.
The concept of off-the-field teamwork among on-the-field competitors has encouraged sportsmanship and curbed player violence in the Shore Conference, DeGraw-Cole says. Some student-athletes who display leadership attributes may not always be among the most athletically gifted players, and engaging in obstacle courses and climbing-wall races together allows team stars to better gain the perspective of less-talented players. "We've seen students develop a greater degree of sensitivity toward each other," DeGraw-Cole says about Southern Regional players and their opponents. "It's hard to be angry with someone you know. Our kids are striking up friendships with members of other schools' teams, and I think that's good."
So does the New Jersey State Interscholastic Athletic Association, whose officials were so impressed by the Shore Conference's efforts that they decided to emulate the idea. In addition to being the first state association Hopkins signed up for the NFHS "Leading Together" conference, the NJSIAA plans to host similar two-day leadership workshops this summer at selected sites for student-athletes from its 420 member schools. If approved by a NJSIAA committee, the association's student leadership program will rotate on an annual basis with the NJSIAA's Sportsmanship Summit - an annual event for student-athletes, their parents, athletic directors, principals, superintendents, referees and members of various school boards to discuss with each other their roles in high school athletics. "We want to start with just three or four sites and get people talking about it, get people excited," says Ernie Finizio, the NJSIAA's assistant director in charge of developing clinics and workshops. "If the enthusiasm of this committee is any indication, the leadership conference should go over well."
Neither Southern Regional's two-day summer session nor the association's proposed conference will include overnight accommodations, for a variety of reasons - liability concerns and logistics chief among them. "But kids always show back up the next day," DeGraw-Cole says. "Honestly, they want to be here. And at the end of the second day, they don't want to leave. They're hugging and crying at the end."
To fully appreciate that statement, you must consider one of the event's final activities, which encourages participants to fall backward from an 8-foot ledge into the waiting arms (hopefully) of their new friends. Sure, it's been done before in all sorts of leadership gatherings, but that doesn't make it any less intimidating. "I've seen big football players who were white as a ghost, they were so scared to do that exercise," DeGraw-Cole says. "But we have to show these kids how to be good sports and good people, because they are the future parents, the future coaches and the future officials."