A Princeton Program Strengthens Bonds Between Faculty and Student-Athletes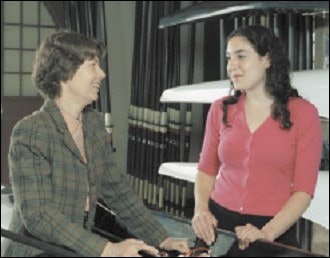 Roger Hughes is on the recruiting trail. For his team to reach its potential, the second-year Princeton University head football coach feels he must first fill some holes. Specifically, Hughes seeks an economist and someone with engineering expertise.
"I'm trying to find a professor in each discipline that our kids can go to if they're having trouble in that discipline," says Hughes, noting that the chosen majors of his players vary widely, from medicine to the humanities. So far, in the brief history of Princeton's Faculty Academic-Athletic Fellows Program, Hughes has enjoyed the services of two university faculty members designated as official, if informal, advisors to his student-athletes. He'll start this season with five fellows, with hopes of padding the roster even further. "I'd like to get seven or eight involved with the team," he says.
Now entering its third year, the fellows program matches at least one faculty member with each of Princeton's 38 varsity sports teams. The goal is to create a bridge of understanding between individuals who play major roles in shaping the student-athlete experience. "We've basically tried to identify faculty who have an interest in athletics to serve as friend and mentor, to get to know the players, and most important, to break down stereotypes," says Gary Walters, athletic director and program founder. "One of the stereotypes that exists is that of the distant, self-important, ultra-intellectual professor who is intimidating and unapproachable. The other stereotype is that of the self-centered, dumb jock - even in the Ivy League."
Encouraged to attend games, practices and team meetings - even to travel with their respective teams on road trips (including a March football junket to Japan) - faculty fellows also get a glimpse of the coach's role in the overall education process. Says Hughes, "I think it's great for the faculty to see how we teach the kids and how we mentor them, that it's not just screaming at them when it's fourth and three and we don't pick up the first down. I think it gives them greater perspective as to what we're doing with the kids. Maybe we don't teach them physics, but we certainly give them skills that they need to be successful throughout the rest of their lives."
Princeton University athletes, by that very distinction, would seem to be predestined for lifelong success, considering the academic-athletic philosophy adhered to by the school. As a member of the Ivy League, Princeton does not award athletic scholarships to its varsity sports participants; they play, to a large extent, for the pure joy of it. As one of the nation's elite institutions of higher education, Princeton admits only students with a track record of academic achievement. Could the fellows program, then, be viewed by cynics as a case of mollycoddling the already privileged?
"This isn't a tutoring program," Walters says. "This is just a way of developing informal connections." Other program proponents argue that while Princeton student-athletes put in as much time on the practice field as other major college programs, they may feel greater pressure than others to perform in the classroom. "Frankly, being an athlete takes a lot of time, and being a student at Princeton takes a lot of time," says Dan Notterman, head of the university's pre-med program and a faculty fellow to the football team. "Some of these kids have never been challenged in the classroom. They're so smart that they're surprised at the amount of time it takes. We can help them manage their time a little better. That's what's key."
It took time for at least one coach to embrace the idea of faculty members infiltrating his inner circle of student-athletes. "When Gary instituted this thing, I have to admit I was reluctant," says Bill Tierney, coach of a Princeton men's lacrosse program that has won six NCAA championships since 1992, including the 2001 title, and one that has seen every athlete under Tierney's watch earn a degree within four years. "I was a little bit closed-minded: 'We're doing a good job. The kids are graduating. Let's kind of keep it to ourselves.' "
All it took for Tierney to open up was one meeting with Ihor Lemischka, who emerged as a fellows candidate on the recommendation of colleagues in the molecular biology department who described the professor as a "lacrosse junkie." The coach quickly realized that he and Lemischka envisioned the same laid-back approach for their small piece of the fellows program. "Neither one of us had an agenda," Tierney says. "All of a sudden you have two guys from two vastly different worlds, and I just sensed that we were hitting it off. It was one of those great things."
Similar relationships have developed between Lemischka and players. The greatest benefit of having a faculty member on board, according to Tierney, is his fostering of freshman athletes. "I don't know what it's like at other schools, but certainly the highest priority here has not been academic advising," Tierney says. "All professors have their own research, their own teaching. Ihor has really been a great bridge between me and the kids concerning their academics. He's someone who has the respect of the faculty and me, and who the kids can talk to and get advice from. He's another adult on campus they can lean on."
Or simply hang with. A spring break trip through Florida last season left the lacrosse team with time to kill in Orlando. Players were free to sightsee, and Lemischka took off with a group of freshmen. "He came back and said, 'Bill, that was the best day of my life,' " says Tierney. "It meant so much to me because it meant that he had really crossed that bridge with the kids. Now he's a team favorite."
Upon returning from Japan, where he dined and toured landmarks with members of the football team, Notterman had eight players approach him about applying to medical school. "All had been thinking about medicine but had never really articulated that," he says. "This trip sort of broke the ice. There's no doubt that the fellows program has forged new relationships. More of the players know me who wouldn't have otherwise."
While such relationships may help facilitate decisions regarding a course of study, Walters cites research that indicates they may also help students succeed once on their chosen course. "Studies have been done at the collegiate level that show there is a significant relationship between one's GPA and the number of faculty members that one knows while an undergraduate," says Walters, adding that a book published earlier this year titled Making the Most of College: Students Speak Their Minds, by Harvard professor Richard Light, further supports that assertion through hundreds of student interviews. (Princeton considers grade-point averages a matter of student privacy, so charting the fellows program's success is likewise based on anecdotal evidence.)
A former Princeton assistant basketball coach, Walters witnessed and appreciated the positive impact Marvin Bressler, chair of the sociology department at the time, made on Walters' team. "He sort of became a kindly old mentor to the basketball program just by virtue of coming to games, occasionally attending practice and getting to know the coach well," says Walters, who became athletic director in 1994. "As a result of that model, I said, 'Why don't we try to formalize this?' As someone who went to this university, I think strengthening ties between our department and the faculty is critical to understanding that we're all part of the educational mission of this institution."
When settling in at Princeton prior to last season, one of the first things Hughes learned from Walters was the athletic director's commitment to the fellows program. The new coach proved a quick study. "Our view here is that it's not a dichotomy, but that it can be a synergistic relationship, that there can be mutual learning and understanding," Hughes says. "The more we interact and the more we get to know what each of us is doing, we're going to see that we're all working toward the same goal - to make these students as productive as possible."