A Career in Military Recreation Can Provide Extensive Travel Opportunities and Experience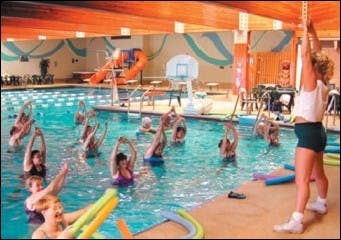 Students approaching college graduation and looking ahead to a career in recreation may not automatically consider military recreation as an option - not because it's lacking in opportunities, but because it's not familiar. Most students have never even seen a military base, and very few colleges and universities offer courses in military recreation.
Although a little-known field, military recreation is actually teeming with unique internship and career opportunities - especially for people willing to travel. "The best way to move up in this field is to take jobs in several locations," says Dan Schofield, chief of community programs at Peterson Air Force Base in Colorado Springs, Colo. "You get a lot more experience and an understanding of what the military is about by moving around from one location to another, and from one activity to another. Sometimes it means going to places where other people may not want to go. You may not want to go to Korea, but there's a great opportunity to succeed and get promoted from there."
For military-rec hopefuls just trying to get their foot in the door, military recreation professionals agree that accepting a position overseas right away is one of the best approaches. "The greatest opportunities with our service lie in a willingness to go overseas," says Kelly Powell, director of health and fitness for the U.S. Navy. "But not everyone wants to do that right out of college."
Students unsure of whether a life overseas is right for them can test the waters through internship programs offered through the Air Force, Army and Navy. (The Marine Corps does not currently offer an internship program, but is considering launching one in the future.) "The way we look at the intern program is that it's an opportunity for them to check us out, and for us to check them out," says Rick Harwell, intern program manager for the U.S. Navy Morale, Welfare and Recreation (MWR) Training Branch. "Some of them find that it's not for them. They don't like the lifestyle or they don't like MWR, and that's fine; they go work somewhere else. But if they want to go to work for us and are willing to accept a position anywhere in the world, we can pretty much guarantee them a job."
Harwell manages all overseas internships for the Navy, amounting to about 60 to 75 internships a year. When considering applicants, intern programmers take into account students' grade-point average, paid or volunteer programming experience, work experience and class projects, as well as their creativity and maturity. As Harwell points out, maturity is an important element in an applicant's ability to travel and work overseas.
Once selected, interns are provided with round-trip airfare, a weekly meal allowance and lodging. After a three-day orientation in the United States, they travel overseas and are assigned to a particular program area such as youth activities or outdoor recreation. They then work full-time under a mentor for a minimum of three months.
Despite successful internship programs, a demand still exists for qualified military recreation professionals, particularly overseas. "There's always a demand for good talent," says Powell. "Any system is always searching for high-quality people, not just a warm body, but people who bring experience, qualifications, knowledge and enthusiasm to the job."
Why the shortage of talented applicants? Powell says, "Two reasons: One is that they don't know about it, and two is that we are a government entity. There is a bureaucratic process we go through, and some people don't want to put up with that."
Another distinction of MWR is Navy deployment, which opens up positions for recreation specialists onboard ships. "Instead of being at work from 8 to 5, and going home to your apartment or house, you're on a ship, and you're at sea for six or seven months," says Powell. "That's a different life. Your job is still the same as somebody on shore - you're a fitness instructor or a recreation specialist - but the whole environment's different."
For the most part, however, military recreation is very similar to municipal recreation. "It's a lot like city and county parks and recreation," says Harwell. "The city or county just happens to be a military base, though, so it's a lot of uniforms, and a lot more 'yes sirs' and 'yes ma'ams.' "
Depending on the base, military recreation can also encompass just as wide a variety of jobs (and sometimes wider) as municipal recreation. For example, a person looking for a programming job in recreation in Marine Corps Community Services can choose from sports and athletics; fitness and health promotion; the Single Marine Program (geared toward Marines ages 18 to 25 who are single or geographically separated from their families); youth and teen services; aquatics; outdoor recreation; bowling; information, travel and tours; and theater services. Mid- and upper-level management positions include deputy directors and directors, while headquarters-level positions include program managers and recreation program specialists.
As in municipal recreation, military recreation includes programming for all age groups. Although the primary market for recreation in all four military branches is 18- to 24-year-old active-duty men and women, recreation professionals must also serve families and dependents of those people, as well as retirees and authorized Department of Defense civilians. The number of people served depends on the individual base or installation. Spread out between its bases, the U.S. Marine Corps' demographic snapshot as of June 2001 - including active-duty Marines, family members, reserve enlisted personnel and reserve officers - was 370,224.
A Marine Corps recruit training base in Parris Island, S.C., boasts about 2,300 to 2,400 active-duty personnel. In addition to their own programs, recreation employees also handle all youth sports for the nearby Marine Corps Air Station. Together, the base and air station include 12 softball/baseball fields, seven soccer fields and two gymnasiums.
Sheila Trimmier, supervisory recreation specialist for Marine Corps Community Services, has worked at the base for the past 15 years, and has watched programming expand. Her department oversees adult and youth sports, as well as youth camps and clinics. When she started, the base offered mostly arts and crafts classes for kids, some sports activities and sometimes a swimming class or two. "There was about one basketball team and one soccer team here," Trimmier says. "They were sponsored by the base, but they played in the county's recreation program because there were no other teams here. Now I have 50 baseball and softball teams, about 35 to 38 soccer teams and about 25 to 30 basketball teams - and that's just youths."
Trimmier is one of five full-time recreation professionals at the base, and her department also includes some part-time employees, as well as five year-round and two summer grounds-maintenance staff members.
The operation and maintenance of facilities such as sports fields, gymnasiums and fitness centers is a significant part of many military recreation jobs. (What would typically be called a "recreation center" in municipal recreation is called a "fitness center" in the military. Recreation centers in the military are facilities with amenities such as pool and ping-pong tables, eateries, and computer and television rooms.)
The quality of facilities varies within each branch of the military, as well as between branches. For example, the Air Force boasts top-notch fitness facilities, according to Schofield. "We have a construction program that allows us to focus on the quality-of-life programs we're trying to provide our airmen, and ensure that they are the best conditions possible," Schofield says. "When we identify a fitness center that is 20 years old, and we know it's going downhill, we can go ahead and put in a request. For the most part, within five years or so, the Air Force will authorize us to renovate or build a new facility."
On the other hand, the Army's fitness facilities range from very old to brand new, says Bob Roadarmel, U.S. Army MWR fitness specialist. Roadarmel and other MWR professionals are currently working on an initiative, dubbed "Army Facility Strategy," to bring all facilities at least to an acceptable middle ground - including the staffing, training, equipment and programming elements. "The average age of the buildings is about 65 years old," says Roadarmel. "You can throw some cosmetic changes at a building, but what are the pipes and wires and all those things doing behind the walls." He adds that although the Army MWR is in a continual battle for funding, it generally gets what it needs.
That's because military recreation has more money sources to tap than other recreation entities, such as municipal recreation, says Schofield, thanks to a combination of appropriated funds coming from taxpayers and non-appropriated funds generated from recreation programs at the base. "We have those two levels of money," says Schofield. "I realize that other small government agencies do, as well, but because we're much larger, for the most part, we are better-funded than other government agencies."
While more funding helps MWR professionals with programming and facilities, the military also supports its MWR employees on a more personal basis with extensive training opportunities. Employees are required to undergo a certain amount of training within a particular time frame. For instance, the military offers a course in which employees spend about eight or 10 days learning general MWR services skills, such as construction programming and budgeting, followed by a week focused on an employee's specific area of recreation. If the program is for youth directors, for example, the last week is tailored only to youth programs.
In addition, the military consistently sends its MWR employees to non-military educational programs. "The military is very good about allowing our managers to attend national programs and conferences," says Schofield. "I've been working with the military for close to 18 years, and I've seen it take advantage of those opportunities probably more so than any other organization, whether it's municipal parks and recreation, the YMCA or anything else."
Another perk to a career in military recreation is that an MWR employee can transfer around the world to other bases and between military branches, and still keep all of his or her benefits. For example, Schofield has worked in Las Vegas, Omaha, Germany, San Antonio and Colorado Springs, and never lost his accrued benefits. "If I worked for the Dade County parks and recreation department in Miami, and wanted to transfer to the state of New York, I would lose everything," Schofield says. "There's nothing there that would allow me to transfer my benefits."
Schofield also points out the importance of establishing building blocks in MWR. He began his career as an outdoor recreation director at an Air Force base, then moved on to work as a youth director at two major commands, followed by a position overseeing all youth programs at Air Force headquarters. "In all of those positions, I was able to gain the experience and the knowledge necessary to work for a flight chief position," says Schofield. (A flight chief position in Air Force MWR is comparable to a municipal parks and recreation director position.)
The combination of benefits and salary is what makes an MWR position appealing, according to Roadarmel. "That has to do to some degree with the longevity you've got in the system, though," he adds. "You have to be in the system for a while before you can make it work for you, but that's probably true of any system."
Salaries depend on the location and the size of the base or city, but military recreation employees make at least comparable salaries to their counterparts in municipal recreation. A position such as Schofield's, on an Air Force base with 50,000 people, earns anywhere from $45,000 to $65,000. By comparison, a recent search on the Internet for municipal recreation director job openings yielded an open position in a city of 50,000 people with a salary range of $57,166-$74,316. Another municipal recreation director job opening for a city of 32,500 residents offered $42,999 to $62,027.
Continuous job openings for recreation specialists aboard various Navy ships offer a salary range of $32,000 to $39,000. A recreation specialist aboard a ship serves up to 5,600 personnel.
Military recreation may not be for everyone, but for those who are looking for a change of scenery, it can offer a vast array of training and programming experiences. "For me, it's no sweat to move around for a job," says Roadarmel. "I know some people prefer not to do that. But people looking for that kind of experience couldn't ask for a better opportunity."