A Florida School District Hopes to Attract More African-American Cheerleaders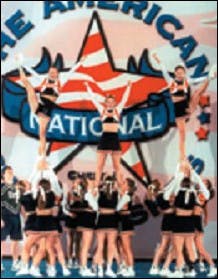 Competitive cheer squads at Florida's Winter Springs and Oviedo high schools have consistently ranked among the best in the nation, but Seminole County Public Schools officials still thought something was missing. Apparently, so did the U.S. Justice Department.
A recent desegregation agreement between the district and the federal government mandates that the county's seven high schools expand the ethnic diversity of their spirit squads. For years, the 60-plus members of Oviedo High School's cheer team typically included only one African-American, according to Ginny Welch, Oviedo's cheerleading coach. As recently as 1998, all seven district schools mustered a total of 10 African-American cheerleaders (3 percent), but 41 (8.9 percent) were expected to take to the sidelines this fall - thanks to efforts by district and school officials to make the activity more appealing to black students.
"How can you have a black student population of 14 percent in your district, and then have numbers like that?" asks Raymond Gaines, executive director of secondary education for Seminole County Public Schools. That's what the federal government wants to know, too. And that's why the move to desegregate cheerleading squads is among the final steps the district must take in an effort that dates back to 1970, the year the federal government sued the district for operating separate facilities for black and white students. Since then, every new facility, program and activity supported by the district has been implemented under the watchful eye of the Justice Department, Gaines says. That scrutiny could be lifted by 2003 if the district addresses five more government-targeted areas, including cheerleading.
To make that happen, a committee of coaches, administrators and parents spent two years evaluating the schools' 1998-99 cheerleading teams. Their findings indicate that cost and skill were the primary barriers keeping most black girls from making their respective schools' squads. According to Gaines, cheerleaders each paid $400 to $1,500 a year for competition entry fees, uniforms, warm-up suits and other gear. "Some squads had five uniforms and two or three warm-up suits," he says. "It's just amazing the things we found once we started looking."
Finances were also at the root of the skill issue. Tumbling, an integral element in competitive cheer, is typically learned via private gymnastics lessons - an activity many black families can't afford.
Based on the findings of its two-year study, the committee implemented a series of recommendations last spring. These included allowing squads to participate in a maximum of four competitions a year; developing a countywide "Cheer Fest" - similar to ones Florida schools hold for bands and choral groups - that will charge only a small entry fee to cover the event's expenses; creating a countywide cheerleading camp in lieu of sending girls on expensive training excursions to college campuses; and establishing criteria for cheerleading tryouts that don't require a mastery of tumbling and other "exotic stunts," Gaines says. "Hopefully, the students will get even greater recognition than they were getting in competitions."
The district's strategy already seems to be working. Most schools have vowed not to enter cheerleading competitions this year, and more black girls are entering the spirit ranks. Oviedo's 2001-02 squad, which at press time was the only team that had committed to its maximum of four competitions, boasts four black cheerleaders. The school even has a freshman squad of 20 girls for the first time. The lifting of some previously required tryout skills resulted in the fiercest competition Welch has seen: More than 100 girls tried out last April for 67 spots on the squad, up from the usual 70 or 80 hopefuls. "People weren't quite as scared to try out," she says, adding that the heightened level of competition contributed to a more talented squad. "We definitely have our sharpest cheerleaders ever."
"We don't see this as just increasing numbers," says Anna-Marie Cote, director of student equity and excellence for Seminole County Public Schools. "That's not really our goal. We want to make a visible change in cheerleading. Competition is not what our cheerleaders are for. When you consider that one high school went to seven competitions in one year, it's amazing that these girls had time for academics at all."
Still, students and parents from the district told the Orlando Sentinel earlier this year that banning cheerleaders from competition was unfair, considering that sports teams, dance teams, ROTC units and bands are allowed to compete. What's more, historically black colleges that offer cheerleading scholarships often require the skills practiced in competition. Black cheerleaders typically aren't as skilled as their white peers because most of them didn't take up the activity until high school, James Smith, cheerleading coach at Southern University, told the paper.
That doesn't appear to bother district officials, though, who seem intent on diversifying cheerleading squads at any cost. "We try to make whatever activities we have in our school system as inclusive as possible," Gaines says. "And if this program is allowed to be successful, it will really take on a life of its own."
That's what happened in Washington, D.C., a city whose cheerleading diversification efforts mirror those of Seminole County's. The District of Columbia Interscholastic Athletic Association, which oversees a predominantly black public school system, has made cheerleading an official activity in district schools beginning at the elementary level, and the DCIAA helps fund cheerleading uniforms, coaches' training and clinics in both affluent and poor sections of the city. A citywide cheerleading competition reportedly has not only spurred interest in the activity, but improved skills of the participants. All but one of the D.C. high schools now participate in the competition.
Despite some Seminole County schools' decision not to participate in spirit competitions sanctioned outside the district, at least one school's competitive fire still burns as strong as the district's desire for diversity. "We will definitely make nationals again this year," Oviedo's Welch says, refusing to deny her team what she considers worthwhile extracurricular opportunities. "I can guarantee you that."