Dividing One School Into Two Doesn't Have to Tear Apart the Athletic Department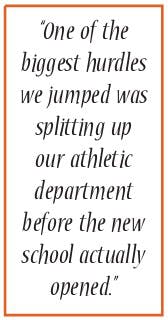 More than 5,000 spectators showed up at Lincoln-Way Central High School's football stadium in New Lenox, Ill., earlier this year to watch the Knights score a lopsided victory over the Lincoln-Way East Griffins in the first meeting between the two schools. But this wasn't just another Friday night football game in the southern suburbs of Chicago. To Steve Hayes, Central's aquatic director, it was the "visual culmination" of at least three years of planning that split the original Lincoln-Way High School - bursting at its seams with nearly 5,000 students - into Central and newly opened East in nearby Frankfort this year.
"The underlying tone through all this has been that we want to give more kids the opportunity to participate in athletics," says Hayes, who worked closely with district, school and community officials to ensure a smooth transition - and in the process even gained enough swimmers to create new water polo teams at Central and East. "It certainly appears more kids are getting the opportunity to participate. I also know the number of kids who have been cut has diminished."
New Lenox and Frankfort definitely aren't alone in their quest to provide more opportunities for student-athletes - and to relieve schools suffering from overcrowding in burgeoning suburbs. Communities around the country face the challenge of paying for new schools, relocating students based on geographic boundaries and creating new athletic departments without raising the ire of district administrators, students, parents and the taxpayers who approved referendums or bond issues in the first place. One Ohio athletic conference will welcome five new schools between 2002 and 2004 - all of them the result of splits.
"You could pick any major state with 300 or more schools and find a few," says Tim Flannery, an assistant director at the National Federation of State High School Associations. "It's the type of thing that each school probably handles differently, but schools can also learn from each other. I'm not sure you're going to find one right or wrong way to handle a split."
Athletic administrators who've made successful splits say it's crucial to involve all stakeholders in the process early on to discuss everything from athletic facilities to team colors and mascots. "We don't think to take into account the emotion of the situation," says Flannery, a former athletic director. "And if we don't, we're going to be putting out fires for a long time."
Indeed, tradition dies hard, and some of those fires could smolder indefinitely - as they appear to be doing at St. Charles (Ill.) East High School. "I have a hard time calling us St. Charles East," admits Wayne DeMaar, athletic director at the school formerly known as St. Charles High, whose split into East and North in 2000 took one head coach and several assistant coaches from the original school. "I've been here for 35 years. To me, it's still St. Charles. We shouldn't have changed our name. All of our uniforms still say 'St. Charles.'"
Supporters of the original school's athletic teams remain skeptical, too, according to DeMaar. "At one time, we were tied in the state of Illinois for most overall state championships in one season, with four," he says about old St. Charles High School. "Then, in 1998-99, we broke that record with seven state championships. That's probably the negative aspect that people will focus on, concerned we're not going to do that as often now. But St. Charles East will still win championships."
St. Charles made every effort to ensure those winning ways by fielding two freshman teams in each sport during the 19992000 school year - a move Lincoln-Way eventually followed with both its freshmen and sophomores. At St. Charles, one team was comprised of players who would make the move to North the following year, while the other team consisted of players remaining at the school now known as East. That way, both schools the following season were able to field players with at least some playing experience.
"One of the biggest hurdles we jumped was splitting up our athletic department before the new school actually opened," Hayes says. "Imagine doubling everything you schedule at t he freshman and sophomore levels. Our conference wanted Lincoln-Way East to play a full schedule of varsity games its first year, rather than take three years to cycle players in. Of course, East is a little hamstrung because they have no seniors, but they play varsity - just like everybody else." (Lincoln-Way East opened this year with freshmen, sophomores and juniors.)
Over at St. Charles North, where only freshmen and sophomores occupied the halls in 2000-01, all teams are competing at the varsity level for the first time this school year. Last year, only individual sports played varsity schedules.
Hilliard (Ohio) High School took the strategies of St. Charles and Lincoln-Way a step further by actually opening a transition building in 1996 for freshmen who would attend a new Hilliard school called Darby the next year. The transition building, owned by the school district, had its own gymnasium but shared other athletic facilities with the original Hilliard High, now known as Davidson. One freshman team operated out of each school, but the teams did not compete against one another.
"Our philosophy is: one community, two schools," says Mark Princehorn, Davidson's athletic director, adding that a bitter rivalry is not likely to develop between the schools. "Our league keeps sister schools in opposing divisions, so the only time Davidson and Darby will play each other is in tournaments."
Hammering out the logistics of splitting one athletic department into two involves more than just easing the transition for student-athletes. After a district receives the go-ahead to build a new school or renovate an existing school-owned building, careful consideration must be given to the quality of facilities at each school. At Lincoln-Way, "there was a very concerted effort to make sure everything was equal," Hayes says. Both Central and East (which had been part of the original Lincoln-Way school, even though it was located on a second campus six miles away) received new football stadiums and aquatic centers - the result of a $60 million referendum passed in 1998. Classrooms were renovated and new bleachers were installed in each school's field house, both built in the early 1990s with money from a $27 million referendum. "Each school needed to be a replica of the other," Hayes says.
Athletic department budgets at two schools, however, sometimes aren't replicas of what they were at one school. School board officials have been known to slash budgets after a split, reasoning that a school has fewer student-athletes to support. In reality, DeMaar points out, most teams have just as many players as before; they just cut fewer kids.
Earlier this fall, Hayes was in the process of collecting data from athletic directors at northern Illinois high schools in six districts that have already split. His intention is to provide administrators with a guide to what worked and what didn't. Among the suggestions Hayes received: Bring in the new school's athletic administrator at least a year before the school opens, and be prepared to hire new coaches - many with little experience.
"These people all know about what we're going through, and they're more than willing to share their trials and tribulations with the rest of us," says Hayes, who hopes to parlay insight from his surveys into some type of reference guide for other schools facing a split. "I think you could draw some easy parallels between their stories and those of other districts around the country."