Good Communication Skills Are Vital in Keeping Family Businesses Afloat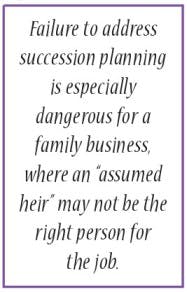 Making a profit can be tough under any circumstances. If you run a family business, though, you face some special challenges. Just how do you cut through the gunk of parental control, sibling rivalry and non-family staff resentment that too often gums up the wheels of commerce?
The answer, to a large extent, lies in good communication. "The key to family business success can be summed up in three words: Listen, talk and plan," says Jerry I. Kleiman, cofounder of Optimal Resolutions, a Manhasset, N.Y.-based firm that helps family businesses resolve relationship issues. "Listen to what family members' needs are, talk about alternative solutions to fulfill those needs, and plan initiatives that bring the solutions about."
Just what should family-business owners and partners talk about. Business experts suggest you get together and brainstorm about these questions:
1. "DO WE HAVE AN ENTITLEMENT MENTALITY?" Are family members "entitled" to better jobs, perks and salaries than non-family staff? If so, you can bet that everyone in the company knows about it, and it's affecting morale. Moreover, entitled individuals can drain the business of critical resources it needs to be profitable.
It's easy to fall into the trap of feeding more mouths than the business can support. "There seems to be a common idea in family businesses that all brothers, sisters, nephews and cousins are entitled to jobs and salaries without regard to the amount of work they provide in exchange," says attorney Melanie Rovner Cohen, chair of the Turnaround Management Association, a Chicago-based umbrella organization of 4,500 consulting firms in the United States and Canada. "It's a matter of productivity. If everyone contributes, you can have as many family members as you like working at the business. But their productivity must match their salaries."
How can you ensure this happens? Kleiman suggests developing solid rules for entry and promotion. "Careful planning prior to positioning family members in jobs prevents problems later on," he says. "Establish clear, written entry criteria and detailed job descriptions." Here are questions to address: Will positions be offered to all branches of the family tree, including distant cousins? If so, at what point on the branch is a person no longer considered "family," from the standpoint of employment? What are the entry criteria in terms of education? Must a family member put in a certain number of years at other businesses prior to joining the family business? Will entry and promotion hurdles be higher for family members than for outsiders? (These last two policies are especially recommended by many counselors as effective techniques for alleviating the resentment of non-family staff about real or imagined nepotism.)
2. "DO WE EXPRESS RESENTMENTS ABOUT FAVORITISM?" Do some family members harbor resentments for real or perceived favoritism toward one sibling over another? Again, this is a damaging condition that can be alleviated through open communication.
Siblings and other relatives often resent the use of business assets to assist a family member in need of money. "One of the best things about a family business is its ability to help out the younger people financially," says Kleiman. "But you have to be careful not to destroy the goose that lays the golden eggs." Encourage people to express any feelings of resentment. And by all means set up an arrangement whereby the favored member will recompense the business down the road, either by a direct return of funds or a diminishing level of that individual's claim on the estate. "Always talk about how a loan will be paid back, and make sure everyone is aware of the plan," says Kleiman.
3. "ARE WE ALL AGREED ON A WRITTEN SUCCESSION PLAN?" Failure to address succession planning is especially dangerous for a family business, where an "assumed heir" may not be the right person for the job. Alas, many family businesses put off the process of succession planning until it's too late.
"Succession needs to be planned well in advance," cautions Cohen. "If you wait too long, the focus shifts from business requirements to family dynamics and disputes. The question is no longer, 'What does the business need?' but rather, 'What do I need?' " Long-simmering hostilities can rise to the surface and scuttle efforts to keep the business going for the long term. In contrast, says Cohen, an early start allows more time to get everyone reading from the same page.
Even so, the most businesslike efforts to plan for succession must also consider personal needs and desires - especially that of the retiring founder. "Passing the baton is a two-way movement," says Kleiman. "It's not just a matter of what the founder is retiring from - but what is he or she retiring to? It's an area that requires communication with one's spouse and family."
4. "ARE WE HIRING QUALITY NON-FAMILY EMPLOYEES WHO PARTICIPATE IN MAKING DECISIONS?" Getting your own way all the time because you are in a position of power can be comfortable - sometimes too comfortable. "We often find that family businesses hire people who 'yes' them to death," says Warren Bagatelle, managing director of Loeb Partners, a New York investment banking firm. "Once the founders fall into ill health, the business follows suit because the remaining people are not capable of making decisions - they have been essentially taking orders during their entire professional lives."
Outside advice, in the form of a third-party professional, can help family businesses become more inclusive in their decision-making. While one may be tempted to engage a trusted family advisor in these circumstances, Cohen cautions otherwise. "Many times the family lawyer or accountant doesn't want to get involved, because to do so would involve taking one person's side over another's," she says. Turn instead to professional advisors, whom you can find by talking with other family businesses, consulting with professional organizations such as The Family Firm Institute (www.ffi.org), or perusing the rosters of organizations such as the Turnaround Management Association (www.turnaround.org).
5. "DO WE NEED A PROFESSIONAL MANAGER?" Getting input from third-party advisors is great, but sometimes it's not enough. Every family business must ask if the second generation has what it takes to manage the business as the founding generation gets older and approaches retirement. If the children of the owners need more time, education or training to take the reins of power, it's time to consider the services of a professional manager who is not part of the family but who can step in for a number of years to make sure the business is well run. In some family businesses, this individual may stay for more than a decade, preparing the second generation to eventually take over.
"Consider leaving the professional executive in place until the son or daughter grows into the job," says Bagatelle. "We have found that one of the most common problems is the founder automatically assumes that his son or daughter can successfully run the business. That's frequently not the case. Some people are not capable of making decisions, or they make the wrong decisions."
6. "DO WE ACKNOWLEDGE THE STRESSES OF FAMILY BUSINESS?" Sometimes a big part of the solution is just acknowledging the problem. Family members need to communicate their stress and strain to each other rather than bottle up their feelings. "The usual strains of business are magnified in a family organization because emotions and misunderstandings get involved," says Joel Getzler, president of Getzler & Co., a New York firm that helps ailing companies reorganize. "When you have second and third generations in a business, they often have different points of view that can lead to infighting. Arguments begin over who caused a problem - there's a lot more finger-pointing than in other businesses."
This problem is further intensified because family members don't have the usual domestic environment to let off steam. "In regular businesses, people go home and moan to their spouses," says Getzler. "In a family business, they go home and face the same people they deal with at work. The family becomes all consuming."
It all boils down to one theme: Sensitive communication can alleviate the resentments that otherwise wear away at profitability. Rather than suppressing grudges and ill will, family business members must bring them out into the open. It takes effort, as well as courage. "Everything we suggest is tougher to do than to say," says Kleiman. But the results, he adds, can be impressive. An emotionally healthy family can lead to a strong business. "Don't take the family or the business for granted," Kleiman says. "Be proactive in establishing good communication, both at home and in the workplace."