Sharing Campus Aquatic Facilities Helps Pay the Bills, But Constantly Circulating Different User Groups In and Out of Pools Takes Priorities and Planning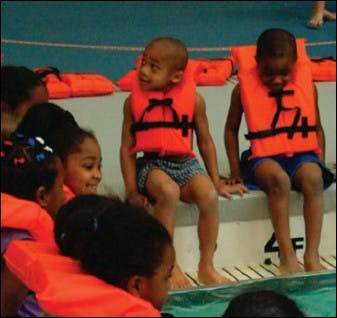 It's 6 a.m., time for the men's and women's varsity swim teams to dive into the first of two daily practices at the university natatorium. An hour earlier, members of the ROTC slogged through a water test here in full fatigues. At 2 a.m., the community fire department wrapped up four hours of training in this same pool.
Before the day is over, the natatorium will accommodate several for-credit classes, at least one recreational lap swim, a water aerobics session and a meeting of the campus kayaking club. In the adjacent diving well, SCUBA divers and life-jacketed water walkers will give way to U.S. Navy-sponsored torpedo prototype testing. The weekend might bring anything from birthday parties and baptisms to an international swimming competition or local car show.
It may sound all wet, but this scenario accurately describes the types of activities taking place in college and university aquatic facilities these days. Faced with operating budgets that may exceed a half-million dollars (not including utility costs, which are often covered by a university's physical plant), aquatic directors are challenged to fill their pools with paying customers early and circulate new users in and out all day long. As a result, campus natatoriums are opening their doors not only to familiar constituencies such as intercollegiate swimming and diving teams, recreational lap swimmers and aquatic-based clubs, but to outside interests, as well.
"Students and faculty can only swim so long and take up so much pool space," says Duane Proell, who as aquatic and special event program director at the University of Minnesota programs five campus pools, including one that's often bisected by a bulkhead for simultaneous use by different groups. "When you have facilities like this, you're going to have a lot of open water, and you need to fill it up. You need to reach out to the community."
Many in similar positions agree, but all are quick to add that sharing aquatic time and space comes at a price, with everybody expected to pitch in. The goal is not to turn a profit, necessarily, but simply to recover the considerable costs associated with staffing the pool and maintaining its physical appearance and equipment. The trick is keeping all user groups happy today, while ensuring there will remain a safe, attractive and functional venue for a new generation of participants tomorrow.
No collegiate aquatic facility that shares its resources among several internal and external user groups can do so smoothly without proper organization. Depending on the size of a university and its aquatic facilities, as well as the time of year, requests for water access can come pouring in from any number of directions on and off campus. During a typical March, the University of Minnesota Aquatic Center might receive 70 requests from outside groups, according to Proell. In December, that number might dip to fewer than 10. Some colleges find that the best way to determine who gets to use the pool and when - and at what price - is by committee. And whereas monthly committee meetings once sufficed in filtering through requests, demand has dictated that aquatic staff members on most major college campuses meet weekly instead. Says Tom Griffiths, aquatic facilities manager at Penn State University, "Every Tuesday we have a scheduling meeting, and the first thing we do is go through requests to use the pool."
Requests made by familiar entities, such as the ROTC, can usually be satisfied within one week, while dates for special events (such as competitive meets) and smaller-scale rentals (such as wedding receptions) are often scheduled months, if not years, in advance. Minnesota recently agreed to host the National Disability Championships from 2003 through 2005, and the girls' and boys' state high school championships through 2006. Meanwhile, in a rare instance of rapid-fire scheduling, Minnesota Swimming Inc. will use the Aquatic Center for its age-group state championship this summer, based on terms agreed to in January. "Very seldom do we get less than six-months' notice on an event that's going to cause a disruption," says Proell, who defines disruptive events as those lasting more than one day and requiring substantial setup.
For perennial user groups such as age-group swimming and diving clubs, Mike Giles, associate director of recreational sports at the University of Southern Mississippi, draws up contracts that cover three years at a time, increasing fees by 10 percent each year to allow his pool to meet inflationary demands while giving the user group the opportunity to budget into the future. Meanwhile, requests by new user groups may begin with the submission of a request form available through the aquatic department or via a phone call.
Contracts for some rentals may even be signed the day of an event, provided the user group can present proof of insurance. In the case of a birthday party, for example, insurance may take the form of a rider added to an individual's homeowner's policy, limiting coverage of all party-goers to the actual amount of time they will spend in the university's pool. Alternative (and often less-expensive) insurance policies may be offered through the university itself, and usually consist of a base charge (for example, $50) and an additional charge based on the number of party-goers (20 cents a head). In either case, the university should insist that it be listed as "additional insured." For large special events involving such entities as the NCAA, USA Swimming, or even local YMCAs, the user organizations typically arrive with their own insurance certificates in tow.
For schools that can afford the time, an extra step of meeting face-to-face with one or more representatives of the would-be user group prior to drawing up a contract establishes familiarity with the facility and its rules. "A shared facility depends on cooperation between user groups, and cooperation comes out of personal contact," says Giles. "Getting to know who it is you're going to share the pool with is important."
But even the most accommodating aquatic facilities can't grant every potential pool user access to the water at the time desired, if at all. "We tell a lot of people no, only because there aren't enough days in the week or hours in the day," says Griffiths. "Still, we listen to everyone. We don't turn down a request until after Tuesday, when we all discuss the merits of it and see if we can fit it in somewhere."
Such decisions aren't made on a whim. Most colleges have well-defined pecking orders in terms of user groups and their prescribed pool times, particularly during the school week. Some colleges cater to their intercollegiate teams, while others focus on for-credit classes. Often, the attention shifts throughout the day, with team practices taking precedence over all other activities during the early morning and late afternoon. During the normal school day (typically 8 a.m. to 3 p.m.), classes hold court. Open lap swimming may fit in during downtime at noon, while club sports take over in the evening or share space with another wave of recreational swimmers.
Weekends, during which most outside requests are fulfilled, may be a bit less cut-and-dried, but priorities still play a role. At Minnesota, which employs a 10-page priority document for all of its athletic facilities, student members of the school's Pool Operations Committee hold veto power over proposed weekend events. Proell believes that's only fair, since student fees finance a good portion of the Aquatic Center's upkeep. "Those students are charged with the task of making sure that University of Minnesota students don't get shortchanged on the money they give," he says. "That whole process eliminates me giving the pool away for free. It motivates me to get renters that can actually pay the rent."
The Minnesota State High School League, for example, paid $6,000 a day to hold its three-day swimming and diving championships at the Aquatic Center in March. Because money from outside sources eases the facility's reliance on student fees, students willingly accepted the inconvenience of swimming in an older pool elsewhere on campus during those days, according to Proell, who adds that with 12 years of experience dealing with student committee members, "I don't bring anything to them that I know they're going to refuse."
The Payne Center's pool at Southern Mississippi takes advantage of weekends primarily to accommodate the swimming sons and daughters of students, faculty and staff, at the recommendation of an advisory board established in 1993 to govern pool usage. "The students paid for a large part of this building through a referendum," says Giles. "They taxed themselves, and they were very adamant: 'We don't want a lot of little kids running around during the week.' "
Priorities are different at a school like the University of Texas, which boasts a 50-meter-by-25-yard pool that's a consistent 9 feet deep, as well as a 25-by-25yard diving well that also accommodates swimming. At the Lee and Joe Jamail Texas Swimming Center, modeled after the pool used during the 1972 Munich Olympics, competition and college-level coursework reign supreme. Even if facility director Don Watson wished to hold Special Olympics events or learn-to-swim sessions, his facility won't let him. "Anyone who swims here has got to be a fairly decent swimmer," he says. "That's how the facility was designed."
That's not to say that Watson doesn't have to closely monitor who uses his pool and for how long. Because the university's Kinesiology & Health Education Department conducts for-credit classes in the pool, as much as 51 percent of the pool's operation costs are covered by state funds. The remaining 49 percent are shared by separate men's and women's athletic departments and two outside groups: an age-group program called Texas Aquatics and a master's program. UT pool staff members chart usage by these various groups via computer and submit an annual report to the university, which then uses a formula to calculate the amount of state support the Jamail Center can claim. As a result, Kinesiology & Health Education students dominate the 8 a.m.-to-3 p.m. time slot. "We make them a priority and they're in there as much as possible, because we need that funding from the state," Watson says.
And just as priorities may change by the hour, they are subject to alteration over longer periods of time, too. When Giles coached a short-lived intercollegiate swimming program at Southern Mississippi, water-based academic offerings still held sway in the pool. However, once the USM men's and women's teams began competing in 1981, an outside youth program was bumped from its early morning practice time.
Moreover, intercollegiate swimming has evolved over the past 20 years to the point where a true off-season no longer exists. At Penn State, where top priority in the pool goes to the varsity men and women, intercollegiate swimmers in the mid-1980s trained and competed from October until March, and eventually from September through March. "Now I can honestly say that they don't stop," Griffiths says. "They are here all the time, and they get those blocks before 8 a.m. and between 2:30 and 5 p.m. literally 12 months a year."
The user group occupying the pool, as well as the type of activity taking place there, also dictate how the pool is staffed. Student lifeguards comprise the largest segment of any aquatic staff, and may represent an aquatic department's greatest cost. Some large schools carry a roster of more than 100 available lifeguards, and experts agree that any facility that opens its doors without at least one guard on duty is courting legal disaster.
Since collegiate swim coaches are often certified water-safety instructors, aquatic directors need not overcrowd the pool deck with additional life-saving staff. One lifeguard may be enough to cover two or three closely configured bodies of water occupied by talented swimmers. On the other hand, a large event, or one involving individuals with special needs, will require several on-duty lifeguards. "It all depends on the activity," says Watson. "The risk is greater when the pool is used by the recreational sports department, for example, because there are going to be different swimming skill levels."
Giles is among a legion of aquatic directors who rely solely on their own lifeguards when staffing their facilities. "I say to anybody who comes in, 'You've got to use my lifeguard, and it's going to cost you $7 an hour. I'm glad your staff is qualified, but my people are in charge.' I can sleep at night because I know what those kids are doing."
Among the everyday duties of student lifeguards is getting one user group out of a pool to make room for the next one scheduled. When asked what it takes to make that transition a seamless one, Giles laughs and says, "Lots of yelling." For transitions that require the placement or removal of lane dividers - in the event that, say, lap swimmers are giving way to the water polo club, or vice versa - Giles builds in an extra 10 minutes. The last guards on duty before closing at night are also responsible for preparing the pool for guards scheduled for duty the following morning.
Major competitions, meanwhile, present aquatic directors with the added task of organizing individuals with the know-how to operate sophisticated timing mechanisms and process computerized heat sheets. Sometimes, off-duty lifeguards can fill these and other roles associated with running a special event. "I have about 115 lifeguards, and in that group there will be kids who are computer operators or majors in marketing and promotions," says Proell. "From the 115 lifeguards, we tap all kinds of different talents that the kids have."
It takes talent from top to bottom on any collegiate aquatic staff to maximize pool usage while minimizing user complaints, but the rewards are great. Sharing allows a campus to showcase its aquatic facilities, train its athletes, educate its students and introduce individuals of all ages to the benefits of water-based activity - all the while helping offset the cost of pool operation. "When you build a pool like this, you'd better be able to generate some revenue, but you'd also better be able to stand up in front of the board of regents and say, 'The university contributed X number of dollars, and here's what it got. Eight-hundred kids learned how to swim. We were able to host 60 events. Our students got to see 25 Olympians because you support this pool,' " Proell says. "It's not just about revenue. It's also about the philosophy that we need to reach out to the community."
"There are still universities that share their water only with people on campus," says Griffiths. "To me, it would be almost criminal if we didn't open our doors to people outside the university. We can't fulfill everybody's needs, but we have open arms."