New National Guidelines Take Aim At Eligibility Abuses by Students From Other Countries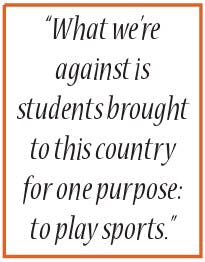 When Kirk Chiles, basketball coach at Henry Clay High School in Lexington, Ky., was slapped with a five-game suspension late last year for communicating with a Latvian basketball player, it was among the latest in a series of infractions surrounding high school student-athletes from other countries.
By responding to an e-mail from the player, who was looking for a school to attend in the United States, Chiles and his staff unknowingly transgressed Kentucky High School Athletic Association rules that prohibit contact with prospective players from outside the country. (As it turned out, the 5-foot11 guard had already earned his high school diploma and would not have been eligible to play at Clay anyway.)
This scenario demonstrates the need for greater education among athletic administrators about the motives of some foreign-exchange and international student-athletes. In an increasing number of cases, many have already graduated from high school in their homeland, signed contracts with agents or professional teams, are too old to compete at the high school level in this country, or live alone while coaches and other adults pay their bills. They simply need a diploma from an American school to advance their athletic careers.
"These problems have always existed," says Robert Kanaby, executive director of the National Federation of State High School Associations, whose Task Force on Foreign Exchange and International Students recently established guidelines to help athletic administrators guard against eligibility abuses. "But there's been a dramatic increase in this activity within the last two years because people are now seeing how lucrative it can be."
Indeed, in a high-profile series of articles published last year, the Dayton (Ohio) Daily News interviewed more than 450 people in 10 foreign countries and in 13 states and U.S. territories, revealing that American schools have been used as little more than training grounds for some foreign athletes and their agents. The paper's stories, which received national exposure, prompted some state high school associations to take a closer look at their schools' policies regarding foreign-exchange and international players.
"Did they have any influence? Certainly," Clair Muscaro, commissioner of the Ohio High School Athletic Association and a member of the NFHS task force, says about the Daily News reports. In fact, in their wake, Ohio amended its eligibility policy for international players this school year by requiring that they be officially adopted by families living within the school district. Previously, international student-athletes needed only to prove legal guardianship.
"We're not against international students," Kanaby explains. "What we are against is international students brought to this country for one purpose and one purpose only: to play sports and participate in extracurricular activities."
To that end, the National Federation recently distributed a package to each of its state associations detailing the differences between a foreign-exchange student (one placed with a U.S. family under the auspices of a certified exchange program) and an international student (one who comes to this country independently), as well as providing a model bylaw regarding their respective athletic eligibility. The guidelines prohibit school officials from having input into the selection of a specific student, and disallow members of a school's coaching staff (paid or volunteer) from serving as a host family for exchange students or as a resident family for international students. Exchange students also must be part of an official exchange program accepted by the Council on Standards for International Educational Travel, and possess a current and acceptable visa issued by the U.S. State Department. Meanwhile, international students must carry a current and acceptable visa issued by the U.S. Immigration and Naturalization Service, pay tuition and be able to provide official transcripts (in both English and the student's native language) from previously attended schools. Failure to meet these criteria should send up an immediate red flag, Kanaby says.
While adherence to the guidelines is optional, task force members say making policies as uniform as possible will help eliminate some of the confusion and abuses. Right now, states administer their own eligibility requirements - some even going so far as to ban foreign-exchange and international student-athletes from playing on varsity teams, a practice a handful of state courts have ruled discriminatory.
State associations such as Ohio's will consider the federation's model bylaw this spring for implementation during the 2002-03 school year. Officials in other states say they're content with their current policies.
The North Carolina High School Athletic Association, spurred to action by the Daily News series, launched an investigation of its member schools, but found little reason to overhaul its policies. "We have not had a landmark situation here," says Rick Strunk, one of the NCHSAA's associate executive directors. "Most of the kids we've seen from other countries just want the experience of being on a team. Some of them haven't even played sports before; they just want to be part of something. But I'm sure that landscape will change if suddenly a team with three players from another country vaults into state prominence."
That was among Jack Roberts' greatest anxieties when the Michigan High School Athletic Association developed a set of eligibility requirements specifically for approximately 200 Sudanese refugees who entered the state last year. "I was a little concerned that a number of the refugees settling into a small school could change the success of that school's basketball program," says Roberts, the association's executive director. "But they didn't upset the competitive balance. They're tall, but they're not amazing athletes. Very few of them tasted much success other than the joy of participating in high school sports."
Athletic eligibility has many facets, and college recruiting inevitably enters into a discussion about high school student-athletes hailing from other parts of the world. Roberts recalls a recent incident in which an out-of-state college recruited a basketball player from another country and placed him in a Michigan high school just so he could gain eligibility to play college ball. But the state declared the player ineligible, a move Kanaby applauds. "The very clear message we want to give to colleges is, 'Fine, you can recruit players from other countries, but don't plan on placing them in our high schools so they can get a year in this country under their belt,' " he says.
Kanaby and others hope the National Federation's new guidelines will curtail those and other kinds of abuses. "The model bylaw states exactly what can and cannot happen," Muscaro says. "That's spelled out pretty clearly now."