Colleges Need to Make Coaching a More Attractive Career Option for Women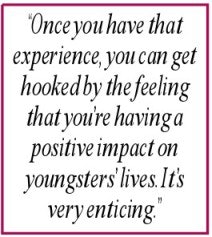 Last year, a handful of female athletes at Division III Lasell College in Newton, Mass., may have stumbled upon a reason to choose coaching as a career. Asked to teach a sports clinic for a group of Girl Scouts, the small-college women suddenly found themselves being asked for autographs by hero-worshipping young girls.
"Something like that can give female athletes a taste of what teachers and coaches experience," says Linda Jean Carpenter, a former athlete, coach and physical education professor at Brooklyn College. "You can't describe that feeling in a career-day seminar; it has to be experienced. But once you have that experience, you can get hooked by the feeling that you're having a positive impact on youngsters' lives. It's very enticing."
That, as much as anything, may be the key to reversing a trend that has seen a dwindling percentage of women's sports teams coached by women. Increasing the salaries paid to women coaches wouldn't hurt, either, says Carpenter, who has collaborated with long-time colleague R. Vivian Acosta to produce a 23-year study of women's intercollegiate athletics.
"Sometimes it's like colleges are saying to young women, 'We're going to pay you less than we do men, and you're going to have to fight for everything you get,' " says Carpenter. "That's not a very palatable choice. We haven't done a good job of helping young women to look at coaching as a good career option, and moreover, we haven't done a good job of making it a good choice."
Acosta, also a former athlete, coach, athletic administrator and physical education professor at Brooklyn College, notes that the percentage of women coaches of women's teams has reached an all-time low - 45.6 percent - in the 2000 update of the duo's study, Women in Intercollegiate Sport.
When Acosta and Carpenter began conducting their study in 1977, about 58 percent of the coaches of college women's teams were women - down from more than 90 percent in the early 1970s. And the percentage of women coaches has continued to fall over the past two decades - even while the number of women's teams and participants has climbed to record levels.
The numbers are not as grim in the most popular women's sports - basketball, volleyball and softball - where 60 percent or more of the coaches are women. Also, women coaches far outnumber men at the helm of the highest-profile basketball programs, holding about 80 percent of the positions.
However, the overall decline in the percentage of women coaches is inescapable, and Acosta and Carpenter believe that at least part of the reason for the decline lies in the choices women are making - choosing more promising and lucrative careers over coaching or administration.
"These kids are not stupid," says Carpenter. "They can go into the business world, where they believe they will get more respect and more money. They have a lot more professional choices than they did years ago.
"I do lament that women who finish their athletic careers are making those other career choices and that there are now even fewer coaching role models for the girls and young women coming up. On the other hand, at least it is a choice they are making, and that's progress in a sense. In the past, it was often a case of women being denied access."
If not outright denial of access, there has at least been a lack of equity, Acosta and Carpenter contend. Twenty or 30 years ago, some women might have accepted a coaching job that paid less than half what a male coach might receive. Few would accept that today.
"Back in the 1970s, I coached gymnastics at Brooklyn College," says Carpenter, "and I was also teaching physical education. So was the men's coach, but he received release time from his teaching to coach the male gymnasts. I received no release time for coaching the women gymnasts. It never occurred to me then that this was something I should be upset about. To me at that time, it was simply the way the world worked. It really took me a few years to recognize that this was unfair, not only to me, but also to the female athletes. It devalued them and their athletic experience."
Colleges and universities - willingly or not - have addressed some of those equity issues in recent years, but many young women still perceive coaching to be a low-reward/high-frustration career choice.
"That's partly our own fault," says Acosta, referring to what she calls the "old guard" of women coaches and administrators who have stayed in the profession for 20 years or more. "We do tend to take for granted the joy we receive from teaching and coaching and haven't conveyed that to young women. It's true, of course, that it has been a struggle these past 20 years or more, but we need to focus more on the positive aspects, or we're not going to entice anyone into this profession."
At long last, Acosta says, college officials and veteran women leaders - the old guard - seem to share a sense of urgency about the dwindling number of women coaches.
"The old guard is very concerned," says Acosta. "A lot of people write us notes when they return the questionnaire we send out. They're getting ready to retire and they don't see a lot of younger women waiting in the wings to step in.
"And that will only get worse if the trend isn't reversed soon. We already have a shortage of coaching role models for young women to emulate. If you're a young woman and you don't see a lot of women in coaching jobs or in leadership roles in administration, you're not going to see that as an option for you. So the numbers continue to go down. It's a vicious circle."
The NCAA is concerned enough to make mentoring and recruiting of women coaches and administrators one of its priority issues. Nonetheless, says Acosta, "schools still don't recruit women coaches the same way they do men. And until they do that, there's not going to be a natural upward push on women's salaries."
Recruiting and mentoring were also hot topics at a recent meeting of the National Association of Collegiate Women Administrators, says Carpenter. "There's a sense that schools are trying to be more creative, and trying new ideas and new strategies with renewed energy. I think we're beginning to recognize the fallacy of thinking that just working harder on the same old ideas will somehow make a difference."
Most women at the meeting seemed in agreement that structured mentoring programs, plus programs designed to give young women a taste of coaching or administration, would make a difference in time, Carpenter says.
At first glance, the dwindling percentage of women coaches and administrators might be discouraging, and Acosta admits "it's been a roller coaster. At one point I became very discouraged, and the numbers still aren't good. But I've always tried to maintain my optimism, and what's giving me reason for optimism right now is that people are paying attention and trying to be more creative in attacking the problem. Nothing is going to happen overnight. But as we talk to people, even the men seem a little more concerned about it and seem to be making more of an effort to reach out to bring women into the programs."
Carpenter is also optimistic, despite the bad news on coaching and administration, "because I look at the continued growth in the participation numbers. You're never going to turn the faucet off on that. There are simply more and more women going through college athletic programs and benefiting from their sports participation. The population has more women with more sports experience. We just need to find a way to attract them into the coaching profession."