Far removed from the pageantry and scandal of Division I, athletic departments at the Division III level deal with rewards and challenges all their own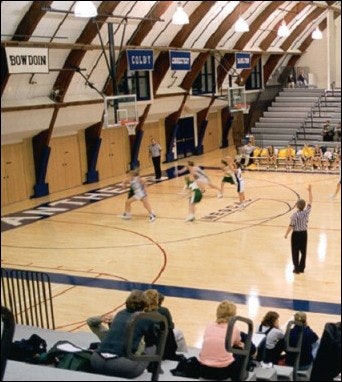 Meet Richard Walsh. He's one of the guys who removes the goose droppings from the soccer field at Hilbert College in Hamburg, N.Y. He's also the school's golf coach, its men's basketball coach and its athletic director. "I do everything," Walsh says. "It's like running a restaurant, and I'm the busboy, the maître d', the bartender and the owner. I experience all of the thrills of every position. Some days I feel like the owner. Other days I feel like a busboy."
Welcome to Walsh's world, the realm of NCAA Division III athletics, where administrators don many hats - or gloves - as circumstances dictate. It's a world of long hours, low pay and little glory, at least by Division I standards. Yet, you seldom hear its inhabitants complaining.
"One of the neat things about this level is that you get to do everything," says Gary Karner, commissioner of the Wisconsin Intercollegiate Athletic Conference and current president of the National Association of Division III Athletic Administrators. "One of the tough things about it is sometimes you have to do everything."
"My wife says, 'You know, you were gone less when you were coaching,' " says Leon Lunder, who arrived at Carleton College in Northfield, Minn., as an assistant football coach, assistant track and field coach, strength coach and head athletic trainer 20 years ago, before serving as athletic director for the past 10. "I literally never miss a home event, and next to our president, I'm probably the loudest cheerer in the group."
There's lots to get excited about in Division III these days, but it has less to do with the action on the field than with the direction of the division itself. As this is written, multiple NCAA committees and subcommittees are methodically examining issues directly related to the very principles on which Division III exists (see "Three for III," p. 50). Meanwhile, athletic administrators on the nearly 400 campuses within the division go about their day-to-day professional lives in relative obscurity, far removed from the headline-grabbing pageantry and scandal of Division I. "In some ways, we're thankful for that," says John Harper, athletic director at Bridgewater (Mass.) State College, who like many of his contemporaries settled into the Division III quiet life after spending time in Division I.
The philosophical differences between the two are profound. Division I athletics exist in large part for the entertainment of spectators. Division III athletics exist as one more extracurricular opportunity for students. Division I institutions are required to award athletic-related financial aid. Division III schools are prohibited from doing so. It's these differences, which top a long list of others, that draw many administrators to this Third World of intercollegiate athletics in the first place. "They're comfortable with the role that athletics serves in the overall educational mission of the institution," says Dan Dutcher, the NCAA's Division III chief of staff. "The lack of emphasis on athletics as entertainment and the greater emphasis on athletics as an extracurricular activity - an educational activity - is something that a lot of folks are very comfortable with."
In light of these differences, which also can be contrasted with characteristics unique to Division II, the NCAA membership in 1995-96 decided that each division deserved greater autonomy in establishing and following their respective sets of rules. This act of federation replaced the existing model in which NCAA-member schools in all three divisions voted on every piece of proposed legislation, even if its application was limited to just one division. "For Division III, we still have one vote per school, but the entire division is very much into presidential control," says Harper. "Athletic directors don't control the agenda. Athletic directors, in many cases, don't even control their institution's vote. As a result, Division III institutions are much better able to stay close to our philosophy, which is athletics as part of academics, not separate from it. That's not a bad thing."
Naturally, athletic directors in Division III must deal with issues that come with the job title, regardless of the level of competition. They must balance budgets, follow gender-equity mandates, strive for racial and gender diversity in hiring, promote high graduation rates and lobby for facility improvements, just like everybody else. "The problems aren't all that much different," says Karner. "They're magnified more at the Division I and Division II levels, but the problem itself may not be significantly different, and oftentimes the solution is very much the same."
Then there are the aspects of the athletic director position unique to the Division III level. Hence the formation in 1996 of Division III administrators' own national association, which past-president Lunder calls "a support group, for lack of a better term," with its own listserv, web site (scheduled to launch this month), and informational sessions and networking opportunities at the annual meetings of the NCAA and the National Association of Collegiate Directors of Athletics. "A lot of times, those organizations focus more on Division I," Lunder says. "Our group was formulated to discuss issues facing Division III with people in Division III."
Consider media coverage, a dynamic taken for granted at most Division I schools. "It's a tough sell at Division III from a promotion standpoint, and Wisconsin is no exception," says Karner, whose conference has produced 47 of the state's 48 national championship teams since 1990-91. "It's a little bit frustrating when you're as successful as we are, and sometimes some of the major newspapers don't even mention it."
Moreover, unlike their Division I counterparts, Division III athletic administrators often oversee more than just intercollegiate athletics. "Most of us have responsibility for a broader-based program than just varsity athletics. We're looking at the recreational end of things, as well," says Lunder, who also serves as chair of Carleton's physical education department and as a faculty member. "We'll have a basketball game ending and a Frisbee group coming in to use the facility afterward. You have to have a process in place, not only for scheduling effectively, but for having medical coverage at each event. Our club sport people don't think they're any less important than the varsity athletes."
Certainly, when it comes to revenue, all Carleton athletes generate an equal amount: none. The school doesn't even charge admission at varsity events, which presents Lunder with the annual challenge of offsetting the escalating costs of running an athletics program financed entirely through the college's overall operating budget. (Fund-raising for athletics isn't allowed at Carleton.) These costs include team travel, expanded seasons, equipment replacement and facility maintenance. Even NCAA rules changes, such as those requiring an extra official in basketball and football, can further tax Carleton's athletic coffers. "You lobby for additional funding, but there is a limit to what you can do, because the college obviously has a broad range of things that it's trying to do. So you find ways to trim costs," Lunder says. Last year, Carleton dropped its alpine and Nordic ski teams, as well as its wrestling program.
Because the Division III philosophy is so distinct, a common bond clearly exists among the division's membership. Those members, though, are all over the map in terms of institutional size and mission. Compare the WIAC to Division III's University Athletic Association. In the WIAC, all nine member schools are part of the University of Wisconsin system, and all nine adhere to roughly the same policies and procedures set forth by the state. The UAA, meanwhile, is composed of eight private research universities - each with its own policies and procedures - located in major metropolitan areas stretching from Boston to Atlanta to St. Louis. New York University, one of Division III's largest member institutions with 15,000 undergraduate students, competed at the highest levels of intercollegiate athletics as recently as the 1960s. But despite its comparable size to many present-day Division I schools, it has no desire to go back. "One of the most difficult things that a university athletic department has to do is identify a group of schools that function with similar academic and athletic missions," says Chris Bledsoe, who heads NYU's Athletics, Intramurals and Recreation Department. "If you can find that group, you need to throw a hoop around it and make a playing conference out of it. The UAA is the best place for NYU right now."
Bledsoe currently sits on the NCAA Division III Management Council, which has formed a joint subcommittee with the division's President's Council to study the future of Division III athletics. One of the topics of discussion - potentially dividing the membership into two or more subgroups - speaks to the tremendous diversity of institutional missions within Division III. "Are schools living up to what Division III purports to be, a philosophy that athletics are given no more emphasis than any other extracurricular activity on campus." asks Dutcher. "Some folks are concerned that athletics is perhaps assuming a larger role than maybe it should."
Lunder, a Management Council member himself, shares that concern. "Division III is supposed to be about your regular-season conference and regional competition. But if you really check things out, people are more concerned about the post-season than they are about the regular season. That's become somewhat problematic," he says. "The idea of preparing to win is one thing; the idea of winning at all costs is another. You can lose sight of what you really should be trying to do and get caught up in the outcome rather than the process."
According to Walsh, who played and coached basketball in Division I, coaches bent on their own career advancement are driving the win-at-all-costs mentality at some Division III schools. "Some schools that we play have kids who I would never, ever think of recruiting here," he says. "There are coaches who cheat in Division III, and that cheating can lead to bringing in a kid who's iffy. When I bring it up at our conference meetings, they think I'm nuts. They just don't get it, in my opinion. I walk out, and I'm the bad guy. But I can live in my world; I can't live in theirs."
Walsh is particularly secure in his world these days. His men's basketball team has brought Hilbert three straight North Eastern Athletic Alliance championships and appearances in every NEAA title game since Walsh arrived as a part-time coach five years ago. These days, or at least between Oct. 15 and March 1, the coach can be found on campus seven days a week, breaking down film or poring over scouting reports. "I get after it. I want to win. But if we lose, I don't think 50 people know about it," he says. "I'm not going to get fired. I don't have that pressure. I can still have my cake and eat it, too. I can coach and make a big difference in a kid's life by focusing on what's really important: getting a degree."
Says Harper, "When I evaluate my coaches, I tell them that their win-loss record is about seventh on my list of things that will either get them retained or fired - behind issues relating to the quality of experience that the kids have had and the way athletics fits into their entire college life. Those things are important."
Without a doubt, opportunistic coaches will view Division III as their stepping-stone to recognition and perhaps riches at a higher level. ("If I put my job in The NCAA News, within two weeks I'd have 125 résumés," Walsh says.) But to those entrenched in Division III philosophy, little importance is placed on fame or fortune. As one of Bridgewater State's 45 part-time coaches, football coach Peter Mazzaferro earns an annual salary of $6,000. This season marks his 34th with the Bears.
Talk long enough to a Division III athletic administrator, and the conversation invariably turns to people. More than anything, it seems, administrators take stock in the relationships they have developed with their institution's president, faculty members, coaches and student-athletes - even competitive rivals. "To me, that's what it's all about," says Harper. "From that come good things like sportsmanship and ethical behavior. They're what make it fun."
"I don't want to come across as if we don't have some issues or problems. We do," adds Karner. "But if you just look at the one fundamental difference between Division III and I and II - athletic scholarships - our kids are really playing for the fun of the game, the joy of competition. They're not getting anything for it from a financial perspective, yet in many respects they're putting in just as much time and effort. They are really playing because they love to play."