Boulder city departments partner to give employees an opportunity to stay fit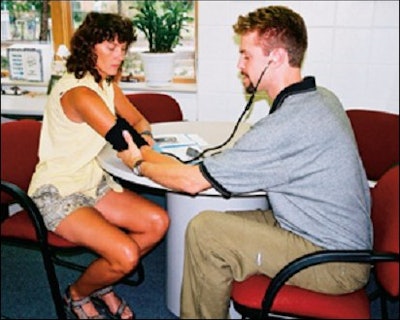 As the economy stagnates and the cost of providing employee benefits continues to rise, employers are trying nontraditional methods of curtailing overhead expenses while keeping workers satisfied.
Officials with the city of Boulder, Colo., are not exempt from this balancing act, and have developed an innovative program that not only saves the municipality dollars on its workers' compensation bills, but also encourages city employees to improve their health and wellness.
This summer marked the beginning of the third year for the City of Boulder Employee Wellness and Injury Prevention Program, created through a partnership of the city's recreation and human resources departments. The program is available to all benefited employees and invites them to visit any of Boulder's recreation centers for a health assessment. Personal trainers administer the assessments, during which employees have their resting heart rate, blood pressure and body composition measured before participating in four tests: a three-minute step test, a flexibility test and one minute each of sit-ups and push-ups.
After the assessment, the trainer analyzes the employee's results, which are recorded in a private file. Depending on what health risks are discovered by the assessment and health history survey, the trainer will recommend specific activities that are likely to address the employee's problem areas. According to Summer Kennedy, program supervisor for fitness and wellness at East Boulder Community Center, high blood pressure and limited flexibility are common among program participants.
"We tie all this into injury prevention and risk management, because if our blue-collar workers have healthy backs and shoulders that are strong and hamstrings that are flexible, we're not going to have so many claims from them," she says.
Employees enrolled in the program obtain free access to the city's three recreation centers, outdoor pools and nature reservoir. Additional program benefits include free drop-in classes at the rec centers, discounted health and safety education classes, and an incentive program that rewards employees for regular exercise habits.
Because the program provides participants with plenty of opportunities to exercise, the expectation is that after a year passes and the employee is re-tested for renewal, his or her overall health will have improved. "Hopefully, we're training people to do self-maintenance so they don't get injured again," says Kennedy. "Of the people we've had in the program, we've managed to keep them injury-free for a year - 100 percent."
That's an amazing figure, considering that of Boulder's roughly 1,300 employees, 664 are enrolled in the wellness and injury prevention program. Kennedy hopes that number will increase to 800 by year's end, but says that it's still a struggle to convince individuals of the importance of regular exercise. Not surprisingly, many of those employees cite inconvenience as a major reason for not using the city's rec centers.
"For people who say, 'I don't live in Boulder,' or 'I would never use your center,' we set up a program called Healthy Habits that tracks healthy activities that they do outside of work on their own, such as running or gardening," Kennedy says. Each individual tracks those activities on a tally sheet, which is then turned in to the recreation department. Active employees are rewarded with prizes, which include discounts at local restaurants, sporting goods outlets and massage centers. Program participants are also recognized for making at least 50 visits to the rec centers in a calendar year.
But the incentives don't work for everyone. There are still a number of employees - many of whom are middle-aged women, according to Carmela Gabriele, a personal trainer at East Boulder - who avoid the centers because they are unfamiliar with and intimidated by the equipment found in a weight room or fitness center environment. In that case, "what I tell them to do is to walk around outside first and when they start to feel better about it, to come in," says Gabriele. "If they go walk in the neighborhood or around the building, they're getting closer to coming in, yet they're still exercising. It's a 'here-but-not-quite-here' kind of thing."
The personal trainers also do their best to erase first-time users' fears by providing free orientations to the weight room and cardiovascular equipment. "If they need that extra hand-holding, I'll tell them to come in when I'm in the weight room, since I was the first contact and I'm a familiar face," says Gabriele. "I'll also suggest non-intimidating classes they can take that are included in their drop-in component."
One such class offering called Nia (Neuromuscular Integrative Action) combines kinesthetic movements from dance, martial arts and yoga, and has been popular among middle-aged women, Gabriele says, because "it can be as easy or as hard as you make it. It doesn't matter what you do in there."
While it's this kind of versatility that makes the wellness and injury prevention program so appealing to employees, it also caters to the demands of an already tight workers' compensation budget, says Joann Roberts-Stacy, director of Boulder's human resources and organizational effectiveness department.
"One of our goals, of course, is to lower the cost and frequency of on-the-job injuries. But when they do occur, we're able to use the expertise of the recreation folks to provide rehabilitation services," she says, adding that workers' compensation doctors will only refer employees to Boulder recreation personnel who are properly certified. "Workers' compensation doctors and physical therapists are very expensive specialists, and here we are able to get them at an employee rate."
Roberts-Stacy notes that Boulder has an added advantage because its city government is self-insured. "It's not that we get a rebate since we're not paying out an insurance rate," she says. "But it saves us direct dollars that we would have otherwise paid out."
Initially, though, it was difficult convincing the city's leadership of the program's potential to generate those savings. No tests were designed to determine if and how the program affects the city's health insurance rating or number of sick-leave days, and those questions have yet to be answered. "We had to admit to them that we might never be able to show them hard data that proves this investment was worthwhile," says Roberts-Stacy.
For now, proponents are left to point to the program's popularity with employees as reason enough to continue its operation, but are hopeful that within two years' time, they will be able to back that argument with solid statistical data collected from employee health assessments and surveys. "We think we will reduce lost time. We think we will offset costs that otherwise would be used on health insurance. We think it'll improve morale," says Roberts-Stacy. "Over time, we're going to have hard data about something."
A less tangible byproduct of the program has been the development of a "kind of synergy" within City Hall, says Roberts-Stacy, who sees the cohesion as the hard-earned result of several earlier attempts by city leadership to address both employee wellness and workplace safety. "We've been struggling to find a good equation for a decade. Now there's a really close nexus between the two departments."
That partnership has the human resources department funding the program's $108,000 budget, which is derived from a percentage of each city department's contribution to the workers' compensation fund. Meanwhile, the recreation department provides all of the program's services, which require minimal staffing. In addition to the department's five contracted personal trainers who administer the health assessments during their specified hours (Gabriele, for example, works a 9 a.m.-to1 p.m. shift at East Boulder, and schedules a maximum of four employee assessments per day), Kennedy employs the services of each center's front-desk staff for data input and mailing. "I thought it would be a lot of work when we first thought about it," she says. "But it's not."
Soon, Kennedy hopes to purchase a software program that will streamline the process of managing employees' health data and thus reduce associated labor costs - a move that she believes will translate into added benefits for the program's participants.
"We're not breaking the bank," says Kennedy. "Originally, we had asked for more money and more staff; we wanted permanent positions. But we have a recession and a hiring freeze, and of course, those things didn't fly. So we use our part-time staff, delegate the rest and it's working beautifully."