Ten steps to conquering a college recreation center's transformation from old to new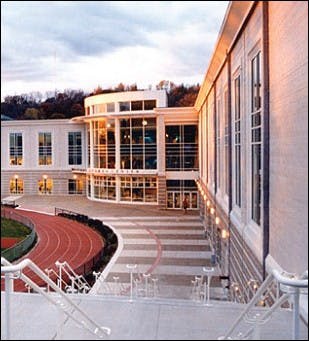 Like a large home-remodeling project, a major renovation of a college recreation or athletic facility is rife with dirt, noise and stress. Unlike homeowners, however, facility administrators must not only manage all the typical design and construction challenges, but also keep the facility open while balancing the needs of displaced programs, teams and other users. Inconveniences can range from moving members to temporary locker rooms to asking basketball teams to practice and compete at off-campus sites.
That said, is a large-scale renovation worth the trouble? When done right, absolutely. Colleges and universities are battling to attract top students, faculty, staff and athletes. Impressive, well-appointed facilities do just that. Plus, better sports teams generate extra revenue and entice more donors. Making constant facility improvements is a critical part of surviving in today's aggressive college-recruiting market.
Despite a building boom in recent years on campuses across the country, there remain plenty of older sports and recreation facilities. Many of these buildings aren't satisfying program needs or even meeting basic safety and accessibility requirements. Reasons for renovating them instead of tearing them down are as varied as the buildings themselves. Some campus officials believe a renovation will give the perception that they're getting the most programming bang for their buck, while others are hesitant to remove historically or architecturally significant structures that are part of an institution's tradition. And in some cases, a donor's contributions are tied to the reuse of a specific structure.
A well-done renovation pays great dividends. But to make the process even more effective, follow these 10 steps that will help minimize your suffering along the way.
1. Hire the right architect. Coming from an architect, that might sound self-serving. But a firm that specializes in renovating campus sports and recreation facilities will come equipped with wisdom accumulated from dozens of similar projects. Ultimately, the architect ensures that the renovated facility fits into the overall campus master plan. The right firm will help assess your needs, analyze the existing site and facilities, develop the schedule, forecast renovation costs, help build stakeholder buy-in and facilitate communication with user groups.
Once the project design begins, an architect will help develop a phasing plan and the construction documents, as well as work with the contractor to resolve unforeseen crises.
To help find the right architect, tour other facilities you admire, contact your peers and network at industry events.
2. Be realistic about costs. In recent years, some renovation costs have approached those of new construction projects. That said, don't attempt nickel-and-dime or piecemeal renovations. If you're going to spend money to renovate, your patrons should feel as if they are walking into a new building.
If a facility is more than 30 years old, you likely will need to replace roofing, mechanical and electrical systems. Other renovation costs can include overtime labor rates, and removal of asbestos and other hazardous materials.
Even if they have detailed drawings of existing conditions, the best architects and contractors won't be able to anticipate everything that could go wrong - problems that will complicate your schedule and add to your budget. If you tear up a wall, for example, and the water pipe that appears on the plans isn't there, you will have to add piping inside that wall. Perhaps a wall thought not to be load-bearing turns out to be exactly that. Or a wood floor, contrary to earlier spot checks, has concrete beneath it that also needs to be replaced. The list of possibilities is practically endless.
Make sure you have an adequate contingency fund to cover these unexpected costs. Though the exact amount of that fund will vary from project to project based on knowledge of existing conditions and the building's age, a recommended contingency is 7.5 percent of a renovation project's budget (compared to 5 percent for new construction). Unless the owner starts asking for a lot of changes during construction, that should be more than enough.
3. Devise a plan. Surviving a campus renovation requires more planning than you might expect. One of your first steps should be to consult with facility staff members, plus faculty, student and non-student users, to find out what design elements they think will make the project successful. They also can give architects and contractors invaluable details about usage patterns and other activities.
Recognize, however, that many of these people may not be accustomed to discussing building plans and construction ideas. "Some athletic directors and their coaches are sports people who get thrust into administrative roles," cautions Debbie Lazorik, athletic director at Marietta College, where the new Dyson Baudo Recreation Center (which also houses competitive athletics) opened in January after five years of planning and construction. "They need to expand their vision beyond creating a better arena for the basketball team. If I've said it once, I've said it a hundred times: Our project was not about the athletes. It was about improving the college."
Lazorik handpicked several coaches and assigned each with keeping her informed about specific aspects of the process. One person, for example, dealt with the furnishings and equipment, one with temporary facilities, and another with public relations. This enabled her to keep up with her regular athletic director duties while also overseeing the project.
Other athletic directors may choose to build a project team with people with whom they've had close relationships over the years, rather than coaches and members of several different campus departments.
A typical project team should include some or all of the following people: representatives from the college or university's finance and development departments, a dean or provost, student-government representatives or students at-large, a physical plant employee, a special events coordinator and - depending on the type of renovation - either the athletic director or the recreation director. An ideal roster is six to 10 people.
Major college renovation projects usually only come along once in a professional lifetime, so make sure you've got enthusiastic people onboard who have the right attitude. Staffers who survive this process can become valued members of the campus leadership group, allowing them to look beyond athletics and other specialized areas to contribute to the institution's broader strategic vision.
Marietta's project team toured several facilities and talked to people at other colleges that had completed similar projects. The team took its campus tours in three waves - before hiring an architect, after hiring the architect and immediately before construction began.
When should you start your planning? As soon as possible.
4. Walk through your events. When you renovate a building, it's bound to change dramatically. That's why you renovate, right? But anticipating those changes - user patterns, new programming options, traffic flows - will prepare you for unforeseen developments once the renovated facility opens its doors. Though habits are bound to change, it helps to know how your patrons access and move through current spaces.
Before finalizing your design plans, mentally walk through both your existing facility and your planned renovation, sorting out logistics you may not otherwise have considered. Renovation requires compromise, and sometimes the right compromise doesn't present itself until after a mental walk-through.
5. Approach the renovation in phases. How a project is phased - the order in which it is constructed - varies from renovation to renovation. Much will depend on the campus' culture, its inhabitants and the existing building itself. The placement of various spaces within the facility will determine which areas will be affected first, second, third and so on.
Because facilities rarely shut down completely during a renovation, a common phasing procedure begins with building the new spaces, moving into those spaces (essentially abandoning the existing building) and then renovating the existing facility. Even that basic process, however, will require the use of temporary entrances, exits and plywood walls to keep curious users out of the areas under construction and to keep dust, dirt and other physical elements out of the spaces still in use.
The potential problem still exists that dust will enter the building's mechanical system, spreading it to every corner of the facility. If the system does not include air conditioning, some facility operators choose to avoid dust dispersal by shutting it down - a feasible option as long as renovation is not taking place during the colder months.
6. Communicate to users. Once the renovation has gotten underway, campus-wide e-mails, a web site that whets browsers' appetites with animated "fly-throughs" of the future building, a project description in the recreation center's schedule book, stories in student newspapers and regularly updated displays all go a long way toward keeping students and other user groups informed about the project's status.
Perceptions are shaped by what people see going on outside the facility. The immediate reaction to such a flurry of activity may be that the facility is actually closed for the renovation. If specific entrances need to be temporarily closed or water has to be shut off for five hours on a Friday morning, users will be more tolerant if they know in advance.
Rather than people viewing the renovation as an inconvenience in their daily lives - even if that means simply having to walk on the opposite side of the street than usual - a consistent information distribution campaign will eventually generate excitement on campus about the possibilities the completed facility will create.
7. Expect lost revenue and displacement issues. Facility operators initiating a major renovation project should expect a drop in revenue. In addition to losing members who don't want to be inconvenienced or who chafe at the diminished menu of programs, you'll probably spend more money on things like temporary facilities and signage.
During Marietta College's renovation, for example, the basketball and volleyball teams played off-campus for a year and dressed for home games in residence halls. Rollins College, which expanded the Harold & Ted Alfond Sports Center by 41,000 square feet in 2000, moved one season's worth of volleyball and basketball practices and games to a local high school, relocated the weight room to the back of a campus bookstore and sacrificed the college's intramurals program for a year. The athletic department staff, meanwhile, was scattered across the campus and forced to share offices, desks and telephones.
To offset the anticipated revenue drop, some colleges and universities increase student fees to access other facilities on campus. Others implement hiring freezes.
8. Continue to communicate with your architects and contractors. Architects should provide continuous feedback to your project team throughout the renovation process. Though architects spend a lot of time asking clients to make decisions during design, there is a big gap - often up to one year - between the planning phase and the time when you will start developing a real sense of the project as it's being built. For example, the contractor likely won't ask the athletic director what kind of footing rebar to use when crews are digging holes and putting concrete in the ground, because the architect handles those inquiries. But athletic directors will get much more involved in the process when it's time to, say, choose the line colors for the gymnasium floor.
Ask your architect to sit down with you at regular intervals during construction to review what has been decided so far and what will be asked of you in the coming months. This also allows you to keep your own staff informed and maintain their interest in the project.
Contractors prefer decisions to be made immediately on-site, but don't hesitate to tell them you need more time to gather information and talk to other team members and your architect. A one-day delay won't impact a year-and-a-half construction process. Don't be intimidated into making an uninformed decision.
9. Preserve historic artifacts. Some renovation projects involve restoring historic buildings. If that's the case with your project, remove architectural features and artifacts such as tin ceiling panels, original oak and pine doors, vintage lockers and benches, banisters and spindles, brass hardware, historical photos and original equipment, and place them in safe storage until after demolition and any other renovation-related activity that may affect their ability to withstand the renovation.
Part of the challenge involved with this process is determining what is worth saving. When in doubt, some administrators create programs in which alumni and members of the community have the opportunity to buy vintage items for personal use. That way, the items are saved and the college or university makes a little extra money to offset the renovation costs or the resulting loss of revenue.
10. Put your finished facility to work. All the short-term troubles and campus disruptions will be well worth it when you consider that your college community will gain a facility to be enjoyed for generations to come. Be sure to savor the reactions of current students, faculty and other users. Phil Roach, athletic director at Rollins College, reports that intramural participation has jumped 40 percent since the renovation, and the school's athletics teams are playing with greater confidence and winning more.
Don't be afraid to explore new revenue streams by contacting outside organizations about using your revamped facility for meetings, exhibits and other events. Marietta College has already tapped the local Chamber of Commerce, the American Red Cross and a local auto show to use the Dyson Baudo Recreation Center, Lazorik reports, with many more groups inquiring about renting space.
Thirty months on, Roach barely recalls the sacrifices he and his colleagues made while living with the Rollins renovation, which was phased so that most programs could continue to operate. "I remember that it almost seemed insurmountable as we were first going into it," he says. "But it was absolutely the right thing to do."