How one company's surplus inventory can be your organization's bargain buy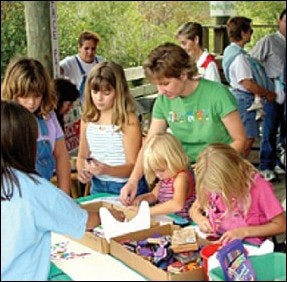 These days, there is little wiggle room within the budgets of nonprofit organizations. So lean are some budgets that it's not uncommon for a staff member to make a run to the local office supply store to replace a depleted necessity, sometimes paying for the package of ballpoint pens or ream of printer paper out of his or her own pocket.
The Lee County (Fla.) Parks and Recreation Department has seen those days, as well, but less frequently since it became a member of the Galesburg, Ill.-based National Association for the Exchange of Industrial Resources (www.naeir.org ). NAEIR works exclusively with nonprofits, helping them supplement tight budgets by reallocating to them, for minimal fees, merchandise collected from surplus inventories of U.S. corporations. NAEIR's stock is diverse, featuring office supplies, school supplies, arts-and-crafts materials, toys, holiday decorations, athletic gear and maintenance equipment. "For what we get, it's really worth it," says Bonnie Peters, an administrative assistant for Lee County Parks and Recreation and the department's NAEIR liaison. "It saves us thousands of dollars."
NAEIR offers two membership programs. The first allows members - for annual dues of $575 - to order from a 200page catalog distributed five times yearly. Each catalog features between 2,500 and 3,000 items. NAEIR members fill out an order form, which they then send back to NAEIR for processing. However, members are not required to place an order from each catalog. According to NAEIR president and chief executive officer Gary Smith, the association does its best to fulfill each member's request, with an average allocation worth anywhere from $3,000 to $4,000. There is no limit to an order's size, but because NAEIR tries to evenly distribute its stock, Smith says the most successful members place orders of 200 to 300 items each. For each order placed, members are responsible only for the shipping and handling costs, plus a $98 allocation fee.
NAEIR's second program is designed for small-budget nonprofits. Called "Member's Choice," the program allows organizations, for a one-time $39 fee, to order from monthly fliers that highlight a special item from NAEIR's inventory. "If you see something and you like it, request it," says Smith. "If you don't like it, throw the flier away and wait until next month."
Smith estimates that Lee County Parks and Recreation is one of approximately 50 recreation departments to take advantage of the association's programs. Most of NAEIR's 4,700 members are schools, but Smith would like to serve more recreation agencies in the future. "It's one of the areas we'd like to get into," he says. "We offer a wonderful opportunity for a parks and recreation department to stretch its budget."
Lee County, a catalog program member, placed a winter order valued at $7,874, for which it paid only $638. Smith says that high-value orders like Lee County's, although rare, often include items that aren't currently in great demand. "One member might say, 'Duct tape - that's ridiculous.' Another member might say, 'Duct tape - we've been looking for that,' " he says. "The biggest problem we have is that for all the most popular stuff, like Post-It notes, there's never enough to go around."
Still, NAEIR tries to offer its members a little bit of everything. "Be careful what you ask for," says Smith, "because you might just get it."