Church rec ministries connect with youths through an innovative sports-based day camp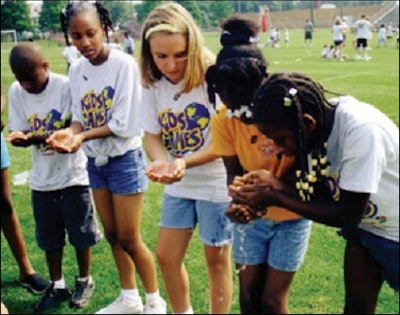 Come summertime, the last thing most kids want to do is sit in a classroom, let alone sit in a classroom and learn about the Bible. The benefits of vacation Bible schools may be obvious to certain parents and school facilitators, but there's still the challenge of getting youths to take an interest in these spiritual summer camps.
Some church recreation directors believe they've found the answer in KidsGames, a two-weeklong day camp that involves churches of various denominations partnering to teach youths Christian values and lessons through the use of athletics and other activities. KidsGames is neither centrally organized nor financed, but is rather an international evangelical movement tracing its roots to mid-1980s Barcelona, Spain. In 1985, a Catholic nun brought together 28 local churches to offer that city's first sports-based vacation Bible school for youths.
The concept went worldwide when sports outreach ministers visiting Spain for the 1992 Summer Olympics learned of the innovative Bible camp and were inspired to organize KidsGames events on every continent with a Christian population. The first KidsGames event was held in 2000 in Cairo, Egypt, drawing an estimated 25,000 participants.
Participation in KidsGames in the United States has yet to rival that of programs abroad. But John Byers, director of recreation ministries at Tabernacle Presbyterian Church in Indianapolis, one of only five American cities to have held a KidsGames (the others are Cincinnati, Orlando, Salt Lake City and San Diego), is confident the concept will soon catch on with churches nationwide. "It's the pageantry and competition of an Olympics merged with whatever concept you have of a vacation Bible school," says Byers, who chaired the organizing committee for last summer's inaugural Indianapolis KidsGames. "The kids weren't ready for it to end. They can't wait for 2004."
The 2004 KidsGames will closely resemble last year's program, right down to the Olympics-style opening and closing ceremonies, medals, T-shirts and balanced serving of sports and scripture. The only change will be an updated curriculum, which is designed by the Major Sports Events Partnership, an international network of Christian sports ministries and athletes formed to promote outreach programs in concert with major sporting events such as the Olympics and World Cup soccer tournament. Participants in last year's KidsGames learned about the life of Joseph, a character from the Old Testament; the curriculum for the upcoming KidsGames will focus on the missionary travels of the apostle Paul.
There's no getting around KidsGames' Christocentric content ("I don't know how eager a Jewish congregation would be to participate in an evangelical Christian program," says Byers), but its mission - to RECREATION help children discover their intellectual, physical, spiritual, social and leadership potential - could easily mirror that of any youth recreation services provider.
In fact, KidsGames' web site (www.thekidsgames.com) encourages churches to partner with their local schools and community groups. Byers also plans to extend that invitation to local parks and recreation departments and Boys & Girls Clubs, as his committee continues its preparations for next year's KidsGames. Indianapolis' first go-round was staged through the collaboration of nine organizations, including eight churches and one community center.
Four of those organizations volunteered their facilities as host sites for the KidsGames classroom and sports-training sessions. Three churches ran KidsGames as an all-day, one-week camp to lead into their regularly scheduled vacation Bible schools. Meanwhile, at Byers' Tabernacle Church, the program stretched two weeks and ran from 9 a.m. to noon Monday through Friday, with each session lasting 25 minutes. Youths rotated from station to station, on a daily basis receiving both sports training and Bible instruction, which at times was delivered via prerecorded video messages from local Christian celebrities, including television personalities and pro sports athletes.
Campers were trained to compete in their respective events, most of which were variations on or combinations of popular sports. Activities such as the soccer/croquet relay, the tandem cross-country ski relay or the backboard-less basketball shooting contest were designed to be fun and athletic without giving any youths a competitive advantage. Youths could choose from among 14 events, but not all of them were sports-related.
Of those four events that challenged the mental and creative capacities of KidsGames campers, two tested their Bible knowledge in the form of a trivia game and a Bible verse memory contest. The remaining two activities - a poster contest and a KidsGames essay contest - were geared to appeal to future journalists and artists.
The Orlando KidsGames of 2000 and last year's San Diego KidsGames each had a youth press corps, with a select number of program participants covering their fellow campers throughout the competition. San Diego's youth press corps carried 33 artists, a dozen photographers and four videographers. "They're even developing newspapers and web sites," says Byers of the cub reporters. "It's mind-blowing."
What's also staggering is the rate at which KidsGames is growing worldwide. In 2000, events were held in six countries. According to estimates published last July, organizing committees in 225 cities in more than 100 countries had planned to stage KidsGames events by the end of this year. Byers says that the goal for the upcoming KidsGames global meeting - to be held in Athens, Greece, in October - is to have at least one representative from every country on the planet.
Although Byers admits that "in the United States, we're kind of slow getting out of the blocks," the short-term goal here is to have KidsGames committees formed in 150 cities by 2006. Currently, committees in 17 U.S. cities are planning to hold events in 2004. A weekend briefing and training session scheduled to follow this August's KidsGames in Orlando is expected to attract even more curious parties. KidsGames are usually held in even-numbered years to coincide with the Olympics and World Cup, but this year's programs (a Cincinnati KidsGames is also planned for this summer) are designed to serve as demonstrations for those cities shooting for a 2004 implementation.
Those fledgling committees will likely appreciate the extra planning time. The Indianapolis games were planned in nine months, which Byers says was not sufficient to "pull off a citywide event of this magnitude." Still, the first Indy KidsGames drew 260 participants, a number expected to increase fourfold as organizers gear up to serve 1,000 youths at 20 sites next summer.
The increased participation will no doubt require additional funding. (Byers puts the price tag of 2002's games at $21,000, although a $10 "commitment fee" asked of each participant helped offset the total cost.) But that shouldn't be much of a hindrance if volunteers who helped organize the first KidsGames return with an enthusiasm similar to that of the children they served. "I've never had such a response for a program, from participants or volunteers. They were really energized by their involvement," says Byers. "And when it was over, all of them were looking forward to how they could participate the next time."