Checking the backgrounds of youth sports coaches is a prudent way to protect participants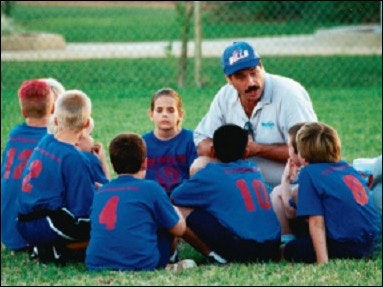 In a past life, Frank Marzucco spent seven years working within the state of Maryland corrections system, his last four as the Anne Arundel County jail administrator. In that capacity, Marzucco encountered robbers, rapists and drug dealers. Imagine Marzucco's surprise when, years later as program administrator for Anne Arundel County Recreation and Parks, he saw some of his former inmates pacing the sidelines as youth sports coaches. "Some of the people who I took in as residents over at the jail were now coaching kids," says Marzucco. "One guy, while he was coaching, had been busted for drugs. So here he is, wheeling and dealing drugs, stops his activity for a minute to interact with the kids, and then goes back to doing what he's doing."
With the introduction of the Anne Arundel County Recreation and Parks' coaches background check program in the winter of 2000, such potentially dangerous interaction has gradually become a thing of the past. The department serves approximately 60,000 youths from a population base of 500,000 through either county-sponsored athletic leagues or those co-sponsored by independent associations, with upwards of 5,000 adults volunteering as coaches. Before they can coach, however, those volunteers must sign an authorization form allowing the rec department to investigate their criminal history within the state of Maryland, which has a computerized justice-system database extending back to 1981. Individuals found to have been convicted of any child-abuse, drug-related or violent crimes are prohibited from coaching.
In the program's 2 1/2-year existence, 69 of nearly 4,700 volunteers have been disqualified from coaching youth sports. Among the offenders were those convicted for assault and battery, reckless endangerment, manslaughter and robbery with a deadly weapon. Some even had open charges against them for first-degree murder, rape and child abduction. "This is one of those situations in which it's really difficult for someone to give you a logical reason why this should not be in place," says Dennis Callahan, director of Anne Arundel County Recreation and Parks. "The parents and grandparents are behind this - if I had to pick a number - 95 percent. There are still some ultra-liberal people who think that everyone should be given second, third and fourth chances. But we're in the recreation business, not the rehabilitation business."
"Most people don't realize that the average volunteer coach spends 80 hours with a child, from the beginning of the season to the end. That's a lot of time," says Fred Engh, president of the National Alliance for Youth Sports (NAYS). "Would you want to leave your child in the hands of someone for 80 hours and not know who that person is?"
In recent years, youth sports administrators have become less willing to take those chances. Within many organizations, concern for the safety and welfare of youth sports participants has led to the implementation of background check programs, despite the grumbles (mostly from coaches) surrounding potential invasion of privacy. Such is the case in Bristol, R.I., where town councilors recently debated whether to amend an existing policy for youth sports coaches and disqualify those with drunken driving or domestic abuse offenses within the past three years. After two months of occasionally heated debate, the council voted 4 to 1 to amend the policy. The lone dissenter felt that disqualifying volunteers because of past DUI offenses was going one step too far, and that doing so would jeopardize losing some quality coaches.
The steering committee responsible for drafting Anne Arundel County's background check policy similarly had the difficult task of determining parameters by which to rule out potential coaches. In the end, committee members decided to permit volunteers with prior DUI convictions to coach, but not those with domestic abuse offenses. "They felt that if they were going to err, they were going to err on the side of safety," says Marzucco. "They had to draw the line somewhere."
For many youth sports organizations, that line is often a blurry one. While crimes such as sexual abuse and assault are automatic red flags, it's not as easy for youth sports administrators to classify offenses like DUI - which, to some, are no less serious. It's also important to consider whether to approve prospective coaches who say their wild days are long behind them. "What if you've got a guy who 20 years ago was arrested for smoking marijuana, and it's the only thing he's ever done." asks Engh. "Are you going to ban him from coaching?"
Indeed, it's just as easy to be too strict in setting screening parameters as it is to be too lax. Ultimately, those boundaries will depend on the values inherent within each community. "We typically guide people to look at their local school board or state department of education, if they live in a state that does background screening on its teachers," says Byron Palmer, vice president of Southeastern Security Consultants Inc. (SSCI), which screens each of the 140,000 coaches who are members of the National Youth Sports Coaches Association, a division of NAYS. "If they can get their hands on a copy of the schools' policy, use the same policy. It's fair, it's already been tried and tested, and the community has accepted it. Why should you struggle to put a different set of standards in place?"
Once those parameters are determined (and written into organizational bylaws to avoid possible legal squabbles), the next step is deciding who should be subject to the screening process and how to administer the background checks. Anne Arundel County, which uses a private company specializing in pre-employment screening, has in the past performed checks on all assistant and head coaches, including those belonging to independent athletic associations such as Little League Baseball or Pop Warner football. Coaches who choose to become certified through the rec department's clinics are also screened. As of next month, though, the policy will extend to include all youth sports organizational officers, subjecting to scrutiny board members, sports commissioners and league presidents.
Bristol Parks and Recreation's policy mandates that all youth sports volunteers - concessions stands workers, too - undergo and pass a background check, which is conducted by the Bristol Police Department. Each league president is responsible for collecting authorization forms from his or her coaches, and then forwarding them on to the police for processing. The police then compare each volunteer's criminal record to the recreation department's list of criteria. Those who are disqualified are sent a form listing the disqualifying offenses. To ensure confidentiality, league presidents and recreation department staff members are left in the dark as to the details of a volunteer's criminal history, and are only sent a form reporting his or her disqualification from coaching. "I don't want to know what the charges are," says Walter Burke, recreation director in Bristol, a town of 22,000. "If we can keep it confidential, then we eliminate the small-town gossip."
Another plus for Bristol's youth sports background check program is the cost - free. "The police will usually charge $5 a person," adds Burke. "But when you're talking about hundreds of coaches, it can be pricey."
On the other hand, recreation officials in Cabarrus County, N.C. - substantially more populous than Bristol with roughly 140,000 residents - are choosing to pay a private company to screen their youth sports coaches rather than risk overburdening their local law enforcement agencies. As a NYSCA member organization, the Cabarrus County Parks and Recreation Department will this fall begin conducting a screening program through SSCI, at a cost of $13.50 per person. Cabarrus County serves nearly 10,000 children on 700 sports teams. "Our sheriff's department was working toward doing the checks by itself. Then we realized that means screening 1,100 people and we need a two-week turnaround," says Steve Little, Cabarrus County's recreation director, referencing the time crunch of filling last-minute coaching positions. "If you don't get a quick turnaround, you're in trouble."
SSCI's comprehensive screening program offers expedient reports, among other services. Background checks conducted by local law enforcement agencies often consist of address and social security traces and criminal record searches limited to a specific locality. In addition to those services, SSCI also screens sex offender registries, compiles professional profile reports and pores through a directory of criminal data from 30 states, home to 60 percent of the nation's population. (According to Palmer, the only way to obtain a national check is through the FBI.)
Depending on the locale, an SSCI search (which can cost anywhere from $13 to $30) can be limited to county borders. "We are sometimes forced to do county-level checks either because a) there is not a state repository of information available, or b) there is one, but it's not sufficient for our purposes. In other words, there's missing data, not all the counties report to the state repository or the information's not reported in a timely fashion," says Palmer. In more established areas, checks at the county or state level are likely to suffice. But in areas with highly transient populations, SSCI's "Smart Check" - which takes into account an individual's address history to focus on the most appropriate jurisdiction - will be of more service.
Anne Arundel County isn't saddled with a constant flood of newcomers like some other regions of the country. For Callahan's department, the statewide background search has proven to be sufficient. But he is aware of the everyday risks inherent in inviting strangers to coach and mentor his county's young, unsuspecting athletes. "If people are in a jurisdiction that does not do background checks, they are going to experience serious legal problems because standards have been set. The standards are not that high that you should not be able to afford $15 to screen a coach," says Callahan. "If a coach has a history of serious drug abuse, violence or is a sexual predator and you didn't take the time to find out about it, and then that person molests or affects a child in any way, that organization should be held legally responsible."