Non-compete language in employee contracts can serve many purposes, with varying results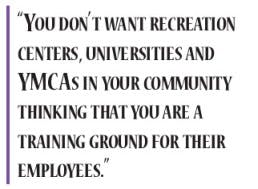 Beginning 15 years ago, for-profit health club chains began infiltrating the Cincinnati and Dayton, Ohio, markets and targeting Joe Moore's employees. Moore, the president of Moore's Fitness, which currently boasts 10 locations in and around the two cities, firmly believes that non-compete clauses are an essential component of employee contracts. He uses the language in these clauses not only as a means to discourage employees from leaving his club in favor of a competitor's, but to discourage competitors from enticing Moore's employees to leave. "We have stringently enforced our non-competes," Moore says. "And anytime a club has with malice - and that's how it's always done - induced an employee to violate the non-compete, we've gone after the club, as well, with very good results."
Believed to be used primarily by large health club chains and applied most often to upper-level sales and management personnel (as opposed to, say, a part-time group fitness instructor), the non-compete clause nonetheless presents club operators with a multifaceted means of protecting their most valued assets - intellectual capital and the employees who create it. Call the non-compete clause just one more security measure in an increasingly competitive fitness industry.
Even more aggressive than private clubs, according to Moore, are public fitness providers, who he calls "unscrupulous" for basing their employee-pirating tactics, he claims, on a belief that their ties to local government somehow put them above the law. All it takes, he says, are a few legal actions (three so far for Moore, at a cost of $3,000 or less in each case) to send the competition a clear message. "You don't want recreation centers, universities and YMCAs in your community thinking that you are a training ground for their employees," he says.
Indeed, the law is on the side of health club operators who incorporate a reasonable non-compete clause. "The court looks at it as a valid contract and part of the employment agreement," says Glenn Wong, professor of sports law at the University of Massachusetts at Amherst. The key word is reasonable. Non-compete clauses typically restrict the employee's future career pursuits using three criteria: physical proximity of the new place of employment in relation to the original, time elapsed between jobs, and specific job duties. "Even though an employee signs a 25-mile non-compete that covers five years, there's a good chance that in 30 seconds the most junior lawyer in the world would have that thrown out as being unfair, and therefore not worth anything," says Rick Caro, president of Management Vision, a health club operations consultancy. Caro suggests a more realistic market radius of five miles and a more practical time limit of one year.
Whether non-compete clauses constitute a worthy endeavor or a worthless document depends not only on how they are worded, but how they are enforced. Though he articulates a rather substantial 25-mile radius in his non-compete clauses, Moore sets his time limit at a mere six months, a short enough period to appear "extremely reasonable in a court's view," he says, yet long enough to discourage competitors who "could not offer immediate employment to the person." "The reason that many clubs' non-competes are not very useful is because the clubs have never enforced them," he adds.
While Moore remains a firm believer in the power of non-competes, his unforgiving stance may represent the exception in his industry, not the rule. "Part of what non-competes imply is employees have some proprietary or confidential information that if used would in effect prove injurious to the previous party who gave it to them or helped train them in it," Caro says. "If you, as a club owner, have created your own training module, invested in a special training program and put people through it, then you have a right to protect that, and those people shouldn't do anything with that within a reasonable distance and for a reasonable period of time. The problem today is that a lot of the stuff people take with them in their minds is not that special."
Except for the rare stolen membership contact list or sales program software, there's not much to physically take to the competition, either. "My experience in this industry is that non-compete clauses are kind of worthless, because we're not dealing with high-paid executives who are stealing Microsoft trade secrets," says Jeff Randall, president of JLR Associates, an executive search company serving the health club industry. "We're talking about $40,000- to $80,000-a-year people, and if they go somewhere else, chances are the companies aren't going to want to spend the $5,000 it's going to require to bring suit. It's just not worth their while. If anything, these non-competes are probably roadblocks and serve only to prolong the hiring process."
Once an individual is hired, the non-compete clause also falls short as an effective retention tool, according to Randall. "It may get the person to think twice about leaving, but if the person is at the point where they're thinking about leaving, you probably haven't done a very good job of retaining that person in the first place," he says. Once they've decided to move on, are individuals likely to honor their non-compete agreement? Says Priscilla Bengston, JLR Associates vice president, "I've had candidates say, 'I can't take a job within 30 miles of this club or within this specific forte, medical fitness, because my non-compete with my current employer won't let me.' " In fact, even employees who are terminated are legally obligated to honor a signed non-compete clause, according to Caro, as long as the termination was not conducted in an "arbitrary and capricious" manner.
Non-competes can also factor into sales transactions. Randall himself agreed to sign one seven years ago after deciding to relinquish ownership of The Squash Club in Boston. "I had to sign an agreement saying that within the next two years I wasn't going to open up a competing business," he says. "For me, it was a no-brainer. I went ahead and signed it because I wasn't about to get back into the business anyway."
Do non-compete clauses ever serve as deal-breakers? Says Bengtson, who most recently served as a recruiter for Healthtrax, a Connecticut-based chain of 16 wellness centers that utilizes a three-page non-compete clause, "It's been a bit of an issue for some people, and I let them know ahead of time. If you're interviewing with this company, you do need to know you'll have a non-compete agreement." Of course, refusal to sign is an immediate red flag for employers. "There are companies that take the position, 'This is our non-compete agreement. This is part of our new employee-hire paperwork. It needs to be signed. If it doesn't get signed, then you're probably not the right candidate for us,' " Bengtson says.
That said, non-compete clauses can sometimes be used as bargaining chips. For example, a job candidate may agree to sign a non-compete clause for a prospective employer only if a severance package is added to the employment contract. Dave Bradshaw, who in January co-launched The Arena Club in Bel Air, Md., agreed to sign a non-compete clause at the request of his ownership partners, a married couple, in exchange for "certain legally guaranteed rights and privileges as an owner and operator," he says. (Despite owning a substantial percentage of the company, Bradshaw has an employee contract with the club as its general manager.)
Last year, Bradshaw resigned as general manager of the Bel Air Athletic Club, located five miles away. Curiously, he wasn't asked to sign a non-compete clause at the time that club was purchased in 2001 by Denver-based Wellbridge, the fourth-largest health club chain in the United States. "I was very surprised they didn't ask, but I certainly didn't mention it," says Bradshaw, who helped increase revenues at Bel Air by $4.5 million during his nine years at the club. "I would have refused to sign it, anyway. I was looking to get out, and I knew I had an opportunity in this marketplace. I guess they just didn't feel I was enough of a threat."
Bradshaw estimates between 150 and 200 members left Bel Air Athletic Club for The Arena Club during its first three months of operation, but whether the former club is threatened by that is anybody's guess. (Wellbridge refused comment on the situation, other than to say its employee contract information is confidential. Bel Air's current general manager, John Gorman, adds of Bradshaw, "I wish him the best of luck with his new club.") "I think any time a competitor comes into your area that it's significant and you take notice," Bradshaw says. "I don't think they're disappointed with their purchase, but I think they'd rather we weren't around."