Flag football gains yardage at the high school and college rec levels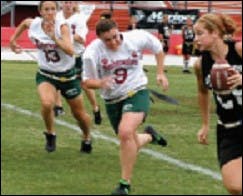 Right about now, the traditional fall football season is kicking into high gear at high schools and colleges around the country. But last May, in Clearwater, Fla., a new football tradition of sorts began when the Florida High School Athletic Association sponsored the country's first-ever interscholastic flag football state tournament for girls. In a low-scoring affair, Fort Lauderdale beat Lake Worth, 14-7, in front of a sparse crowd that included some spectators from the state baseball tournament across the bay in Tampa during the same weekend. A total of eight teams, most boasting rosters of 20 to 30 girls, competed in the seven-on-seven tournament.
During the 2003 spring season, Florida fielded 3,855 players from 103 schools - many of whose administrators were looking to improve their gender-equity status with an inexpensive program. The sport's overhead is low, and assistant football coaches can also double as head flag football coaches.
"I think it will do nothing but grow," says Gary Pigott, an associate director of athletics at the FHSAA, who oversees the state's interscholastic flag football program. The sport spent four years at the club level before the association deemed it worthy of tournament status, and it will likely become a state-sanctioned sport within the next several years, he predicts.
Flag football seems to be gaining ground at the collegiate intramural level, too, where programs are run on campuses all over the country every fall. Last fall, the National Football League teamed with the National Intramural-Recreational Sports Association to launch the pilot NFL College Flag Football Program on 32 college campuses in NFL markets. The program featured four national sponsors that provided players with everything from duffel bags to team parties and culminated with two teams randomly chosen to play an exhibition game during Super Bowl XXXVII Week in San Diego.
Almost 36,700 men and women participated in the program - an increase of more than 4,000 in those markets from the 2001 season, NIRSA officials say. "If you look at flag football's overall popularity, you'll find it more in the Southeast and the Northeast," says Valerie McCutchan, NIRSA's assistant director of national sport programs, citing lower participation at schools like the University of Southern California. "I don't think you can say the sport's success is related to the school having a big football program."
The increase in flag football at the collegiate intramural and high school varsity and junior-varsity levels comes amid declining participation in the sport nationwide. SGMA International reports that nearly 3.6 million people played flag football at least 25 times in 2002, down from 4.1 million in 2001. And, according to Flag Football Magazine, this country lags behind Mexico and Canada, both of which have offered girls' high school programs for the past decade.
Nevertheless, the NFL continues to use its clout with NFL Flag, a coed league for kids between the ages of six and 14 with teams in all NFL markets. It serves as a feeder system to other community leagues, including the NFL Junior Player Development and NFL High School Player Development programs. The NFL, however, won't be repeating its joint venture with NIRSA this year, McCutchan says, citing a lack of sponsorships - although it could return in 2004.
Back in Florida, Pigott says strong intramural flag football programs at major state universities, which provide game officials at high school contests, continues to help drive the sport. More Florida high schools show an interest in fielding flag football teams every year, he adds, and those schools with existing teams often boast 60-player varsity and junior-varsity rosters.
Yet he adds he's received little interest from other states about starting their own programs, leaving Florida to carry the flag, so to speak. "I'm pretty impressed by the level of competition," Pigott says. "It's just something that's worked in our state, and I don't see it going away."