University of Texas officials mishandled a swimmer's eligibility, a court says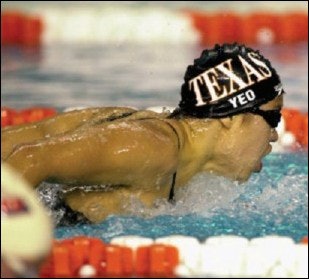 In its attempt to regulate college athletics, the National Collegiate Athletic Association has developed a labyrinth of eligibility rules governing college athletes and their interaction with member institutions. With such a complex system of eligibility, it is interesting that the group with the most to lose, the athletes, is also the group with the fewest rights. One reason athletes have little recourse against the NCAA is because the association does not directly enforce its eligibility rules on athletes; rather, it enforces the penalties against its member institutions, which in turn must penalize individual athletes.
An example of how athletes can be overlooked in the process is NCAA v. Yeo [2003 Tex. App. LEXIS 5931]. Joscelin Yeo, an Olympic swimmer from Singapore, enrolled at the University of California at Berkeley in 1998. In the spring of 2000, her coach, Michael Walker, accepted a coaching position at the University of Texas. Since Walker also served as coach of the Singapore Olympic swim team, Yeo, who was preparing to compete in the 2000 Summer Olympics, transferred to Texas. Under NCAA rules, an athlete transferring from one four-year institution to another must fulfill a residence requirement of one full academic year before he or she can participate in athletics. While there are various exceptions to the NCAA's residency requirement, Cal-Berkeley refused to grant Yeo a waiver, and she was forced to sit out the entire 2000-01 swimming season.
In the fall of 2001, after Yeo had already competed in four meets, Cal-Berkeley registered a complaint with the NCAA alleging that Yeo had not satisfied the one-year transfer rule because she was not enrolled full-time during the fall semester of 2000 (when she was in Sydney competing in the Olympics). On November 30, 2001, the NCAA notified Texas that in order to make up for the four meets in which she had competed improperly, Yeo would be ineligible to compete in four swim meets in the spring of 2002. Texas elected to enforce the penalty and informed Yeo that she would have to sit out the first four meets of 2002.
After consulting with the NCAA, Texas added additional swim meets to its spring 2002 schedule in which Yeo did not participate. Texas officials told Yeo that these meets - which included an intrasquad "Orange-White" meet, two facsimile meets (where two teams swim in pools at different locations, with times compared via fax) and a meet with the University of Houston - would satisfy her four-meet penalty. However, the NCAA determined on March 6, 2002, that under its definition of "competition," the Orange-White and facsimile meets did not suffice and Yeo would have to sit out the next three competitions, including the 2002 NCAA women's swimming and diving championship.
Although aware as early as February 22, 2002, that Yeo's eligibility was in question, Texas failed to notify Yeo until the evening of March 6 that there was a continuing problem with her eligibility and that a final determination on her eligibility would be made the next day. In fact, Yeo never received copies of any of the NCAA determinations or any information regarding the rules under which her case would be decided. Yeo was also never informed that she had the right to retain counsel or that the March 7 hearing would not be open to appeal.
On March 7, the NCAA upheld its decision and declared Yeo ineligible for the NCAA championships. At this point, Texas recommended to Yeo that she seek independent legal counsel. With the help of her new attorney, Yeo was able to gain a waiver of the residency requirement from Cal-Berkeley. Even so, the NCAA refused to review its determination or adjust the penalty, claiming that the newly acquired waiver did not satisfy the threshold requirements for reconsideration by the committee.
Concerned that if she were suddenly declared ineligible it would harm her reputation as an athlete, Yeo filed a lawsuit against the University of Texas claiming that the school violated her due-process rights. In the suit, Yeo cited Texas's failure to provide her with notice and adequate procedural safeguards in approaching her eligibility difficulties. In addition, Yeo claimed that since the actual process of punishing individual student-athletes is the university's responsibility, rather than the NCAA's, she could properly seek to prevent being retroactively declared ineligible based on Texas's earlier failure to provide her with a fair opportunity to defend herself.
The university's counter-argument relied on the Texas Supreme Court's decision in Spring Branch Independent School District v. Stamos [695 S.W.2d 556, 560 (Tex.1985)] that "students do not possess a constitutionally protected interest in their participation in extracurricular activities." The university also pointed to a line of cases from the 1970s and '80s, in which the court established that high school students have no protected interest in athletic participation.
Nonetheless, the trial court ruled, in a decision subsequently upheld by the Texas Court of Appeals, that Yeo should be allowed to swim in the NCAA Championships. Of particular interest to the court was the due-process clause of the Texas Constitution, which provides that "no citizen of this State shall be deprived of life, liberty, property, privileges or immunities, or in any manner disenfranchised, except by the due course of the law of the land." But the court also stated that Texas's reliance on Spring Branch and other such cases was misplaced, because it mischaracterized Yeo's primary complaint.
The court held that while Yeo had an obvious desire to participate in intercollegiate athletics, her Texas constitutional claim was premised upon her already-established athletic reputation. Yeo maintained, and the court agreed, that the protected interest presented by this case was not her right to participate in intercollegiate athletics generally, but rather the right to protect her reputation and good name.
In recognizing such a right, the court noted that when a person's good name, reputation, honor or integrity is at stake because of some governmental action, due-process protections are more likely to apply. In this case, Yeo was able to present testimony from multiple witnesses indicating that she had established a reputation as a world-class athlete that qualified her for significant endorsement and other pecuniary opportunities in her home country of Singapore. Because much of her reputation had been built outside of the structure of NCAA intercollegiate athletics, the court concluded that Yeo had a protected interest.
The university had also contended that such a ruling would create a protected interest for every intercollegiate student-athlete who wanted to participate in athletics. However, the court rejected that argument, noting that since it reached its decision because of the unique set of circumstances presented by Yeo, it should not be read as extending that same protection to every other intercollegiate athlete.
Having determined that Yeo had a constitutionally protected interest, the court next examined the degree of process to which she is entitled. Though the court stated that it favored a flexible standard, it determined that, at a minimum, due process required Texas to provide oral or written notice of the charges and, if the charges were challenged, an explanation of the evidence on which it relied in making a final determination. While Texas was not required to give Yeo a formal hearing, it should also have taken into account her interest in participating in the decision-making process, affording her a timely opportunity to consult with the Texas compliance staff before the initial eligibility decision.
Although Yeo won her case, it is important to repeat that the Texas Court of Appeals' decision does not extend a constitutionally protected interest in extracurricular participation to all athletes. Such a right, the court ruled, exists only when an athlete enters college with an established athletic reputation earned outside of college athletics. But even though the courts have traditionally refrained from interfering with policies established by academic institutions and organizations, colleges and organizations such as the NCAA need to know that they are no longer insulated from judicial review under all factual circumstances.